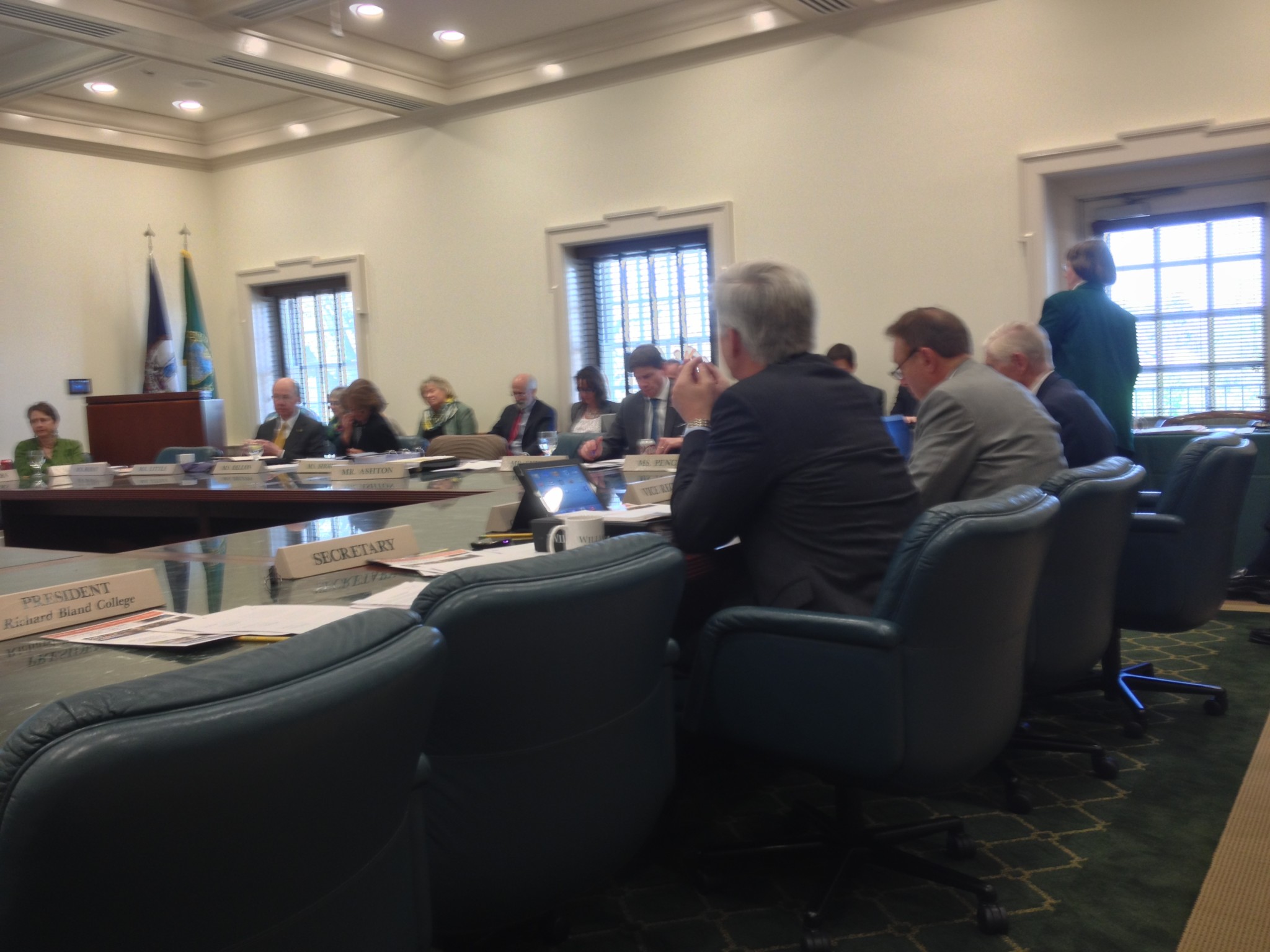 The Board of Visitors Committee on Strategic Initiatives and New Ventures met Friday morning in Blow Memorial Hall. The meeting was spent primarily discussing efforts by the state to increase investment in biomedicine and other industries and how the College of William and Mary can facilitate the growth of these economic sectors.
Secretary of the Board Thomas R. Frantz '70, J.D. '73, M.L.T. '81 began by stating Virginia's need to diversify its bioscience sector, citing the state's over-reliance on defense spending.
"We absolutely need to diversify and grow this economy," Frantz said. "Forty percent of [Virginia's economy] is defense and we know defense is not going to increase any time soon and may shrink. And if we lose one carrier, we're going to lose over thirty thousand jobs. Staying stagnant and doing what we're doing isn't going to work. We have got to move forward."
"Doing what we're doing isn't going to work. We have got to move forward."
Frantz, who joined the board in 2011, then discussed his meetings with Gov. Terry McAuliffe and the importance the governor has put on expanding Virginia's bioscience sector.
"Over the last week and a half I have been in three sessions with our governor," he said. "The first one was last Tuesday. We met with him on the regional bio-plan … which was basically to accelerate what the Richmond oceanfront corridor is doing in biomedical. [Gov. McAuliffe] said he believed that the state needs to significantly accelerate its investment in bio[science]."
Frantz later went on to discuss the benefits an expanding bioscience sector would have for Virginia and then listed the ways that the state could use its colleges to accelerate the development of this industry.
"One, supporting universities in maintaining web-based inventory of bioscience technology. Two, engage university leadership to promote innovation and collaboration. Three, support and encourage those who study communication among networks … [and] also appoint visitors to board of Virginia's universities that support economic development … and lastly, align IT and technology commercialization policies to ensure they promote entrepreneurship and commercialization."
Frantz also stated that the College could capitalize on several fields of biology, including neuroscience and industrial biology.
According to the College's website, Frantz is President and CEO of Williams Mullen, where he runs a practice representing multi-national corporations. He is a former chairman of the board of the Virginia Aquarium and Marine Science Center.
Board member Lisa Roday added that she would like to see VIMS play a larger role in the expansion of the state's bioscience field through marine science.
"I think there is a real opportunity for VIMS to add to [the bioscience sector]," Roday said. "One of our senators is currently working on a project in which he has partnered with the surrounding state senators around the Chesapeake to not only work on marine biology improvements but health of the Chesapeake."