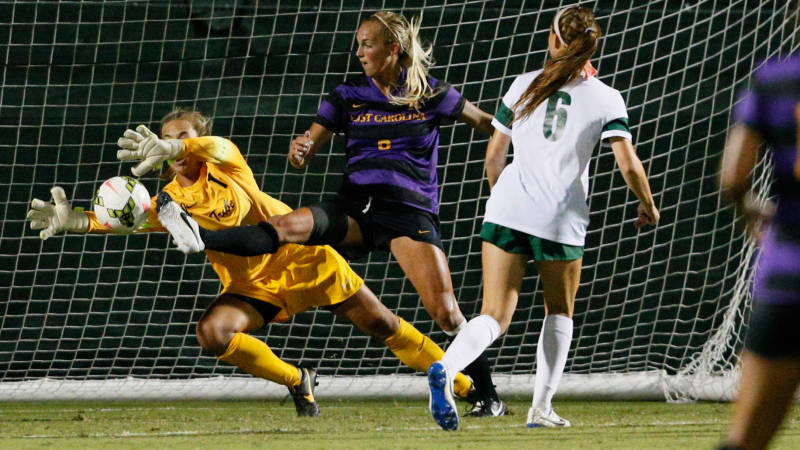 When William and Mary women's soccer comes up in conversation, the biggest name that springs to mind is likely Jill Ellis '88. The former Tribe forward coached the United States Women's Soccer Team to a World Cup victory this past summer, reigniting the American spirit for soccer and women's sports in general. Back in Williamsburg, the current squad looks to add their names to Ellis's on the list of the school's soccer greats in head coach John Daly's 29th season.
Despite losing team captain and leading scorer Emory Camper '15, the College returns plenty of talent from the team that finished fourth in the Colonial Athletic Association last season. Five players were given preseason All-CAA honors, the most of any team in the conference. Two were named to the All-CAA preseason team, including senior goalkeeper Caroline Casey, the Tribe's starting shot stopper for every game the past three seasons and senior defender Leci Irvin, a consistent starter in Daly's squad and former CAA All-Rookie honoree. Casey needs just five shutouts and 24 saves to enter the top-five in school history in both statistical categories.
Receiving All-CAA honorable mention accolades were senior forward Samantha Cordum, sophomore defender Elysse Branton and sophomore midfielder Rachel Moore. Cordum, a second team All-CAA member and CAA All-Academic honoree in 2014, finished second on the team in points last year with 19, scoring nine goals and racking up five assists.
Branton featured prominently in a backline that recorded six shutouts last year, earning All-Rookie honors for her consistent play. Moore joined Cordum on the conference second-team and Branton on the conference all-rookie squad, leading the Tribe with six assists as well as contributing three goals.
 The College returns three players who started at least ten games in 2014.
In addition, the college returns three players who started at least ten games in 2014. The list includes senior midfielder Nicole Baxter, second on the team with five assists last season, sophomore defender Haley Kent, a constant presence in the defense and sophomore forward Sami Grasso, who contributed a goal and three assists in her freshman campaign.
The Tribe not only enjoys a bevy of experience, but a plethora of youth as well, with Daly's squad including six freshmen. A bright midfield prospect, Maire Shine possesses championship pedigree, having won two district titles, a state championship and a first-place national league finish while in high school. Defender/midfielder Mackenzie Kober won two state championships in her time at St. Anthony's High School in New York, and was named to the all-state team in 2013-14.
A former eastern Massachusetts all-star, defender Arundel Miguelez, who also played basketball and track in high school, was the only defender the Boston Globe described as a top goal scorer in the Dual County League. Forward Sarah Segan was also a three-sport athlete before joining the Tribe, and was named the Lehigh Valley Player of the Year her junior and senior year at Northwestern Lehigh. Finally, both defender/midfielder Claire Robbins and goalkeeper Sara Vigen hail from Herndon, Virginia but played at different high schools; while Robbins competed for Oakton, Vigen earned Virginia Sports Hall of Fame Student-Athlete of the Year honors her junior year at South Lakes.
Projected to finish in fourth place in the CAA, the College opened the season strong with three consecutive non-conference victories.
Projected to finish in fourth place in the CAA, the College opened the season strong with three consecutive non-conference victories. At the Fairfield Inn by Marriot JMU Invite, they cruised to a 5-1 victory over Seton Hall before upsetting No. 25 Georgetown 3-0 two days later. It was the Tribe's first victory over a ranked opponent since 2011. Baxter was selected to TopDrawerSoccer.com's National Team of the Week for her performance in the tournament, while Kober was named CAA Rookie of the Week after she both scored and assisted on a goal in the Seton Hall match.
Following Friday's 3-0 victory in the home opener against East Carolina, the Tribe travelled to Durham, North Carolina, where they were defeated 2-0 by No. 21 Duke. They head to Raleigh for the N.C. State Tournament next weekend.