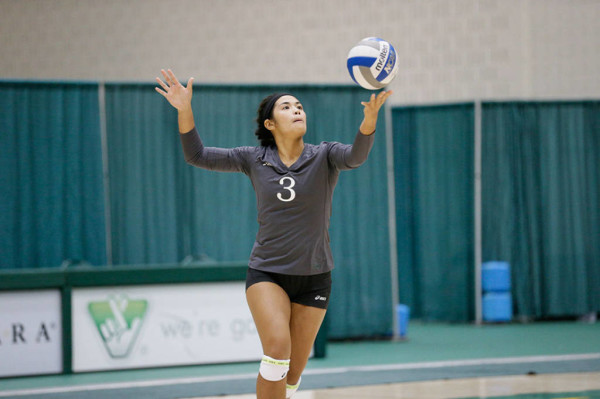 William and Mary headed into the American University Volleyball Classic in Washington, D.C. Friday with an opportunity to turn a good season into a great season. Sitting at an even 5-5 on the season before the first match, winning a majority of the matches would have put them above .500.
Unfortunately, game one of the tournament didn't provide the College with any assistance in entering the win column. However, it did produce several highlights and a few extraordinary plays by the Tribe. Of course, the College knew game one was bound to be a tough contest because of the caliber of the opponent. Heading into Friday's match at American, the hosting Eagles had a 6-4 record on the season. On top of that, three of their four losses were against top 25 ranked squads. The Tribe did receive a fantastic performance from senior Carolyn Albright, who hit .286 and had seven total kills by the conclusion of the match. Fellow senior Dessi Koleva did it all, turning out a very versatile performance, including five kills, an ace, a block, and seven digs. Not to be outdone, senior Mallory Brickerd led the team with an impressive two blocks. The final score of game one was 3-0, in favor of the hosting Eagles.
William and Mary hoped to bounce back in game two versus in-state rival Virginia. While the Tribe's performance didn't bring the intended result, the College did have very promising developments that provided optimism entering the final game of the invitational. Three College players hit at an average of over .333, while sophomore Sydney Biniak led the Tribe with a match-high nine kills. Game one heroes Albright and Koleva once again submitted very strong and well-rounded performances, but the Tribe ultimately fell to the Cavaliers 3-0. After the loss, the Tribe fell to 5-7 on the season while U.Va. improved its season record to a very impressive 7-3.
Pippus racked up 17 kills with a sublime .438 hitting mark, setting a season-high in kills and the most for a Tribe rookie since 2012.
In the final game of the invitational the Tribe was able to convert its stellar individual performances into a convincing team win. This time around the biggest performance came from freshman Heather Pippus. Pippus racked up 17 kills with a sublime .438 hitting mark, setting a  season-high in kills and the most for a Tribe rookie since 2012.  Due to strong performances all around, the Tribe was able to get out to an early lead and hold UMBC at bay for the remainder of the match, earning a hard-fought 3-2 victory.
Next up the Tribe is a matchup with reigning Colonial Athletic Association champion Hofstra in New York at 7 p.m. Friday night.