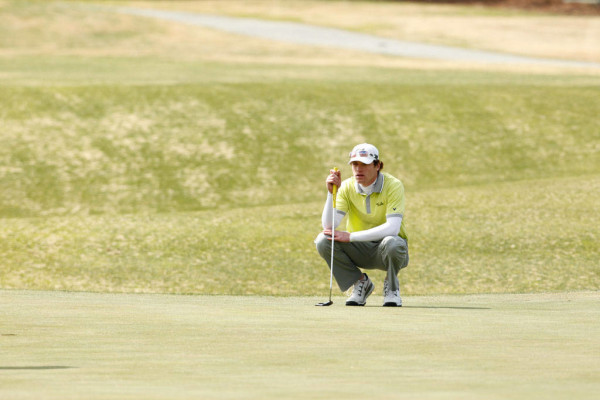 After William and Mary's ninth place Gene Miranda Falcon Invitational finish in Colorado, the Tribe traveled to Indiana early this week for the Fighting Irish Gridiron Classic, earning seventh place in a field of 12 at a team score of 872 (+20).
After the first two rounds Monday, the Tribe already stood in seventh place, not moving up or down with the final round Tuesday. Freshman Will Stewart was tied for the individual title with Eastern Michigan's Nicholas Ross and Loyola's Ethan Wall after two rounds; the trio each shot 3-under 139. Stewart's second round score of 67 (-4) was the best result of any tournament participant Monday.
In fifth, freshman David Hicks emerged as the Tribe's second-highest man on the leaderboard on the first day of competition with a 2-under 140. Juniors Davis and Austin Morrison initially earned 32nd and 54th place positioning, respectively, with scores of 147 (+5) and 152 (+10). Bringing up the rear was sophomore Alex Shattuck in 64th place after two rounds.
Although Tuesday's third round didn't change the Tribe's overall place, the five men shifted positions in the individual leaderboard. Stewart continued to lead the Tribe's efforts with a 73 (+2) in the final round for a total of 212 (-1), good for a tie at seventh place in the field of 69. Hicks ended the tourney at 15th, falling 10 places on the scoreboard with a total score of 214 (+1). The Morrison twins stayed in the middle of the board — Davis Morrison completed the tournament in 37th with a 9-over 222, while Austin Morrison finished 10 places lower at 47th with a 13-over 226. Shattuck took 59th with a 17-over 230. Overall, the three-day result for the Tribe was an 872 (+20), 22 strokes out of first place.
St. Mary's Jonathan De Los Reye overtook first place overall with a 207 (-6) to earn the individual title, three strokes ahead of a four-way tie for second. Host Notre Dame and St. Mary's shared the team title, each holding a 2-under 850 at the completion of the third round.
The Tribe continues its fall tournament slate Sept. 27-29 in Madison, Wis. at the Badger Intercollegiate.