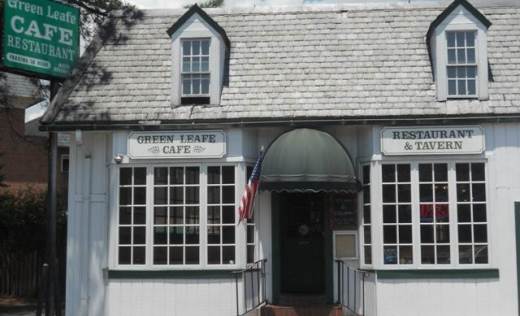 If you believe the movies, the fun parts of college are the weekend nights, when you stay out after the bar closes, or you're dancing all night in a trashy-EDM inspired haze. Count Monday nights at the Green Leafe as evidence that Hollywood doesn't know what it is talking about.
This past Monday was a perfect example of the wonderment and spontaneity, as well as the disappointment, which the Green Leafe can provide.
It started out simply enough. I walked into the bar with two friends, around 6 p.m. to enjoy half-priced burger night. We met another two friends there and enjoyed an initial round of beers, an appetizer plate of mini corn dogs and, eventually, our finely crafted artisan burgers that the Leafe offers at a discount one glorious night each week.
Dinner was pleasant; we let off some steam after a gray Williamsburg Monday, made jokes about Volkswagen and the Republican presidential candidates and ordered another round of beers (or three).
The atmosphere at the Leafe was amiable as always. Our gracious server, offered plenty of recommendations from the bar's selection of tapped brews. He even cut one of my friendsoff from Shocktop, not because his drinking was out of control, but because the night clearly demanded a more creative choice in beverage. And because no weeknight at the Leafe is complete without someone making a halfhearted attempt at studying, my friend pulled out her chemistry notes and shared them with the table.
Eventually, the choice had to be made. Do we pay our tabs, call it a night and say goodbye to the Leafe for the time being? Or do we forego our worldly obligations and stick around until trivia starts up at 8 p.m.?
Luckily enough, the choice was made for us. A lovely lady in a Stella Artois polo approached our table offering free pitchers of Stella cider. I'm not a huge cider fan, but some offers are too good to pass up. Besides, it kept my friends at the table for just enough time to convince them that it was worth staying for trivia, which was what I had wanted all along. A sixth friend joined us as the game started, and our trivia juggernaut, the Muffintops, was formed.
We breezed through the opening categories, mainly questions concerning generals in the United States military and cats. Through three rounds we were in first place, momentum was on our side and I could not have been happier.
Soon enough, the wheels came off. The students who were running trivia that night chose to center a category around an obscure web series called "Teen Girls Squad." You may be familiar with this series. You may even be a fan of it. I am neither of those things. Unfortunately, none of my Muffintop comrades were well versed in the intricacies of this pillar of online entertainment. After getting one out of the 10 questions correct in that round, we knew we had work to do.
We refocused our efforts for the final rounds. Thankfully, I've surrounded myself with enough friends who appreciate classic rock, and we got nine out of 10 questions correct during the music round. It pays to be able to identify guitar solos.
After the final round the scores were read out. It turns out that Teen Girls Squad was our undoing. We lost by one point. Our appeals that Ulysses S. Grant's middle initial stood for "Simpson" (as opposed to not standing for anything) fell on deaf ears and we were forced to live with our second place prize, a $15 tab at the Leafe.
Despite not coming in first place (sorry I let you down, Ricky Bobby), my first stab at trivia was highly enjoyable. I look forward to returning on many a Monday evening throughout the semester and competing against the College's "best and brightest" for the trivia crown.