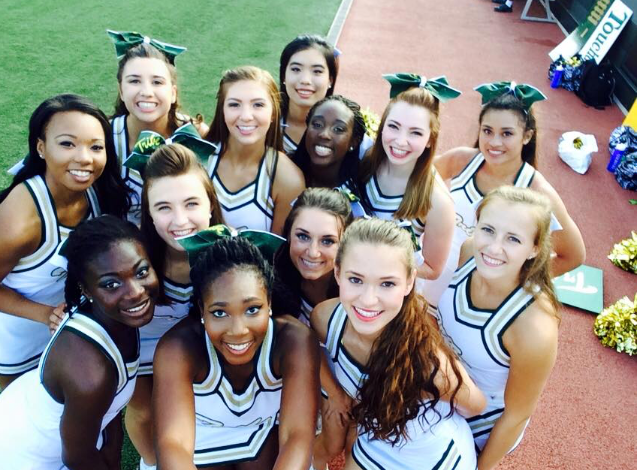 Whether it is the constant smiling, yelling until their voices are gone, flying through the air or pouring effort into an unresponsive student section, William and Mary's cheer team is prepared to carry the College community through another year of sports fandom.
According to senior captain and third year team member Mikaela Spruill '16, the team has cultivated a feeling of strength and confidence through a tough and unusually strenuous tryout process this summer.
"Tryouts are usually a little intense," Spruill said. "This year we had kind of revamped our whole program and brought in a new coach. The whole tryout process was redone — so all the returners had to try out again."
Tryouts are an eight hour-long process, followed by two weeks of a summer training camp to prepare before the school year and football season begins.
During practices, each member of the team hones their skills in various types of jumps, tumbling and performing their role in the deceptively dangerous stunts, with senior captains Spruill and Keabra OpongBrown '16 supervising to prepare their team to operate with perfection during the high-flying routines.
Junior captain Elaine Yap '17 said that what drives the squad when they step out onto the sidelines is the chance to communicate the hard work the team has put into their routines.
"I think it's a respect thing, that underappreciated thing," Yap said. "And that we put a lot of hard work into it, and that we love our school."
Although the cheer team does work on choreography for routines, Yap said that their main focus is getting the crowds on their feet during games.
"Here it's sideline and more crowd involvement," Yap said.
According to Spruill, the cheer team also takes on the daunting role of being a representative of the College to the wider community of alumni.
"Alumni are always watching the cheerleaders," Spruill said. "They're always on us. So it's kind of like when we step out we represent William and Mary as a whole. We kind of become the face of William and Mary when people see us."
The team is ready to face this year's challenges, however, with a new coach and the addition of the first male member of the team in five years, Tanner Blankenship '17, who now provides the team a wide range of stunt opportunities. New to cheerleading, Blankenship said he is already excited about the direction the season is taking.
"I don't know too much but I have been impressed … what we are able to accomplish in a few practices is incredible," Blankenship said.
According to Yap, the team is looking forward to a new season with increased spirit.
"This year we are trying to really integrate, trying to become a whole 'Spirit Program,'" Yap said. "We have already created a new fight song."
With all the preparations and training the team has put into this season, Spruill said she is ready to put her heart into cheering.
"It definitely takes dedication," Spruill said. "All of us are like, 'I would not be here if I didn't love my team. I would not be here if I didn't love my sport' … Because what we do is for something bigger than us. We just love it."