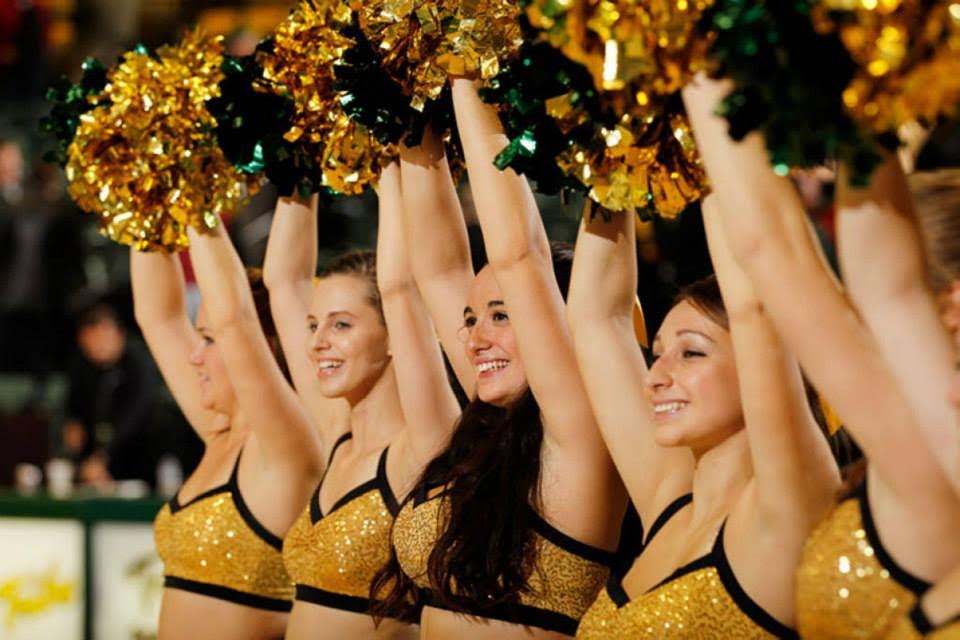 Sparkling in green and gold under stadium lights, the Tribal Dancers kick, leap and twirl on the sidelines. The College of William and Mary's dance team is featured at football games where they get to perform their pep routines.
Nina Lavalley '17, the team's co-captain this year, said these football games are what drew her to the team.
"I've been dancing since eighth grade, but I had only ever done ballet and other structured forms of dance," Lavalley said in an email. "When I got to the College I wasn't planning on dancing, but when I saw the dance team at the first football game they just looked like they were having so much fun so I had to try out."
Beyond performing at football games the team also performs at basketball games, Universal Dance Association camps, pep rallies and other spirit events on campus.
"Our main focus is dancing at the games," Meagan Solano '17 said in an email. "That's where we perform, although it can definitely be frustrating because we don't always have time to get to show people what we can really do. For games we do a mix of pom and jazz during football, and then do much more jazz and hip-hop for basketball, which is really fun. We do actually go to UDA camp in the summers, where we get intense work with different styles and meet tons of other teams."
Following the team's success at UDA camp, the team is now nationally ranked in both jazz and pom.
This is more than another dance group on campus; this is a family. — Taylor Ferguson '16
Joining the team is a competitive process, but according to the team captain Taylor Ferguson '16, this makes sure the team is as good as it can be.
"Auditions usually last two to three hours and consist of stretching, turns, technique such as leaps and jumps across the floor, short pom or jazz sequences, and kick lines," Ferguson said. "Auditions are rather competitive, as we have a limited number of spots on the team each year, but this competitiveness has continued to ensure that we have only the best dancers on the team."
Since there are only a limited number of costumes, in any given year there are as many as 25 dancers competing for as few as three spots. Auditions are held both in the fall and spring semesters of each year.
For many members of the Tribal Dancers, auditioning was a way to reconnect with a passion and an opportunity to pursue dance at the collegiate level.
"I chose to audition for the William and Mary Dance Team in the fall of my freshman year," Ferguson said. "I watched the Dance Team perform at the first home football game that year and immediately decided it was something I wanted to become a part of. I had danced for 14 years at that point, but I was still extremely nervous to audition. However, it has been the best decision I have made during my time here at William and Mary."
Older members of the team are responsible for filling many leadership roles such as choreographing, dealing with funds and scheduling events.
"As secretary, I am responsible for making sure the team knows when we have practices and games, what we are wearing that day, when to arrive and all of those logistical details," Solano said. "I also order our team tickets for the games for our families and friends and hand those out. Essentially, I am the communicator between the captain and the rest of the team, making sure we're all on the same page and ready to go for games."
Regardless of why the members originally auditioned, they each said that the team has become something like a family.
"Being a member, and now captain, of the William and Mary Dance Team has been the most gratifying experience I've had at William and Mary," Ferguson said. "I have found my best friends through this team and have made memories that will last a lifetime. This is more than another dance group on campus; this is a family. I don't necessarily have one specific favorite memory of dance team because they are all superb, but I am so thankful to have been a part of this team and thankful to have so many wonderful memories to look back on later."