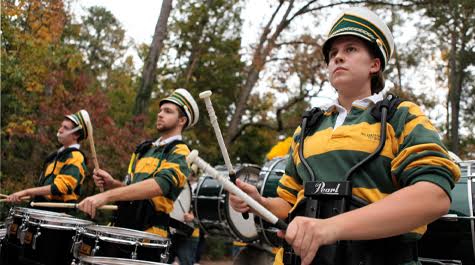 The members of the College of William and Mary Pep Band are easy to recognize in their signature green and gold striped rugby shirts. You might also be familiar with their boisterous renditions of the Alma Mater and Kansas' "Carry On My Wayward Son." Maybe you've even watched them enough to learn some of their spirited dance moves.
The Pep Band is not a traditional college marching band. They are what's called a "scramble band," which means rather than marching and having a specific set routine, the group performs in a less rigid structure, allowing for exciting performances at events comprised of a variety of songs. The Pep Band plays at home and nearby football and basketball games, and is also frequently involved in various events around campus, such as Convocation and the Homecoming Parade.
The Pep Band is also distinguished by their emphasis on individuality, liveliness and having a good time.
"A lot of people came from a marching band that was really intense, so it's nice to have a more relaxed atmosphere that's about having fun, being enthusiastic and playing music," Pep Band Director Cody Jones '17 said. "We really just want to make the best music we can."
Jones serves as the face of the Pep Band. Originally a saxophonist, Jones now leads the group and helps organize events. He said that one of his favorite things about being a part of the Pep Band is the energy and enthusiasm they bring to the games.
"We're definitely peppy," Jones said. "We're all volunteers so everyone really wants to be there and really enjoys playing music with their friends."
Largely playing transcriptions of pop music, the Pep Band can be heard performing their versions of anything from the Jackson 5's "I Want You Back" to Ozzy Osbourne's "Crazy Train." With traditional marching band sections like percussion, brass and wind, the Pep Band also mixes in the occasional melodica, bass guitar and even kazoo, as seen at the 2015 Raft Debate.
Victoria Gerardi '17 plays trombone and serves as the Pep Band's publicity chair. She said that she likes the fact that the band is student run and very energetic.
"When we play there's high excitement and high enthusiasm; we pump energy into any event we play at," Gerardi said. "I feel like I can let myself go and be who I want to be without being judged. Like I can wear all the green and gold I want and it'd just feel normal."
Many of the Pep Band's songs have accompanying dance moves or vocal sections, and members are encouraged to have fun with their performances. Their spirit also comes across in their College spirit attire, as they frequently wear face paint, wigs and other green and gold accessories.
Nate Jenkins '17, a saxophonist and the group's show manager, said he appreciates how the Pep Band has few strict dress codes or mandatory choreography.
"The only thing you need is the rugby [shirt], after that we can be as peppy or as crazy as we want, as long as we're having fun," Jenkins said. "It's great to just let loose and be as wacky as possible."
In addition to the home games and events around campus, the Pep Band also follows the men's basketball team to the annual Colonial Athletic Association basketball tournament.
Gerardi went to CAA Tournaments with the Pep Band in both her freshman and sophomore years, and said she considers them some of her favorite memories.
"They were high energy and we were right next to where the basketball team was on the court," Gerardi said. "It was a great experience because we not only got to see the game, but it was also a great bonding experience with the Pep Band."
Jenkins said he believes one of the best things about the Pep Band is their sense of community and the friends he's made along the way.
"We're just a nice big family," Jenkins said. "I remember in my freshman year, Pep Band was my go-to stress reliever because it was just fun, not work or anything, just playing music."
Along similar lines, Jones said he thinks the Pep Band's lack of exclusivity also contributes to the more relaxed and friendly atmosphere of the organization.
"We're mostly composed of non-music majors. We don't have an audition process or anything, and we're always accepting new members," Jones said. "We just welcome everyone and play fun music."