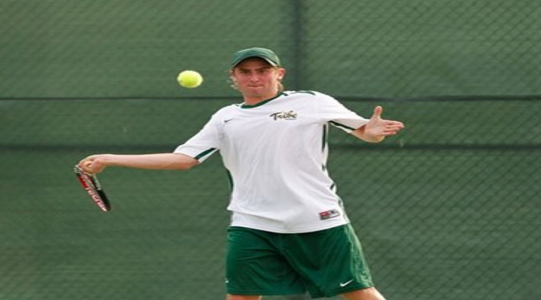 William and Mary headed down to Raleigh, N.C. for the weekend to take part in the North Carolina State Invitational as it wrapped up its slate of fall competitions.
Head coach Jeff Kader '05 gave several of his younger players some major playing time in the tournament, looking to iron out his squad before dual match play begins in January. Freshmen Tristan Bautil and Michael Ruamthong both suffered losses in their opening round matches Friday. Bautil dropped his 6-2, 7-6 (4) to Elon's Petar Tomic while Ruamthong lost in a three-setter by margins of 6-4, 6-7(4), 6-1 to Davidson's Ricky Saad. secure a victory, Ruamthong's performance shows promise for the spring with this being just his first collegiate match
Sophomore Alec Miller put forth a quintessential effort, winning his first singles round match against Davidson's David Hager 6-2, 6-3. Miller's win gave him five fall singles wins, which tops the College's leaderboard this fall.
Miller was unable to keep that momentum going into doubles, however, as he and Bautil dropped all three of their doubles matches over the three-day tournament and are facing elimination after Saturday's loss to host N.C. State.
Saturday the trio resumed play with the freshmen playing in the consolation bracket, while Miller continued through to the winner's bracket. Bautil defeated North Carolina at Greensboro's Will Albright in a tight three-set match. Bautil took the first set 6-3 before dropping the next 4-6. He was able to respond in the final frame, winning a tiebreak 7-6 (4). After defeating Albright, Bautil faced George Washington's Chait Kapukiran and lost in another three-set battle 5-7, 6-3, 6-0.
Miller faced a difficult slate Saturday, going up against All-Southern Conference member Connor Thompson of UNC Greensboro. Miller lost in straight sets, 6-1, 6-1, but responded with a win over George Washington's Chris Fletcher 6-3, 6-1 later in the day.
Ruamthong was unable to notch his first collegiate victory during Saturday's action, as he lost both of his matches, although he did take a set against Elon's Taylor Foote, 6-4. He fell to North Carolina's Chad Hoskins 6-4, 6-0 while the match results against Foote read 4-6, 6-4, 6-4.
On the final day of action, both Miller and Ruamthong suffered losses in singles, with Miller losing to N.C. State's Shoti Meparidze 6-4, 6-4. The loss put him at 2-2 for the tournament and rounded out his fall singles record at 6-6. Ruamthong fell to Tennessee Tech's Alvaro Cintas 6-3, 6-2.
The Tribe returns to action when it travels north in January to take on a trio of Ivy League schools. Matches against Yale, Harvard and Brown are scheduled for Jan. 15, 16 and 18, respectively.