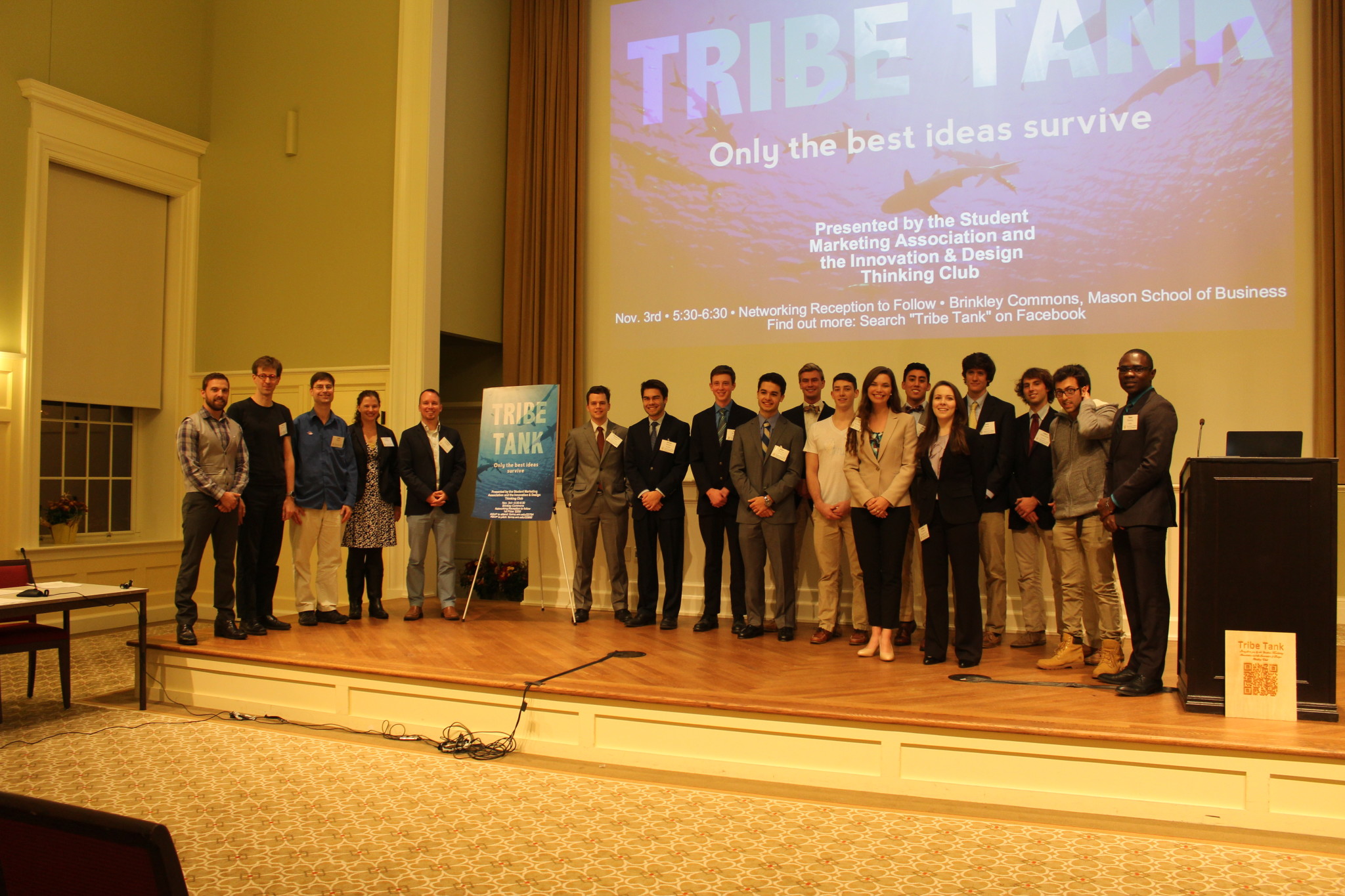 Ideas were abundant at the College of William and Mary's Tribe Tank, an event where students of the College seeking investments in a product presented their ideas to a panel of judges who have experience in the business world. The event is a take on ABC's television show Shark Tank.
12 students presented their ideas to five judges — Danny Mastronardo, Graham Henshaw, Laura Markley, Wouter Deconinck and Josh Erlich — in the Mason School of Business on Nov. 3. The students competed for first and second places as well as a separate opportunity to work in the Small Hall Makerspace, where they can begin the process of turning their products into a reality. The joint efforts of the Student Marketing Association and the Innovation and Design Thinking Club made this event possible.
President of SMA Alicia Howard '16 came up with the idea of hosting Tribe Tank after a guest speaker whose product was to be featured on Shark Tank spoke in one of her business classes.
"For students, we are hoping that they will find this a valuable experience that they can both talk about on a resume and in interviews, as well as providing them with skills for interviews themselves," Howard said. "We are hoping that this will be an annual event."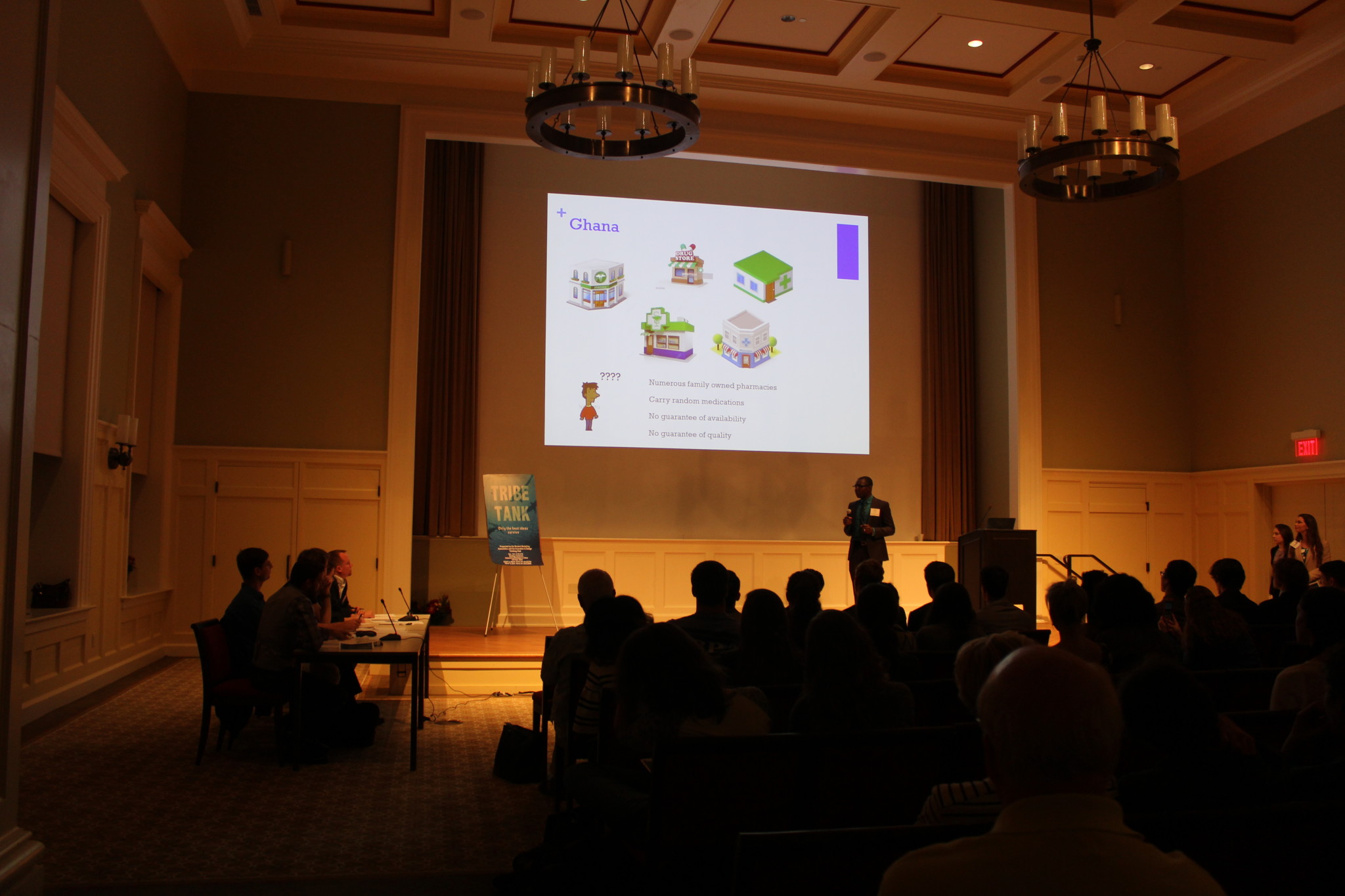 Each contestant presented their products, business models, projected revenue and grant requests to the judges and audience. It was done in a formal fashion: participants dressed in business casual attire and spoke professionally.
The judges and the audience said they were impressed with the students' professionalism and preparedness.
Danny Mastronardo flew from Florida that day to be present as a judge. He appeared and won a grant on Shark Tank.
"The students were very well prepared. It was inspiring to see young minds taking strides like this to make a brighter future," Mastronardo said.
Following all of the presentations, the judges gave constructive criticism to the participants, discussing the positive and negative aspects of the presentations overall.
First place winner Ryan Metzger '18 said that the ability to present these ideas before a panel of judges who, like Mastronardo, have significant experience in entrepreneurship and business in general was a valuable opportunity for the participants.
"The most rewarding experience was just all of it coming together, and obviously you meet these amazing resources and everyone else — experiencing the entrepreneur spirit," Metzger said. "The most impactful part of this was turning the idea into the reality, like getting it coded and assembling a team of people who can help me build this vision."
Metzger won with his idea for an app called Owler that would enable students at a college to find and host parties on campus. It would allow students to communicate with each other about what parties are happening and where they are occurring. The app would also have an interface with Steer Clear, allowing for a safer partying experience.
But the event didn't just benefit the participants; audience members — fellow students and prospective entrepreneurs — said that they learned from watching their peers as well.
"It taught me just to be confident in what I want to do," Jennifer Albarracin '18 said of watching the contestants present their ideas.
Almost every seat in the room was full as students watched their peers advocate for their innovations.
"I think it went really well," audience member Michaela Seaton '19 said. "It was very interesting and I think there is potential for some really cool ideas and products to come out of this."