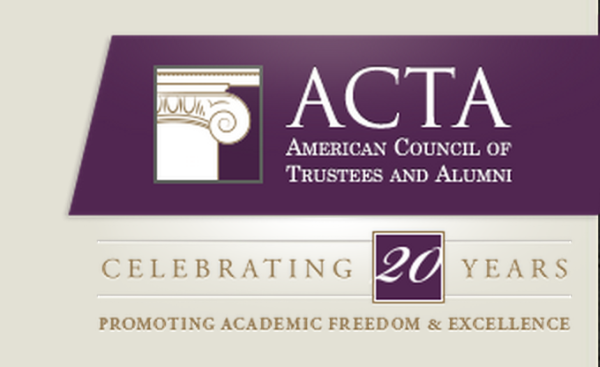 The College of William and Mary's new COLL curriculum received a D from the American Council of Trustees and Alumni's project What Will They Learn.
ACTA was founded in 1995. According to its mission statement, it is a non-profit organization that works with education leaders, donors, alumni and trustees across the United States to ensure that college students are receiving a solid liberal arts education.
What Will They Learn assesses the general education curricula of colleges and universities by checking to see whether the college or university requires its students to take a course in seven subjects: economics, mathematics, science, literature, composition, foreign language and U.S. government or history. ACTA assigns letter grades based on how many of these subjects schools require of their students. As are given to colleges and universities that require six or seven subjects. Bs are given to those who require four or five. Cs are given to those who require three subjects. Ds are given to those who require two subjects. Schools that require only one subject are given an F.
The College received a D, meeting only the foreign language and mathematics requirements. According to Skip Estes '17, who worked as a research intern for ACTA this past summer, the grade does not however reflect the quality of the College as a whole.
"One thing that needs to be specified is that it's not a rating of the quality of the College. It's a rating of the quality of the general education curriculum," Estes said.
Estes and four other interns put together the report for What Will They Learn. Estes is also a member of the Society for the College Student Association, an advocate for academic excellence and good governance at the College. The organization, which is independent of the College itself, has been critical of the new COLL curriculum.
The new curriculum begins with two freshman seminars: COLL 100s and COLL 150s. The COLL 100s focus on big ideas and big questions in a certain subject area, while COLL 150s are meant to teach students how to write and communicate effectively.
The COLL 200s are interdisciplinary studies courses that focus on three knowledge domains: Arts, Letters and Values, Culture, Society and the Individual, and Numerical and Quantitative Reasoning. Students must take one COLL 200 in each of these three knowledge domains. The COLL 300s focus on international studies and can be replaced by study abroad programs. The COLL 400s are senior seminars that take place within majors.
SCSA stated that these knowledge domains and requirements are too broad. In an article posted on their website, the organization argues that the new curriculum fails to address the "hard question" of what knowledge students should gain from their time at the College. Estes was personally concerned that the curriculum does not require students to take a science class.
Professor Bruce Campbell, a Center for the Liberal Arts Fellow who helped develop the new curriculum, said there should be no specific list dictating what students should learn.
"I think the days are long past when we could establish a single list of everything an educated person ought to know," Campbell said in an email. "In fact, I teach in some of my courses that this hasn't been true since the Renaissance. A liberal arts education should teach us to be wary of simple lists. Instead, the COLL curriculum provides for significant breadth, and allows many paths to that end. You simply can't reduce university-level study to a rigid checklist of discrete facts. If you try, you get … middle school."
According to Dean of Arts and Sciences Kate Conley, the new curriculum also has received positive reviews.
"The American Association of Colleges and Universities has given us high marks for our curriculum," Conley said. "The Mellon Foundation, and these are two organizations for which I have the greatest respect, has also given us very positive reviews for our curriculum,"
This year, What Will They Learn gave Harvard University a D, while Yale University received a C.
"You'll also find that a few years back they gave the old GER curriculum something like a C-, while giving Harvard's and Yale's curricula Fs," Professor Eugene Tracy, another Center for the Liberal Arts Fellow who helped develop the COLL curriculum, said. "When that happens, I suspect the measuring instrument used. They simply look at course catalogs. No kind of assessment instrument is used by ACTA."
Estes pointed out that faculty should be wary of assuming that their students know more than they do. He cited a time when only a third of College students could identify a picture of alumnus and former president James Monroe while they were doing tabling for a raffle.
"I understand the argument that a lot of deans and a lot of college presidents make is that, 'Oh, we have a highly educated student body. They already know these things,'" Estes said. "Well, the fact of the matter is that they don't."
Other Virginia universities received higher grades than the College. Christopher Newport University received an A. George Mason University and James Madison University both received Bs. Estes said he worries that this grade disparity might make students less competitive.
"We have a lot of respect and a lot of prestige, but down the road, who knows? Because these schools are spitting out students who have taken economics, who have taken literature, and who have taken competition courses," Estes said. "William and Mary isn't making their students competitive compared to that."
Conley said she did not share Estes's concern about the College's ability to compete with other public universities in Virginia.
"I think we're extremely competitive with those universities and that the new college curriculum is more rigorous, more intellectual than the previous general education curriculum," Conley said.