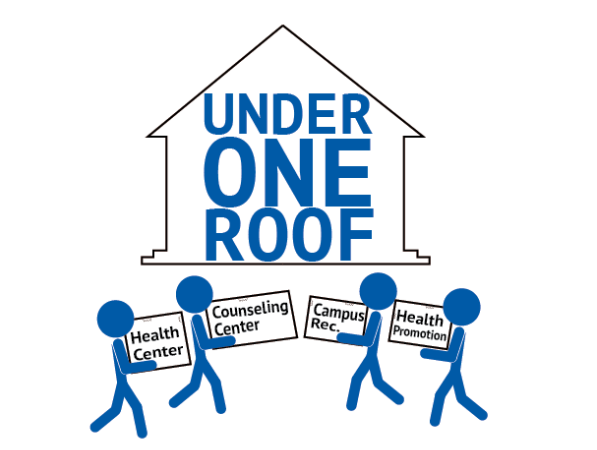 The Integrative Wellness Center, which will become the new home for the Counseling Center, Health Center, Health Promotions and a satellite area for Campus Recreation, is in the process of being designed.
The IWC, which is projected to be completed in the fall or winter of 2017, focuses on wellness as a multi-dimensional issue. Associate Vice President for Health and Wellness Kelly Crace explained that the concept of integrative wellness looks to teach community members about how to take care of themselves in a way that works best for them.
"The center itself just came from the vision for integrative wellness," Crace said. "It's an attempt on our part to help students and help our community become active, mature consumers of health resources and health programs, [so] that they know and learn what it means to take care of themselves in an optimal way."
Crace added that integrative wellness also looks at wellness as a community responsibility as well as a dynamic process for individuals. Furthermore, he said that the IWC looks to be proactive when it comes to health and wellness.
"[The IWC] is very positive and affirming," Crace said. "It moves away from this kind of dichotomized wellness, illness model, kind of an illness based focus on wellness and really encapsulates the full range; that it includes intervention, it includes having a place to go when something is wrong. But it's not only a building to go to when something is wrong. It's also about health promotion. It's about prevention. It's about education."
Director of Campus Recreation Linda Knight said she thinks the focus on wellness on campus is important due to the stressful atmosphere at the College.
"We want to make sure that the students … are taking care of themselves," Knight said. "So that when they leave here, they're not only smarter than when they came in, but that they're healthy, and they know how to take care of themselves, and they know how to balance work with life, or they know how to balance all of the other responsibilities they have together."
Crace said that this center will also be conscious of different cultural lenses. The IWC will offer complementary medicines, such as yoga, massage and biofeedback, alongside traditional medicines and therapies.
Integrative wellness has been a focus for Crace and the departments he oversees for some time, and through discussion he said people really got behind this idea for an actual space where education about integrative wellness can occur.
Director of Facilities Planning, Design and Construction Wayne Boy explained that the IWC will take the place of the seven lodges next to Sadler Center. The Grind will be left intact. The location for the Integrative Wellness Center, right next to Sadler Center, was a deliberate choice. In that area, Crace noted that all students will have to walk by the building, and even if they do not go in, it will serve as a constant reminder about wellness.
Boy recognized that some people on campus are upset by the impending removal of the lodges. He explained that while the lodges have served the campus well in housing 49 students, the IWC will serve the College population as a whole.
"Truthfully, they [the lodges] have outlived their life expectancy," Boy said. "They are very expensive to renovate because all the utilities are either in the slab or below the slab. So to replace them you have to actually tear up the floor of the building. … [They have] very limited housing — those buildings house 49 people, whereas [the IWC] is going to benefit everyone on campus."
Boy said that the vacancy in Blow Hall that will be created once the Counseling Center moves to the IWC has not yet been discussed. The current Health Center will be demolished once the move to the IWC is complete.
In total, Boy said the entire 28,000 square foot project is funded at $13.6 million.
Crace acknowledged that similar centers have encountered issues in assuming that combining different departments would only make them more positive and efficient. He explained that bringing together the different systems and models used by these departments could lead to a rise in tension. In anticipation for this move, Crace said that the departments have been meeting together to prepare themselves for this change and to ensure that they will be able to collaborate, not just cooperate, in this new space.
Director of Counseling Center Warrenetta Mann also addressed the challenge of increased demand for Counseling Center services due to the move. She stated that the Counseling Center is taking the next two years to ensure that they are prepared to meet that demand when they move into the IWC.
At the moment, the different departments are already preparing for the change in location. Mann stated that the Counseling Center is looking into the possibility of more mindfulness programs and express therapy in conjunction with Health Promotion and Campus Recreation. Knight said Campus Recreation is focusing on how to best expand its services in the new space, including considering new offerings like biofeedback or acupuncture.
Assistant Director of Health Promotion Sarah Menefee '03 said that the IWC overall will help diminish the stigma surrounding health issues.
"I also think [the IWC] will help our campus combat stigma or embarrassment that can unfortunately be associated with health issues," Menefee said.  "I can't wait for the IWC to be seen as a place where students come to be healthy without worry about what specifically brought them there.  I hope we can show students that everything the IWC will have to offer is important for promoting health and that the building is a place students are excited to enter and return to."
In addition to the four different departments moving into the space, there will also be the Center for Mindfulness and Authentic Excellence, which will work to teach students the skills that will help them flourish and be resilient. Crace also stated that the IWC will hopefully include a makers space, which will serve as a hub for the different peer educator groups on campus. Through this centralization in location of student groups dedicated to health and wellness, Crace said the IWC will hopefully foster more collaboration between the different groups.
Mann stated that the IWC will help encourage a cultural shift towards a focus on wellness in the College community.
"I think it will help symbolize a culture shift from a focus on what's wrong to focusing on strength and what's right," Mann said in an email. "I think it will allow students to take more responsibility for their own wellbeing by making it convenient to do the things that help keep them healthy and well.  Whether you have a mental health condition or not it is important to eat well, sleep regularly, exercise, get sunshine, connect with others and spend thoughtful time internally.  The center will help students make this a part of their daily lives in the way that SWEM does with studying, and Sadler does with engaging in co-curricular activities."