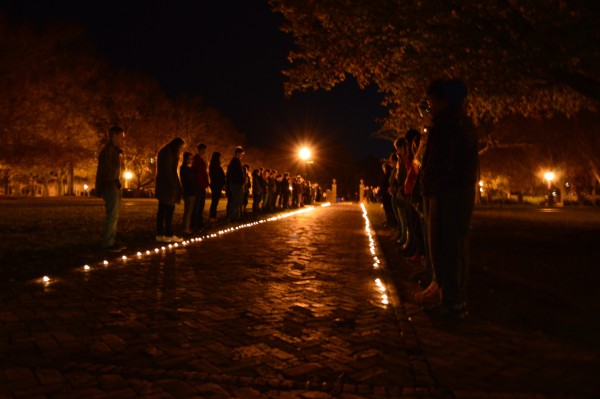 In the wake of the terrorist attacks committed by the Islamic State group in several locations in Paris this past Friday, Nov. 13, students at the College of William and Mary held a candlelight vigil Nov. 15 to show support for France and honor the victims of the harrowing attacks. The attacks, which left at least 129 dead and 350 wounded, are the deadliest France has experienced since WWII.
At 8 p.m. Sunday night, students and faculty alike lined up along either side of the path, illuminated by candles, leading from the Sunken Garden to the Sir Christopher Wren Building. People stood in silence for an hour, interrupted only by a few brief comments from Thibault Vermeulen '16, a resident of the French House, who thanked the attendees for coming and encouraged people to sign a banner that read "Peace for Paris" with messages of support for France. He also took a moment to acknowledge the other terrorist attacks committed by the Islamic State group in other countries over the past few days. College President Taylor Reveley also came to the vigil toward the end of the hour to show his support and sign the banner.
People could be seen holding hands, shedding tears and bowing their heads during the vigil. It was originally envisioned by a few students and was quickly supported and expanded by the French House, the residence hall dedicated to French and Francophone culture at the College.
"I was [thinking], we need to organize an event, a silent one, a peaceful event, to remember," French House tutor Elizabeth Zahoui said.
Thompson Hangen '17, who helped organize the vigil with several other students, said he believed there was significance in the College community honoring the victims of the attacks and supporting France.
"William and Mary is a community and I think it's important for communities to come together to show support for tragedies like these around the world," Hangen said. "It's also so that we can set it apart as a special time to honor those victims, the lives that were lost and remember them, hold it in our memory."
The vigil brought students from different backgrounds together in support of the Paris attack victims. French students at the College in attendance spoke about their experiences witnessing these events far from home.
"It's very hard when you're abroad, you're not able to really see all this, you want to help your friends but you're not there, you want to be able to hold their hands but you can't, so it's very hard in that sense," Vermeulen, who grew up in Paris, said.
Other attendees mentioned how the support from the College community helped them during this time.
"It's hard to believe in the 21st century that we are still dealing with these kinds of issues,"  Zahoui said. "I felt a lot of understanding around me here. All the people were asking me if everything was okay, if I knew people in Paris."
Anne-Claire Courchinaux, a French exchange student from Science Po Lille in France, recalled her experience on the day of the attacks and the support she has received from College students.
"That night was rough, seeing everything that was going on. I think I stayed in front of the TV more than two hours in the end. I just couldn't not watch," she said. "I've been truly amazed by the response of William and Mary students, some that I know well, some that I almost don't know, that sent me messages to say that I could talk with them if I needed to, asking me if my family and my parents were okay. The support has been heartwarming and really overwhelming. It may be cheesy to say that, but I really felt the 'One Tribe, One Community' at that moment. So even if it's really hard to be away from France right now and from my friends, I feel like I have support here at William and Mary, and it's a good thing."
The vigil also acknowledged the Paris attacks as a part of the larger global epidemic of terrorism led by the Islamic State group, including the recent attacks in Beirut, Lebanon and Baghdad, Iraq.
"We wanted to make sure that everyone could make it their own event, and commemorate what they wanted to commemorate," Vermeulen said.
Magali Compan, Director of the French and Francophone Studies program and an associate professor of French and Francophone studies, attended the vigil. She spoke on the importance of honoring the victims of attacks in other communities.
"I think everyone's in shock, after what happened in Paris, and it's nice to come here and to gather together as a community and show our support, but also remember other events that happened before the bombing in Paris, remember the violence that is happening all over the world," she said.
The banner will be at the French House for the next few days for those who did not have the opportunity to sign it during the vigil.