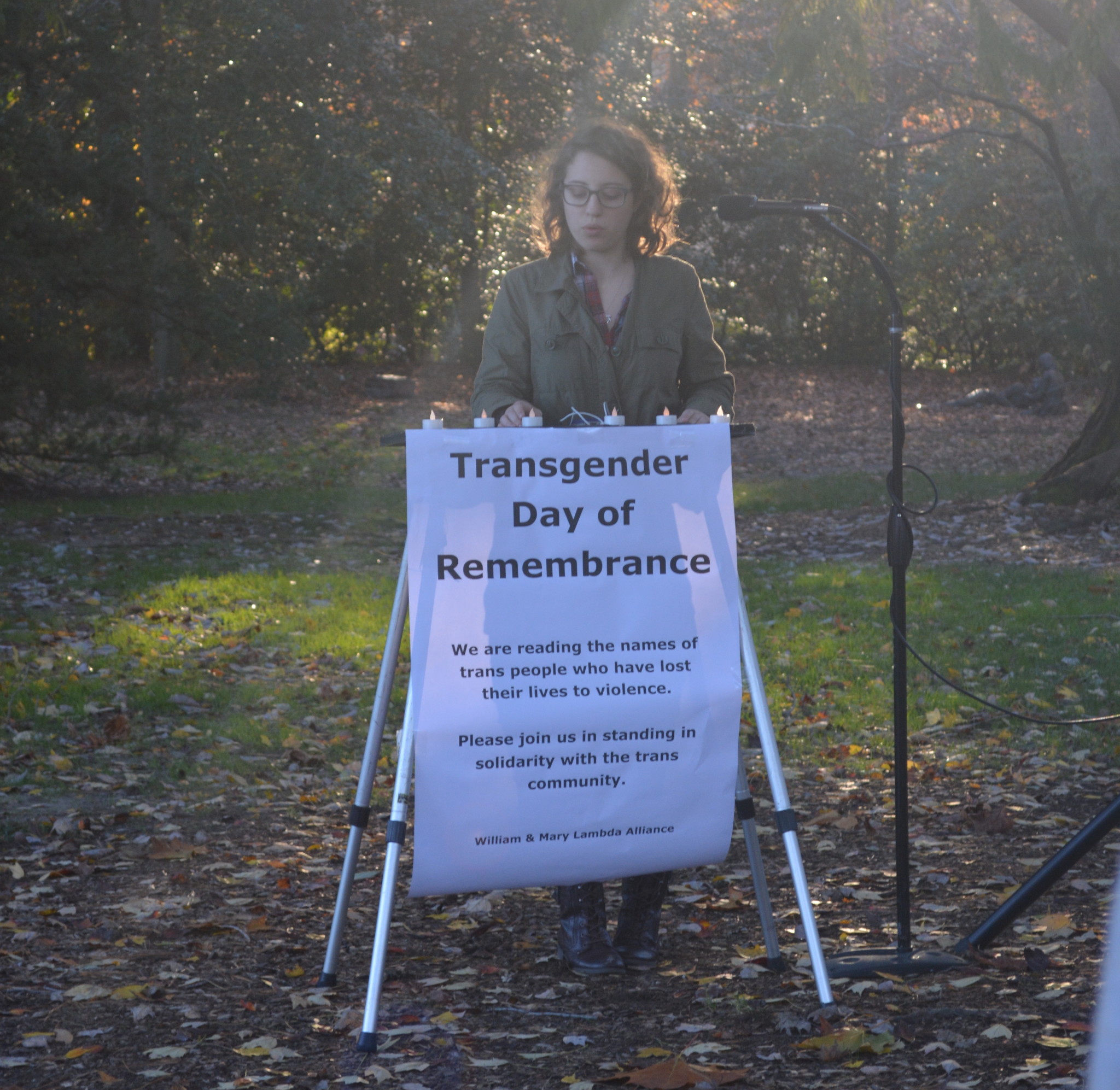 As part of the nationally-recognized Transgender Day of Remembrance, Lambda Alliance held a candlelight vigil on the Crim Dell Meadow Friday, Nov. 20, to remember all transgender people who have lost their lives to violence in the past few years in the United States.
Throughout the event, names of those transgender people were read aloud, and attendees of the vigil were asked to stand in solidarity and mourning together.
This was Lambda's second year hosting the event, and according to Lambda co-president Kyle Lopez '17, it is important to make people aware of transphobic violence.
"Lambda hosted this vigil because we seek to embrace and engage all segments of the LGBTQ community, which obviously includes trans people," Lopez said in an email. "Transphobic violence is a huge problem that everyone should be aware of and fighting to end, whether they themselves are trans or not. Lambda Alliance acknowledges Transgender Day of Remembrance every year."
Throughout the vigil, attendees had the opportunity to walk forward and plant a white flag in the ground in honor of the lives lost. Additionally, from 5:00 p.m. to 5:30 p.m., candles were placed around the Meadow, and a final moment of silence was held.
According to Lambda Social and Outreach Chair Trace Hernandez '18, the focus of the event was that the College community acknowledges the importance of trans lives.
"The event highlighted that trans people face unique forms of oppression that result sadly in one in 12 trans people being killed, and the number is even higher for trans women of color," Hernandez said in an email. "Beyond violence, they face everyday discrimination in the job market and their own families, which means they have ridiculously high homelessness rates. Yet, despite all of this, trans people are extraordinarily resilient and they are not defined by these violent acts, but by themselves in their passions, creativity and love. The William and Mary community stood in solidarity with them."
For two hours, names of those who lost their lives to violence were read, starting with individuals from 2015 and going back as far as 2009. The list included individuals who were unidentified or unknown. Some attendees stayed for the whole two hours, and others came and went. Some individuals had the opportunity to read from the list of names as well.
Kiana Espinoza '19 said that attending the event was important to her because it meant giving visibility to victims of horrible crimes.
"I feel that events like Transgender Day of Remembrance are so important because these are crimes of violence that we aren't forced to think about on a day-to-day basis," Espinoza said. "Sometime because we can ignore them personally, they go unrecognized. No victim of violence should ever go forgotten."
Beyond this event, Lambda members like Lopez said they hope that the College community will continue to spread awareness and make changes that will benefit trans students and trans people worldwide.
"The main takeaway from the vigil, in my opinion, is that everyone needs to be paying attention to how trans people are treated in this world," Lopez said. "So many of these victims die without names, which speaks volumes of their position within the larger society. These were people with hopes, dreams, fun nicknames, and big personalities, all of which get erased when they are reported as 'unidentified victim,' as occurs frequently. I want to see the William and Mary community take an active interest in trans equality, and not just the students with direct connections to the LGBTQ community. This problem is too important to ignore and there's so much work left to be done."