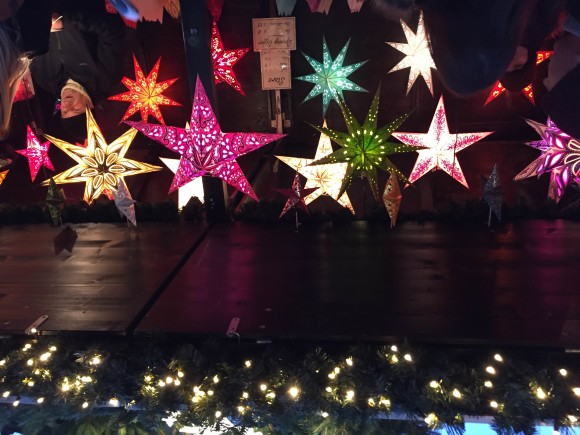 What a joyous weekend this is. I turned in my last paper on Friday, after two weeks straight pumping out paper after paper, tears perpetually collecting on my laptop mouse pad. But somehow, thanks to a wondrous Christmas miracle otherwise known as massimo Costa mocha lattes, I have emerged only slightly worse for wear. Anna-Leigh has no more deadlines. Anna-Leigh is free. Such a feeling of joy and pride has emerged from such a deep, black pit of exhaustion. I imagine this must be what holding your newborn baby feels like.
And with the end of deadlines breathes a new life into St Andrews — Christmas events are popping up all over the place. Formal Christmas dinners in halls, Christmas showcases, Christmas markets, Christmas drinks, Christmas cakes, Christmas everything. It's really quite hard not to be in the holiday spirit when student social is all candy-cane striped and Santa-smeared.
Just yesterday my hall organized a trip to Edinburgh for the city's Christmas fair quite similar to the one held in Union Square back home in New York. Local artisans brought their goods to the booths along with all sorts of yummy smells, from warm and cinnamon to smoky and meaty, wafted through the crowds. My friends and I devoured fish and chips, German bratwurst sausages and Belgian waffles drizzled with dark chocolate from our frozen, numb fingers. It was really quite a decadent day food-wise. As for my purchases, I bought a few trinket-y key chains for my younger siblings, a scarf made with Scottish wool and a Celtic interwoven ring. Once nighttime came and the lights switched on, it really was beautiful; a Christmas tree sale popped up by the kiddy carnival ride area, decked out with Rudolf rollercoasters and tall burlap sack slides. Just getting out of the St Andrews bubble and seeing life outside of school was refreshing, a much-needed break from the everyday routine.
If anything, the Christmas market, the end of my deadlines and the impending date of my first Thanksgiving ever away from home have all made me very keen to go home for the holidays. I do love St Andrews, but Christmas time is meant to be spent with family.
So, I must end this blog to go to a Christmas (of course) acapella showcase with friends. Another nice reprieve before I have to hit the books again for finals. Let's hope Santa can fulfill requests for good marks.