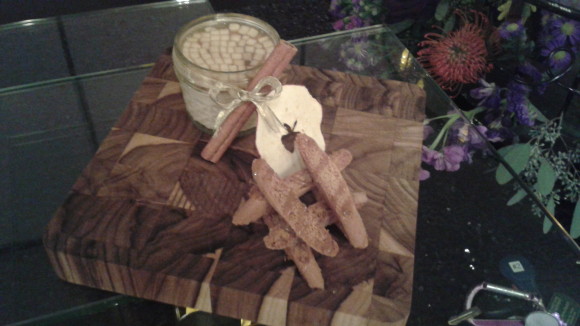 On the first Sunday of November, the College of William and Mary's Campus Executive Chef Stephen Losee competed against chefs from the area — including those from the Fat Canary, Opus 9 Steakhouse and Berret's Seafood — and received awards for Best Taste, Most Outstanding Presentation and Dish of the Colonial Peninsula at March of Dimes Signature Chefs Auction.
A hearty cut of  sat on a wooden board beside a collection of glazed carrots and mushrooms nestled in horseradish mashed potatoes with a parsnip purée. Ginger and sugar crystals sparkled atop biscotti awaiting a rendezvous with cinnamon-infused apple jelly and a creamy apple cider panna cotta. These two dishes captured the judges' taste buds and those of the bidders at the auction, who bid $2,100 — the highest bid of the night — for them at the charity auction.
Melissa Strain, marketing manager for the College's dining services, describes Losee as "dedicated and smart. He always maintains a professional appearance and demeanor … and his cooking is delicious." After earning a Bachelor's degree in Culinary Arts and spending 10 years in the United Kingdom working and honing his culinary skills, Losee developed a cooking style he describes as "simple, bold flavors and uncomplicated."
Perhaps this straightforward approach to food inspired the senior director of the Virginia March of Dimes Chapter to contact Losee and invite him to participate in the charity event. Losee, happy to "raise important funds for the March of Dimes" that will go to help prevent premature births, birth defects and infant mortality, accepted the invitation, and Melissa Strain "would love to see [William and Mary] participate in this event next year," in addition to seeking new opportunities to engage with the greater Williamsburg community.
Williamsburg itself helped bring Chef Losee to the College. He said that he and his family "really love the area." Losee's sourcing of some ingredients from local producers enables him to integrate the area itself into his dishes. Dickie Brothers Orchard in Roseland, Virgina provided the apples and apple cider for his competition dishes. Losee also procured locally-foraged mushrooms to accompany the glazed carrots and braised shortrib.
When he can, Losee has the College provide local ingredients for the dining halls. The apples that we eat also grow in Roseland, and Losee works "closely with Cavalier Produce to source all of our local seasonal products" from across the state.
Perhaps we should look forward to tender beef, earthy mushrooms, and rich panna cotta the next time that we visit a dining hall. Losee can certainly envision dishes and has people on staff capable of helping him execute them.