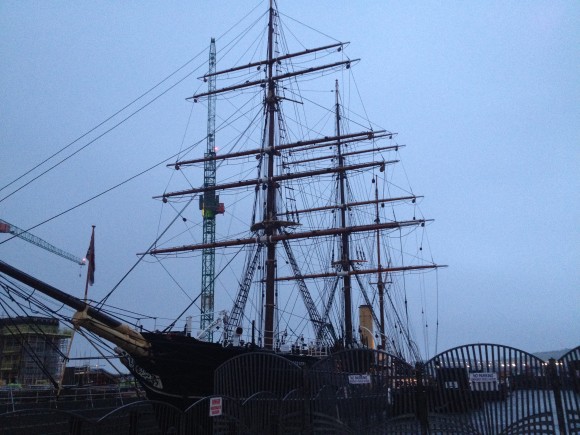 After spending the majority of November writing essays in the library, it was nice to have a weekend full of more riveting events, namely a William and Mary St Andrews Thanksgiving dinner, a hall formal dinner, a day trip to Dundee and the Christmas Ball.
On Thursday, a group of WaMStAs gathered in a friend's flat to engage in some typical Thanksgiving activities. Our host cooked a full holiday dinner complete with a turkey, stuffing and pie and we spent the night watching football and reflecting on our first Thanksgiving away from home.
I usually spend Thanksgiving with my family and friends, eating as much food as possible in the afternoon before taking a power nap to recharge for Black Friday shopping. It was hard to miss this tradition, but the camaraderie provided by WaMStAs experiencing the same bout of homesickness helped make our Scottish Thanksgiving a success.
The next day, my hall prepared for its second formal dinner. Unlike halls at the College of William and Mary, which mainly throw casual events like a barbecue or pumpkin carving session, St Andrews halls host formal dinners, monthly parties and even balls.
My hall's first formal dinner was Hogwarts-themed, but this time around, the dinner was a black tie, Christmas-themed event. We dined on a classic holiday roast and engaged in John Burnet Hall traditions. One, called coining, involves dropping a coin into a friend's full glass of alcohol and singing as they chug it. Ironically enough, the song's main refrain details how the person drinking is a mate because he or she drinks in moderation.
Saturday, three friends and I took a spontaneous trip to Dundee, a city about half an hour away. After spending the past three months in St Andrews, aside from one field trip to Edinburgh, it was nice to have a change of scene.
We spent the first part of the day at a Dundee shopping center, where I had my first taste of typical Scottish commercialism. St Andrews is different from the rest of Scotland in that there are almost no fast food chains or large stores; everything is local, adding to the quaint town atmosphere. Dundee, on the other hand, is full of fast food (I was happily surprised to find a Five Guys and a KFC) and British fashion chains.
After experiencing the more typical side of Dundee, we decided to visit the RSS Discovery, the ship used by explorers Robert Falcon Scott and Ernest Shackleton on their journeys to the Arctic. I spent several months in third grade learning about Arctic explorers, so it was interesting to see such a key element of these discoveries. Although we didn't learn very much about the explorers' lives, we spent an hour walking through the ship and marveling at how difficult it must have been to live in such cramped quarters.
The weekend ended with one of St Andrews' biggest events of the year, the Christmas Ball. Earlier this month, hundreds of students spent a rainy morning queuing for tickets to the ball, and only those who arrived before about 4:30 a.m. were able to get tickets. Luckily enough, I got a ticket without queuing thanks to the generosity of several hallmates who bought one for me.
I had high hopes for Christmas Ball, as it was Harry Potter-themed and is generally described as the best of St Andrews' many balls. The night began well, thanks to a beautifully decorated venue and copious amounts of free food (the gelato and chocolate fountains were two highlights of my night), but overall the ball was too crowded and chaotic for me to have a truly good time. It was easy to get crushed in the giant crowd, as I learned during a trip to the coatroom that could only be likened to my terrifying experience at the Macy's Thanksgiving Day Parade several years ago, and I kept losing my friends.
Despite these problems, I'm still glad that I attended the ball. The College isn't exactly known for its extravagant balls, whereas St Andrews is defined by the dozens of balls held throughout the year. Attending Christmas Ball was a quintessential St Andrews experience, and combined with the other very St Andrews activities I participated in this weekend, I feel like I'm ending my first Scottish semester on a positive note. Next semester will hopefully involve more European adventures, but before then I'm ready to finish exams and spend a month at home with friends, family and all the American things I've missed. Chipotle, anyone?