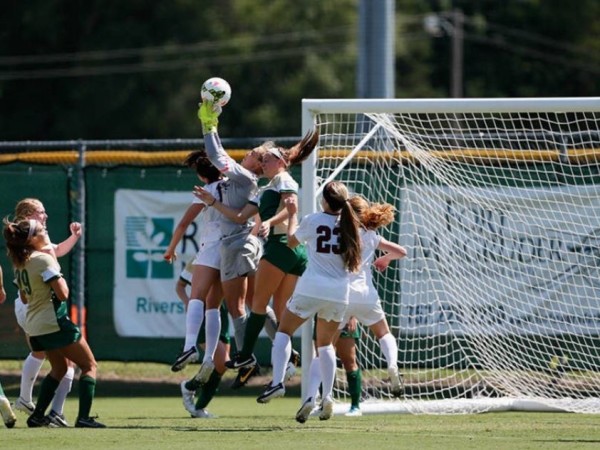 Though William and Mary remained off the field during the NCAA championship weekend, one player from the College still managed to make a splash in the national soccer community.  Senior goalkeeper Caroline Casey was named a National Soccer Coaches Association of America First-Team All-American for her outstanding performance in 2015. The senior is the 12th first team selection in school history, the last one being Mallory Schaffer in 2011.
Casey has proven herself to be among the most elite soccer players in the College's history
After four long seasons with starting duties in the Tribe's net, Casey has proven herself to be among the most elite soccer players in the College's history, and this year she has drawn in accolades at the conference and national level. For 2015, she earned All-CAA first team honors for the third All-CAA seasonal recognition of her career  as well as distinction as a NSCAA All-Mid-Atlantic Region first team player, along with senior midfielder Nicole Baxter.
She was also named to the Senior CLASS (Celebrating Loyalty and Achievement for Staying in School) First-Team All-American, which is awarded to the single most outstanding senior women's soccer player in NCAA Division I competition. The award evaluates student-athlete's achievements in the four areas of excellence: classroom, community, character and competition.
This season alone, Casey pitched 11 shutouts with 86 saves.  Her shutout total tied her with several players for seventh-best in the country. She was named the CAA Defensive Player of the Year after her role in leading William and Mary (14-5-3, 7-1-1 CAA) to a CAA regular season title. The Tribe thrived with her in goal, fighting to a 35th consecutive winning season, culminating in a playoff appearance that lasted to the second round of the NCAA Tournament.
A seasoned competitor on and off the field, Casey has also been inducted into Chi Alpha Sigma, a National Athlete Honor Society for junior or senior scholar-athletes with a 3.5 GPA or higher.
After four years as a starter (two of those as a captain), Casey finishes her Tribe career with 303 saves and 29 shutouts in 78 career starts. She logged an astonishing 7232:11 minutes in her career and closes with a match history of 48 wins, 18 losses, and 12 ties. Her saves total places her at second in program history.
With such a distinguished career behind her, Casey is expected to join the ranks of other Tribe greats in the William and Mary Athletics Hall of Fame in the coming years.