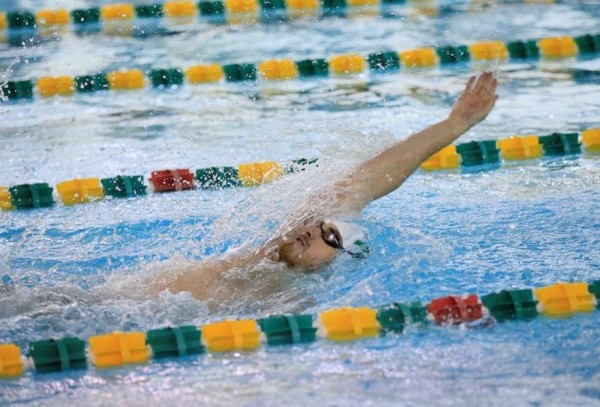 William and Mary sent five competitors the USA Swimming AT&T Winter Nationals for the weekend of Dec. 3-5.  This meet has previously featured some of the best swimmers this country, including big names like Michael Phelps and Missy Franklin, and the venue has commonly served as an early season test to gauge the Tribe Swim team well before postseason.
The College did not disappoint, as all the participants for the Tribe improved on their times so far this year, and finished with new program records.
Senior Jessie Ustjanauskas was the lone swimmer representing the women's team. She raced on Friday Dec. 3  in the 100-meter butterfly. She is the reigning school record holder of this event, with a time of 1:02:49, which she set in 2013. Seeded No. 80 at the Winter Nationals, Ustjanauskas competed well, finishing with a time of 1:01:77  marking a new school record. Her performance should bode well for conference competition, as her mark is  0:54.38 when converted for the 100 fly . She also stepped into first place in the CAA with the converted time.
The four men for the Tribe (5-1, 3-0 CAA) did not disappoint either. In the early races of Dec. 3, sophomore Wyatt Grubb set a new school record in the 200-meter backstroke at 2:05:58. He then swam in the 100-meter back alongside senior Will Manion, improving from a pre-meet seed of No. 95  to No. 57 overall with a career-best time of 0:58:57 .
Junior Alex Henderson the school record-holder in the 200-meter free, competed in both that event and the 200-meter backstroke race. In his 200m back , he was just behind teammate Grubb with a time of 2:05:59. He swam a lifetime best and Olympic qualifying time of 1:53:50  in the 200 free, marking another new school record.
Junior Josh Zimmt competed in the both 100-meter and the 200-meter breaststroke races. Zimmt's times this season have placed his name in serious contention for qualifying for the 2016 Olympic Trials. Seeded No. 40 overall in the 200-meter, he moved up nine spots to a No.31 finish with a time of 2:21:14. Also in the 100-meter, he swam a NCAA provisional qualifying time of 1:03:76 only 0.41 of a second off the school record set earlier in 2015 by senior Jeremiah O'Donnell.
Manion also swam in two events this weekend. Already seeded No. 23 overall in the 100-meter backstroke, of which he was already the school record holder and Olympic qualifier, Manion was tasked with also competing in the 100-meter free on Dec. 4. He finished No. 14 overall at the meet in finals for the backstroke at 56 seconds flat just 1.1 seconds off the NCAA automatic qualifying time.. He also did improve an astonishing 20 spots from his original seed of No. 60 to finish with a lifetime best of 0:52:71 seconds in the 100-meter free in the No. 40 spot.
Both the men and women's squads will next compete after New Year's Day with a Jan. 9 matchup at George Washington up in Washington D.C. Racing is set to start at 1 p.m.