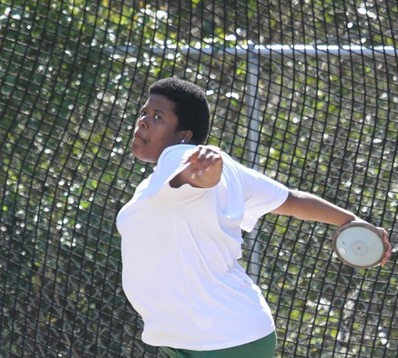 The nine select men and women of the track and field team, while few in number, represented the College well in competition at the Virginia Tech Invitational this past weekend Jan.15-16- with three of post-season qualifying marks, five personal bests, and all top 20 finishes.
Four members of the women's team made the trip to Blacksburg, for this first meet of the indoor season in 2016. Redshirt junior thrower Rochelle Evans had one of the best single outings in Tribe history. First, in the weight throw on Friday she had a throw of 16.32 meters. Not only was this mark a lifetime-best by more than two feet and good for fourth place overall, it was the third-longest throw ever in school history.
Evans then outdid herself on Saturday, finishing second overall in the shotput with a throw of 14.01 meters- but only after an intense tiebreaker due to her originally matching the previous best throw of the day.  Despite coming out on the short side of the tiebreak, the throw was good for the 10th-best in school history, and she finished having qualified for the Eastern Collegiate Athletic Conference (ECAC) Championships in both of her events.
Sophomore Kacey Wheeler led the Tribe on the track with the top times, in both the 500 meter and 400 meter.  On Friday she ran a time of 1:16:77 in the 500 meter, which was worthy of entrance to the College's all-time top-10. Then Saturday afternoon, Wheeler outdid herself by coming back with a personal-best 0:58:34 in the 400 meter, which was good for fifth all-time in school history. She finished 9th overall at the meet in both events.
The Tribe was also represented by a senior duo in the 400 and 500 meters dashes. Ashley Woodards who ran times of 0:59:67 and 1:22:92 (good for 18th and 20th place),  and Breanna Brukalo who finished with times of 1:1:08 and 1:21:47s seconds (good for 20th and 18th place), respectively.
Five of the men's squad competed this weekend as well. Redshirt senior Brian Waterfield finished first in the weight throw easily on Friday, winning by more than 5 feet and 10 inches. With a toss of 21.16 meters, he re-qualified for the Intercollegiate Association of Amatuer Athletes of America (IC4A) Championships, and squashed any doubts of inconsistency in the dominant thrower.
A second thrower of the men's team competed for the Tribe, as sophomore Preston Richardson finished No. 6 in the weight throw at 15.95 meter, and then 15.63 meters in the shotput to take No. 4 overall. That put was an indoor personal-best and 14th best in school history.
Junior Troy Sevachko and senior Jomar Aryee finished 16th and 20th in the 500 meter dash, respectively, with times of 1:6:68 seconds and 1:7:38 seconds.
Finally, redshirt junior Derek O'Connell finished No. 10 overall in the pole vault competition, clearing a height of 4.71 meters.
Both the Tribe men's and women's teams will compete in two separate venues , one the CNU Captains Invitational and the other a return trip to Virginia Tech, next weekend on January 22nd and 23rd.