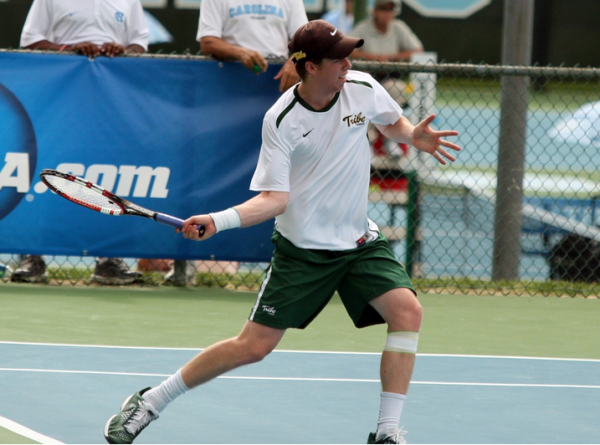 William and Mary came away from the weekend with a combined 3-1 result.
The men are off to a roaring start at home this season, having swept Sunday's doubleheader over Coastal Carolina and Howard at the McCormack-Nagelsen Tennis Center. Meanwhile, the women split two matches in North Carolina, defeating Colonial Athletic Association foe Elon 6-1 Friday before falling 4-3 to North Carolina State Saturday.
The men won five of the six singles matches against Coastal Carolina, led by sophomore Christian Cargill, who beat Vuk Velickovic at the No. 1 spot. Apart from Jabor Al-Mutawa's victory over William and Mary junior Addison Appleby, the Tribe won its matches rather handily over the Chanticleers.
Although the top doubles partnership of senior Scott Huang and sophomore Ryan Newman lost, the College received two 6-3 wins from its second and third pairings. Cargill and classmate Lars de Boer won both their singles and doubles matches in the contest, paving the way for a 6-1 victory.
The Tribe carried its momentum into the afternoon, winning every match and obliterating Howard 7-0. No match was closer than a 6-2 score line, and both Cargill and de Boer ended the day with four victories. William and Mary still has four more games left in the current home stand. The College will play two matches this weekend, playing host to Radford and Penn.
The No. 42 women's team also claimed a 6-1 victory, led by freshman Lauren Goodman who won both the top singles and doubles matches. While several matches were close contests, only Elon's Suzanne Zenoni landed a victory over her Tribe opponent. Senior Julia Casselbury and sophomore Cecily Wuenscher cruised to 6-1 and 6-0 wins in their respective matches. The top two doubles pairs — Maria Groener and Laura Goodman, and Maria Faure and Cecily Wuenscher — both won comfortably at 6-1.
In neighboring town Raleigh, the College suffered a stinging loss to N.C. State. Senior and No. 91 player Elizaveta Nemchinov returned to the top six for the Tribe, losing a nail-biting contest to No. 35 Martina Frantova. Only Faure and Casslebury won their matches, giving them two singles victories for the weekend.
The first doubles match, played again by Goodman and Groener for the Tribe, ended in a 5-5 draw, with the ladies keeping the highly ranked Frantova at bay. The College won the other two doubles matches, with Casselbury and Wuenscher notching the first win of their partnership this season.
The women will now host two nationally ranked sides this coming weekend, as No 28 South Carolina and No. 64 Wake Forest travel to Williamsburg, Va., Saturday and Sunday. The opponents' combined record is 10-0 this season.