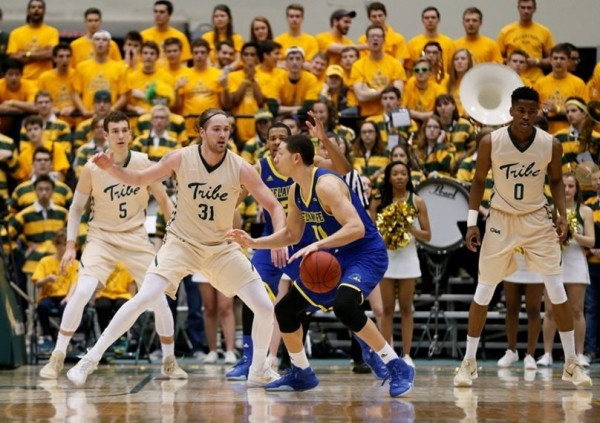 Thursday night, William and Mary opened the night on a 9-0 run, finished on a 13-3 run over the final six minutes and totaled 80 points at Kaplan Arena in Williamsburg, Va. On paper, such accomplishments would normally be impressive ingredients of a winning formula — the College is 27-2 since 2013 in games scoring 80 points or more. However, that equation of an 80 point offensive effort fails to take Hofstra center Rokas Gustys and guard Juan'ya Green into account, as the Tribe dropped a crucial Colonial Athletic Association game to the visiting Pride in a 86-80 shootout.
The impact of Gustys and Green were not lost upon head coach Tony Shaver.
"They are lethal offensively," Shaver said. "They are very hard to guard … it all starts with Juan'ya Green. He makes all four guys around him look really good. He gets the ball to the right player every possession, he's terrific."
Green, the Pride's senior point guard, was no sleeper entering the midweek game. Averaging 17.9 points per game, Green has drawn the attention of National Basketball Association scouts for the Atlanta Hawks, Indiana Pacers and Cleveland Cavaliers, all of whom have reached out to Hofstra (17-7, 9-4 CAA) inquiring about Green, according to a Dec. 7 article by Adam Zagoria of Sports Network New York in 2015. 
"He's the best player in the league," sophomore guard David Cohn said. "Both games he's gotten the best of us."
Unlike in its previous matchup against Hofstra, the Tribe (17-7, 9-4 CAA) contained Green's scoring ability Thursday night, allowing just 10 points compared to 30 points on Jan. 24. However, the College had no answer for Green's ability to penetrate the defense and find an open man. Throughout the night, Green was able to fire a pass from any shooting position, as he was often in mid-air before finding the pass, allowing him to tally 12 assists. Most of those assists went to Gustys, who had a double-double with 25 points with 15 rebounds.
Shaver attributed two reasons for Gustys success.
"He's a beast physically … and he should take Juan'ya Green out to dinner every night," Shaver said. "Green's getting him these layups, coming off a ball screen you have to cover or hedge to stop Green, but it's very hard to get back to Gustys in time to stop him. It's a tough dilemma. We weren't tough enough defensively to do it."
The game started well enough for the Tribe, as junior guard Daniel Dixon capitalized off a Pride error to breakaway for the easy layup. However, these first two points comprised 50 percent of Dixon's scoring production, as he battles a wrist injury sustained earlier this year.
"I've told Daniel before that we'll go as far as he can take us," Shaver said.  "We really need him to play at a high level … but he's got a wrist issue that's really bothering him."
The College relied upon junior guard Omar Prewitt the entire game, who put up 25 points, including two points in the initial 9-0 run. Hofstra recovered offensively, but William and Mary stayed a few possessions ahead for the first 10 minutes. A 10-1 run midway through the first half provided the Pride with its first lead of the game at 26-24. For the remaining six minutes before the halftime buzzer , the two teams exchanged baskets to a 38-38 tie.
"I've told Daniel before that we'll go as far as he can take us," Shaver said.  "We really need him to play at a high level … but he's got a wrist issue that's really bothering him."
Yet the lethal chemistry between Gustys and Green was already well underway, as the Tribe began to experiment with different elements to rectify its unbalanced defense. Gustys repeatedly scored with the and-one, posting two of his four hoop and harm plays in the first half.  Shaver rotated through his center, first senior Sean Sheldon, then sophomore Jack Whitman and finally to freshman Hunter Seacat to find a solution. Seacat outperformed the rest by far, with a career-high eight points on 4 of 5 shooting in 13 minutes, while Sheldon fouled out and Whitman had double Seacat's fouls in half the minutes.
"I was really proud of Hunter Seacat tonight," Shaver said.
Out of the locker room, neither team managed a breakaway, until Hofstra's 55-54 lead with 13 minutes to go ballooned into a 79-66 advantage with just seven minutes to play. 14 of those 24 points were courtesy of Gustys and Green.
"Defensively we didn't show up tonight," Prewitt said.  "They were running a pick-and-roll every time."
Seacat took a charge against Gustys that looked to switch the momentum with five minutes to play. The College briefly narrowed the lead down to just two at 82-80 with 30 seconds left,  but the Tribe could not overcome the missed three-pointers and turnovers of its rally. Hofstra secured the 86-80 victory from the free throw line.
Hofstra fired a blazing 54 percent from the field, while the Tribe converted 44.6 percent of its shots.
Up next for the Tribe is a road matchup against Towson (17-9, 8-5 CAA) set for 4 p.m. Saturday. The College lost to the Tigers at home in the CAA opener in December