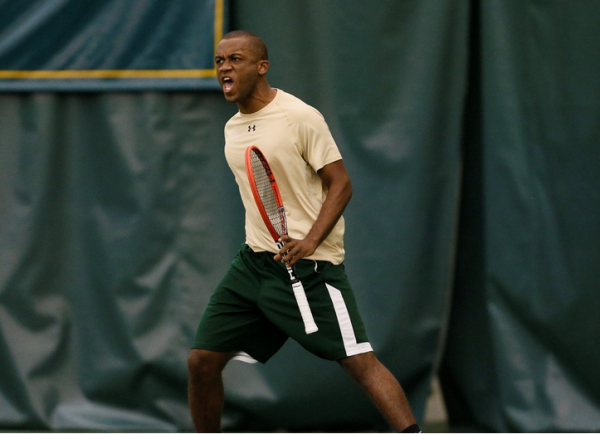 William and Mary men's tennis stayed hot this weekend, sweeping their home doubleheader on Saturday with wins against Binghamton and Villanova. The two victories take the Tribe's winning streak to six consecutive dual matches, following their impressive victories over Radford and Pennsylvania last weekend. The team only dropped one match Saturday, and several players extended impressive runs of victories.
Neither result was ever in doubt. In the morning matchup against the Bearcats (4-4), who were coming off of a Friday thumping at the hands of Virginia Commonwealth, the College (7-2) never looked back after dropping the first doubles set 6-0. Sophomore Alec Miller and senior Scott Huang teamed up for a 6-2 victory, and a combo of sophomore Christian Cargill and junior Damon Niquet brought home the doubles point with a 6-1 victory, taking the pair to 6-0 all-time at the No. 3 doubles spot.
Cargill dominated the No. 1 singles match 6-3, 6-2 to kick off the Tribe's dominant singles day. The reigning CAA Rookie of the Year has won six matches in a row at No. 1 singles, and has only dropped one set since his loss to Brown's Greg Garcia Jan. 18.
Junior Aidan Talcott and Niquet also brought home straight sets victories at No. 5 and No. 6 singles to end the day with three matches left to play. After the Tribe clinched, Binghamton's hot hand Eliott Hureau defeated Miller, a week after Hureau upset the No. 56 ranked Lucas Hejhal of St. John's. Sophomore Lars de Boer and junior Addison Appleby also achieved impressive come-from-behind wins, each dropping the first set of their matches before rallying to win in three sets. De Boer has only lost one dual match on the year, taking his record to 6-1.
William and Mary carried their dominance over into the late matchup with Villanova (1-2). Shortly after the first serves went up at 5 p.m., the Tribe clinched another comprehensive win. No singles player lost more than 5 games in their match, and only the No. 1 doubles team of Miller and Huang was beaten. Perhaps rust played a factor, as the Wildcats had not played a match since Jan. 17 due to a Jan. 23-24 tournament postponed because of inclement weather. However, the Tribe has also never lost to Villanova, who went 5-18 last year.
Nevertheless, Huang dropped only one game en route to a 6-0, 6-1 win, Talcott improved his unbeaten singles dual-match start to 8-0, and Cargill, Miller, Appleby and Niquet also won their singles matches.
The College hits the road next weekend after a long home stand, facing a challenging matchup in No. 47 Penn State. Especially tested will be Tribe star Cargill; Penn State's No. 1 singles player, Leo Stakhovsky, is ranked No. 47 nationally and has not lost yet this season. They face off at 12 p.m. Sunday, February 21.