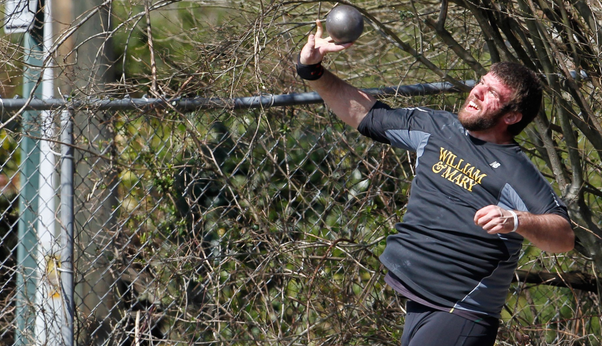 The Tribe came away from a split-squad weekend with solid results: The men competed at both the Iowa State Classic and against Liberty and Gardner-Webb in a three-team quad meet, while the women also visited Iowa and participated in a six-team quad meet in Lynchburg, Va.
The men finished third overall in the three-team meet, but were only 19 points away from second place despite having half the number of runners. Redshirt-junior Derek O'Connell stole the show Friday as he shattered the William and Mary pole vault record, positioning himself for a possible bid to the NCAA Championships later this year. O'Connell's outstanding performance has him 12th in national rankings, and his 5.36 meter result puts him on the cusp of qualifying for the national championship meet.
The College earned strong contributions in the weight throw events as well. Redshirt-junior Taylor Frenia qualified for the Intercollegiate Association of Amateur Athletes of America Indoor Championships with a second-place throw of 17.34 meters, while redshirt-freshman Preston Richardson finished just behind Frenia at 16.24 meters. In Iowa, redshirt-senior Brian Waterfield finished third behind three-time Olympian and North Carolina senior AJ Hicks by a mere centimeter, scoring 21.45 meters on his throw.
On the track, the Tribe blew past several previous records. Sophomore Davion Hutt finished first in the preliminary round and the finals for the 60-meter dash. Hutt nearly broke his own school record, timing in at 6.84 seconds, good for second in the College's history.
For the women, All-American sophomore Regan Rome crushed her lifetime best 5,000-meter race by almost half a minute, and she now ranks 11th in the national rankings with her 15:58.07 mark. Senior Meghan McGovern came in 20th in the event, joining Rome as a qualifier for next month's Eastern Collegiate Athletic Conference Indoor Championships.
At Liberty, the College finished second out of six teams and also came away with several individual honors. Sophomore Leia Mistowski claimed first place yet again in the weight throw, throwing 17.08 meters. Redshirt-junior Rochelle Evans set a lifetime best with a 16.41 meter, good for fourth place, then took second in shot put with 14.24 meters. Mistowski and Evans now sit first and second in school history respectively, and both qualified for the ECAC Indoor Championships. Sophomore Jacqueline Meeks also qualified for postseason competition, eclipsing the pole vault qualifying mark a third time.
In the high jump, sophomore Abby Jones tied for first, clearing the bar at 1.65 meters. Junior Savanna Craib and freshmen Grace Becker and Brianna Miller all set lifetime bests in the pentathlon. The three runners occupy the 12th through 14th place rankings in school history. Furthermore, junior Susannah Philbrick took a silver medal in the long jump and placed fourth in the triple jump event.
Both the men and women compete next weekend in the two-day Virginia Tech Challenge in Blacksburg, Va.