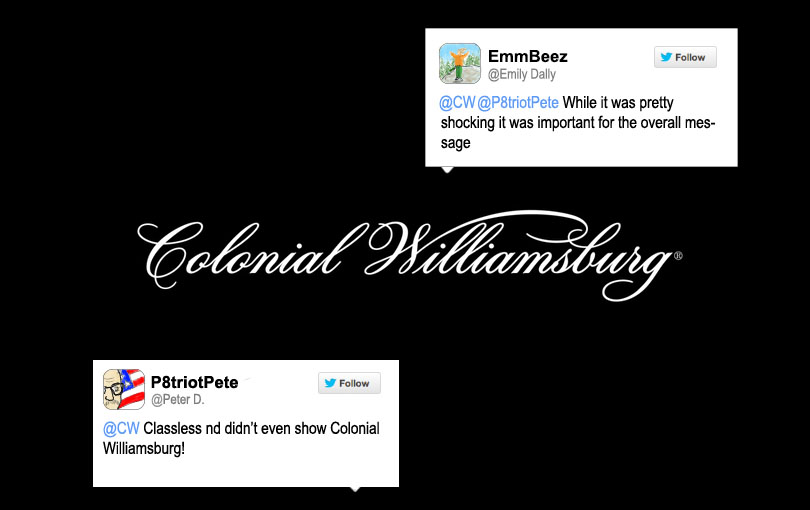 Q: Colonial Williamsburg came under some criticism for the ad. We'd love to get your take on it, especially responding to criticism specifically coming from students at the College; one thing you could possibly address is why a broad, national view was chosen for the ad rather than focusing on Williamsburg itself.
A: We chose to make a statement about the role of history – and Colonial Williamsburg – in the everyday life enjoyed by Americans today by concentrating some of our resources on the Super Bowl audience in the Foundation's strongest visitor markets: New York, Philadelphia and Washington D.C. The gamble, if there is one, is that we are not selling hotel rooms or attractions. We are promoting the notion that our exceptional nation was not inevitable. Certainly not all of the images depicted in the Super Bowl advertisement took place in Williamsburg, and other factors rightfully have their role in the development of America. Above all, we hope to convey the message that the America we know was not inevitable. It took courage. It took leadership, pain and sacrifice. This thought-provoking ad takes the viewer backward through time, down the many roads and tributaries of America to its original source — the revolutionary issues, debates, acts and peoples that defined 18th-century Williamsburg. Williamsburg's role in the formation of America's institutions and spirit is undeniable, and it threads through all of our experiences as Americans.
Q: Another could be whether or not the overall effect of the ad has been negative or positive; has the ad generated positive interest and revenue in Colonial Williamsburg, or is it a move that is now being reconsidered?
A: The nation has persevered due to the character of individuals and to the fundamental ideals forged in the halls, streets and taverns in Williamsburg two and a half centuries ago. With this ad we sought to underscore the undiminished relevance of our nation's history and to foster a broader conversation about its complex and ongoing story, of which we are all a part. The range of spirited responses demonstrates that the ad is having its intended effect.
 Joseph Straw
Manager, Public Relations
The Colonial Williamsburg Foundation