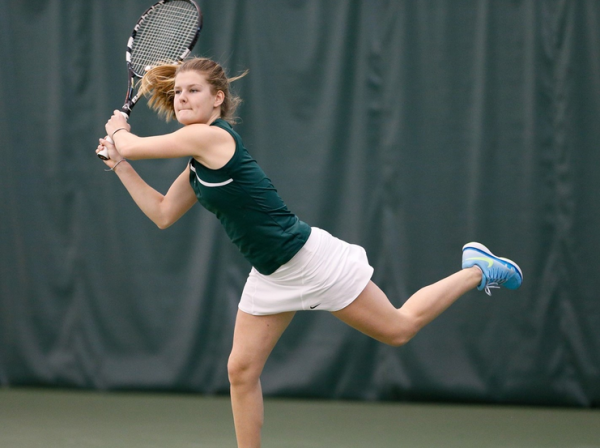 Sophomore Christian Cargill and the Tribe men's tennis team continued their hot streak with resounding victories over Radford and Pennsylvania this weekend.
On Friday, the Tribe (5-2) thumped the Highlanders(0-2) 7-0 in Williamsburg, Va., at McCormack-Nagelson Tennis Center, recording the best victory in school history in all-time matches against Radford. All Tribe singles players won in straight sets, and reigning Colonial Athletic Association Player of the Week Cargill led the way with a 6-4, 6-3 victory over Radford's Janken Thoen in No. 1 singles. The three William and Mary doubles teams swept the Highlanders to take the point for doubles, although the No. 1 doubles game did not finish. The pairings of Cargill and junior Damon Niquet at No. 3 and senior Scott Huang and sophomore Alec Miller at No. 2 are both undefeated on the season.
The Tribe then sealed up the victory in emphatic fashion, with Miller, Niquet and Cargill flying to victories to put William and Mary up 4-0 in the match. Although the result was already decided, junior Aidan Talcott, sophomore Lars de Boer and junior Addison Appleby did not let up, each tallying victories to earn the sweep for the Tribe.
Sunday's performance against Pennsylvania (2-4) looked less dominant, but was still a strong performance against a team that had comprehensively beaten the Tribe at the Penn Invitational in the fall. Of the 10 matches played between the teams at that tournament, only the No. 2 doubles pairing of de Boer and Miller earned a victory.
This time, the Tribe came prepared. In a rematch of the Penn Invitational Day 3 match-up, Cargill rose to the challenge of the Quakers' Kyle Mautner, who defeated him 6-2, 7-5 in the fall. Cargill squeaked out a victory at 7-6 (6), 1-6, 6-1. The Tribe sophomore has now won four matches in a row, taking him to 8-8 on the year and 5-2 at No. 1 singles.
Cargill also made an appearance on the doubles court, where he and Niquet brought home the doubles point at No. 3 doubles with a 6-4 victory. Once William and Mary had this early advantage, the Tribe traded matches with Penn early. Appleby was trumped by Penn, but Niquet responded with a quick 6-2, 6-2 victory at the No. 6 position. The Tribe's Miller lost out at No. 2 singles before de Boer gave the Tribe a 3-2 lead, earning a 7-6 (4), 6-3 win at the No. 3 singles. Talcott would then clinch his fourth consecutive singles triumph to win the match for the Tribe. Cargill's win over Mautner was just icing on the cake for William and Mary, who go to 5-2 on the season.
The women's team, meanwhile, endured an up-and-down weekend. The No. 42 Tribe defeated No. 28 South Carolina (5-1 overall) Saturday, but could not maintain the momentum, and was trampled 1-6 by No. 64 Wake Forest (7-0).
On Saturday, William and Mary (5-3) went behind early to strong Gamecocks doubles play, with only the pairing of junior Marie Faure and senior Elizaveta Nemchinov able to earn a 6-0 victory at No. 2 doubles. However, the Tribe's strong singles play carried them to a victory over South Carolina. Nemchinov and Faure both earned straight-set victories over nationally ranked singles players in the first two singles matches, including Faure's particularly impressive 6-1, 6-1 thumping of No. 54 Ingrid Gamarra Martins.
Sophomore Olivia Thaler, freshman Lauren Goodman, and senior Julia Casselbury also posted victories over South Carolina.
The next day, the Tribe had less luck. The College's doubles players were able to pull out a 2-1 doubles win to earn the point, but William and Mary's singles players failed to build on that advantage. Nemchinov, who had earned the No. 91 ranking nationwide, slipped to a three-set loss at No. 1 singles. All six Tribe singles players lost, with only Nemchinov, Faure and Casselbury winning sets.
The women's team continues their season in two weeks, where they travel to Texas to match up with Brigham Young before facing a tough test in No. 17 Texas Tech. Meanwhile, the men's team continues its home stand next weekend with a pair of matches on Saturday, facing Binghamton and Villanova in a double-header at McCormack-Nagelsen Tennis Center.