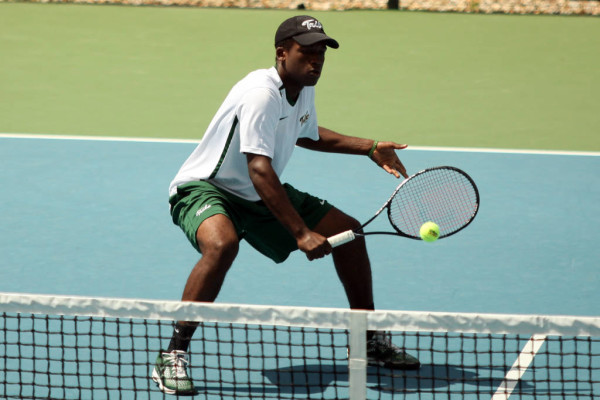 William and Mary embarked on the road to defending its Colonial Athletic Association title this weekend, competing in the Penn Invitational in Philadelphia under new head coach Jeff Kader.
The Tribe took on the Colombia Lions and the Georgetown Hoyas Friday, posting six singles victories and two doubles victories. Sophomore Alec Miller picked up the lone singles win against the Lions, defeating William Matheson 6-7 (4), 6-0, 10-1. Sophomore Christian Cargill and senior Scott Huang earned a 7-5 triumph over Colombia's Miguel Alda and Eric Rubin, followed by a 6-2 thrashing of Georgetown pair Peter Beatty and Danny Khanin.
Miller completed his sweep with a straight set victory over the Hoyas' Marco Lam, while Cargill and Huang both won in singles over Georgetown. Junior transfer Aidan Talcott and freshman Tristan Bautil followed suit, each earning their first wins for the College 6-0, 6-4, and 6-7 (4), 6-0, 10-1, respectively.
On Saturday, Cargill and Huang repeated their Friday doubles sweep, taking out duos from both the Yale Bulldogs and Princeton Tigers. While Miller struggled for most of the day, sophomore Lars de Boer picked up where his classmate left off, dispatching of the Bulldogs' Charlie Adams in straight sets before upending Jonathan Carcione of the Tigers' 6-3, 4-6, 10-6. De Boer also picked up a doubles win, teaming with Miller to defeat Princeton's Diego Vives and Ben Tso 6-2. Huang triumphed in singles over Photos Photiades of Yale 6-4, 6-4, while Talcott dominated Tso in a 6-2, 6-1 win.
Sunday brought the end to the tournament as well as to Cargill and Huang's doubles dominance, as the pair fell to Penn's Vim De Alwis and Austin Kaplan 6-4. The Quakers swept the College in singles, a tough conclusion to an otherwise solid team performance. Miller and de Boer gave the Tribe some consolation in doubles, overcoming the Penn duo of Thomas Spratt and Blaine Willenborg 6-3 for the sole victory of the day.
William and Mary will compete next at the Francis Health System ITA Men's All-American Championships hosted by the University of Tulsa. Prequalifying begins Saturday, Oct. 3, with teams competing until Oct. 12.