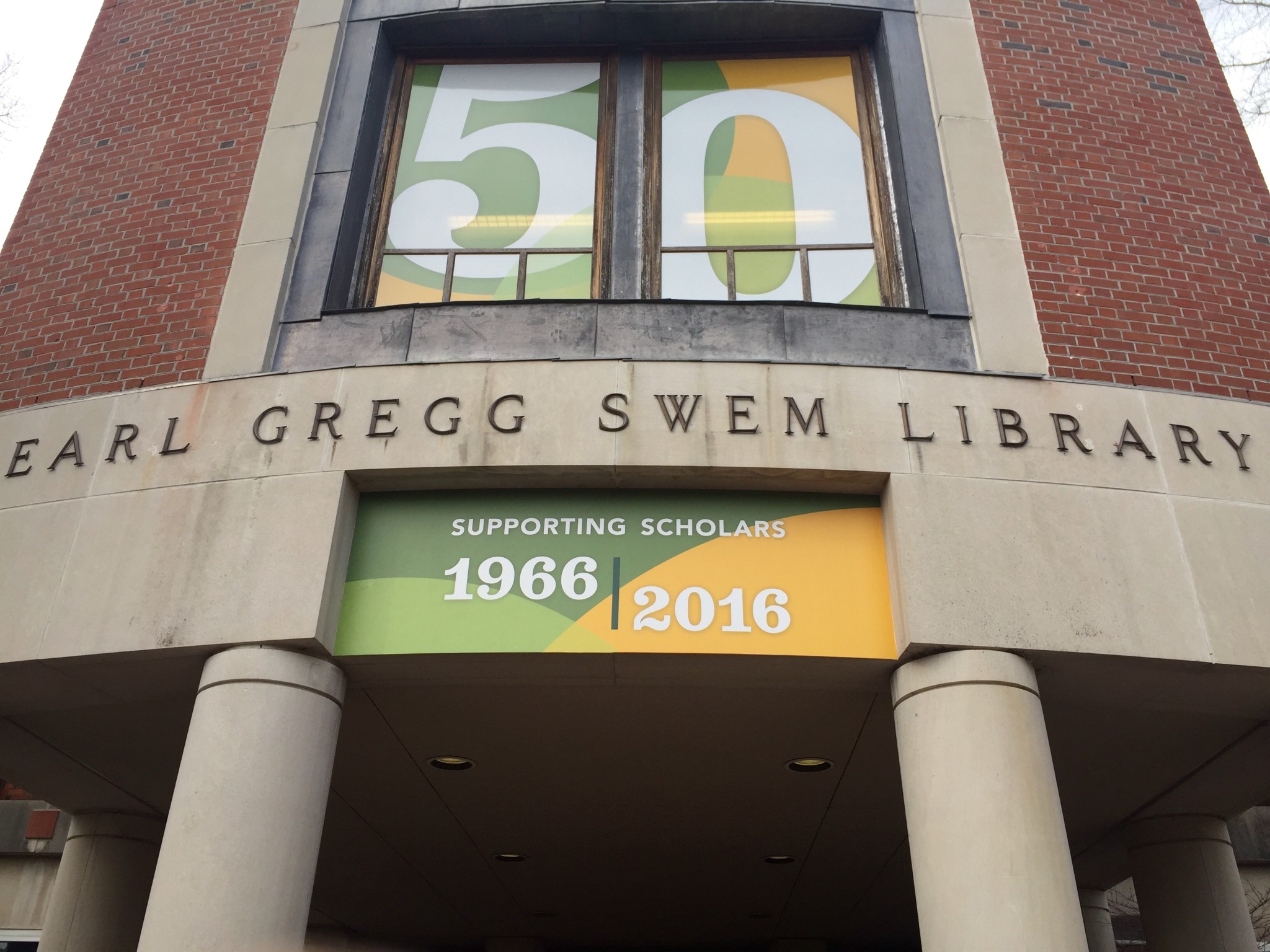 One of the College of William and Mary's busiest buildings hit a milestone birthday this year. The Earl Gregg Swem Library, a building with a legacy of late nights, has just turned 50.
Although the Swem Library building is only 50 years old, the history of the College's library is much older. The original library, constructed in the 1690s, was located in the Sir Christopher Wren building. It stayed there for over 200 years before moving to Tucker Hall in 1905 after Andrew Carnegie donated $20,000 for the construction of a new library.
The library's namesake is Earl Gregg Swem, who was a librarian at the College from 1920 to 1944. Swem enjoyed a high status at the College; records indicate that the president of the College, John Stewart Bryan, gave Swem and only nine other men carte blanche access to the historic buildings on campus during Rockefeller's restoration of Colonial Williamsburg in the 1930s. Swem was allowed to roam in and out of the buildings as he pleased.
Swem made several contributions to the College's library during his time here. According to university archivist Kim Sims, one of his largest contributions was allowing the students themselves to search for books within the stacks.
"At the time, and even for years after that, that wasn't a normal thing to do," Sims said. "The stacks were closed to students and people pulled the books for him. He had that different mindset to allow students to be engaged with the books."
Swem had a passion for history and genealogy. It was that passion, Sims said, that led to the library's extensive Special Collections section. Swem also wished to see an increase in the collection of university records.
"He was able to establish those relationships to where people trusted him enough to give him these items," Sims said.
Several old families in Virginia gave Swem documents detailing their family's history for Swem to house in the library. He was also able to obtain records of the College's that were being stored elsewhere. Some of the records Swem acquired include the original minutes of the first Phi Beta Kappa meeting and land grants given to the university that date back to 1705.
Although Swem died a year before the new library was built, his legacy lived on as the depth of information the library housed continued to grow. In 2003, the 100,000 square-foot Warren Burger Special Collections wing was added to the library. In 2015, the newly renovated Reeder Media Center, which allows students to create media of their own, opened.
"Every time I look over the list of databases I see something new and it's usually something really interesting," Swem research librarian Paul Showalter. "And then there's the Reeder Media Center, where students, faculty and staff are constantly creating new digital information. Swem is a special place because it serves as a bridge that connects us to past knowledge and scholarship as well the cutting-edge research and information creation happening today."
There are years of renovations and new additions to the library to come. Last October, Swem received a donation of $2 million from alumna Frances Lightfoot Robb '48 — the largest private contribution to be received in the history of Swem Library. The donation has already helped purchase several documents for Special Collections.
Associate Director of Strategic Communications and Outreach at Swem Library Tami Back said that the staff is full of ideas. They wish to support and expand student employment at the library. Back also noted that Swem staff have discussed adding different spaces, like a faculty dedicated space or a green space, to the library.
"We would love to add some green spaces to the library," Black said. "We've been talking about a green roof and a patio outside in front of Read and Relax. We think it would be great if we could extend Read and Relax and have kind of an outdoor space that students can use."
Swem is already considered one of the best libraries in the nation. According to rankings in The Princeton Review, Swem is the highest rated library in Virginia and is one of the top 20 highest rated libraries in the nation. Back said she believes that Swem's commitment to College students is one of its best aspects.
"I love that the library serves students," Black said. "I love seeing the students in here. Obviously our library is very popular. It's rare that we're not full of students. I think that's great. That students really love the library. We really play a role in student success on campus."
Swem offers students a variety of study tools. It provides private study rooms, writing assistance and research assistance to name a few. According to Showalter, librarians enjoy helping students find what they're looking for.
"By far, the best part of my job is meeting with and helping students," Showalter said. "Whether it's at the research desk, in classes, in one-on-one research consultations, in the library or around campus, I really enjoy all the opportunities that my job offers to have a positive impact on students' lives."
The celebration of Swem Library's 50 years of service to students has already begun. Window clings have been installed on the circular iconic front window to celebrate the anniversary, and this year's annual library record will include a commemorative history of the library.
Students can also take selfies  with a cardboard cutout of Earl Gregg Swem at the front of the library which are part of a celebratory media campaign.Archival photos of the library through the years have been posted on the Swem Facebook and Twitter account, along with the library's website and on the digital signs in the library itself. A timeline video has also been posted on Youtube.
The Swem Library board also celebrated with other campus boards on Charter Day.
"We hosted the campus boards here at Swem Library on Thursday, February 4," Black said. "It was a chance to get all of the different boards on campus, including our own board of directors, here in the building to celebrate our 50th anniversary. We were really happy to have them all here and to host them here at Swem."
According to Black, the social media campaign will be used to continue the celebration of Swem all year long.