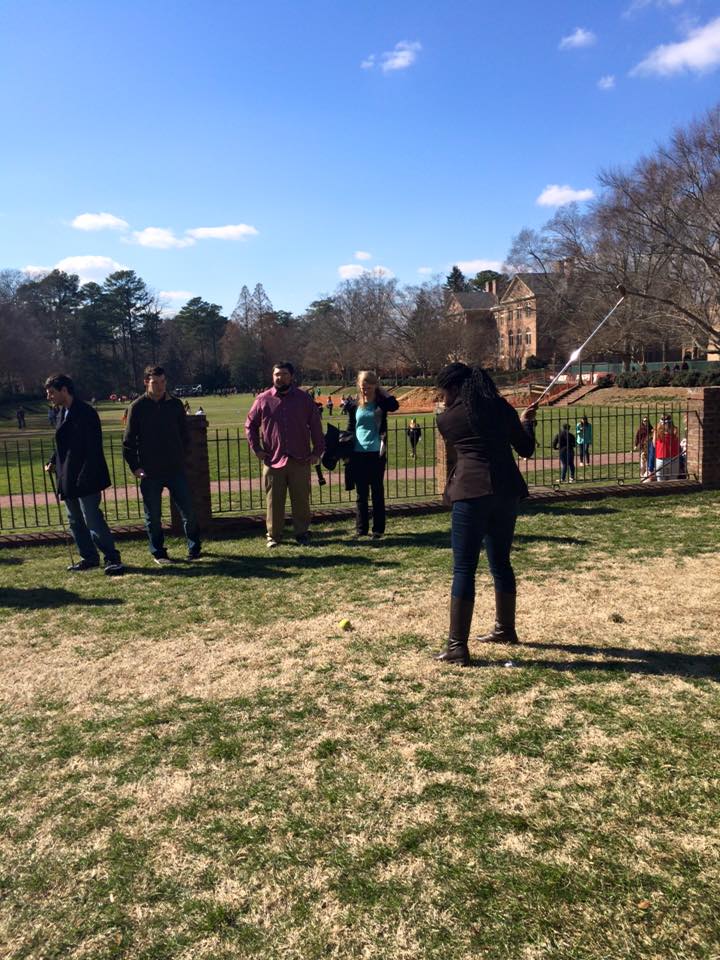 Alternative rock thundered across campus this past Saturday, signaling the arrival of Kappa Delta's annual Campus Golf event. Hundreds of students harked upon the gale in outrageous, polychromatic outfits, putting golf club to tennis ball in their desperate attempts to hit a bucket.
At 1:40 p.m., The Flat Hat team arrived on the scene, wielding flashlights and dressed in what appeared to be normal clothes. Heads turned, their eyes fixed on such a commonplace crew.
"Who are these champions of normalcy?" the throng whispered, probably. "What is their theme? Do they even have a theme?"
Theories abounded. Some put forth "half-assed detectives," others "awkward D.C. interns." But to discover their true identity, one needed to take a closer look. Allow me to shine a spotlight on them, if I may.
"We're the journalists from Spotlight," Online Editor Kayla Sharpe '17 explained to the onlookers. Many of those in attendance had never heard of the film about investigative journalists working for the Boston Globe. After a more in-depth description, Sharpe and her team finally hit the green with their dedicated caddie.
The deed was done on the Sunken Gardens and the brick paths of Old Campus, with six players representing the College's student voice since 1911. Notably absent were newly elected Editor-in-Chief Tucker Higgins '17 and a representative from either the News or Variety sections, a fact not lost on team captain Sharpe.
"Tucker told me, 'Campus Golf is a very important social event.' And yet he is not participating," Sharpe remarked. "Awkward."
The ensemble consisted of Sharpe, departing Editor-in-Chief Áine Cain '16, Executive Editor Isabel Larroca '18, Sports Editor Nick Cipolla '17, Associate Sports Editor Josh Luckenbaugh '18 and former Blogs Editor Matt Camarda '16, called back from his internship in Washington, D.C. to add a level of depth and experience to the roster.
Guys, it's just Campus Golf.
There was a particular spotlight on Cain in her final Campus Golf as an undergraduate. Nerves were at an all-time high for the veteran, prompting a sudden outburst right before play began on the first tee.
"Guys, it's just Campus Golf," Cain yelled as she lined up the opening drive of the round, trying to play down the monumental significance of the occasion. Despite her intense emotions, Cain smashed a succulent drive down the first fairway, drawing cheers from onlookers, still shaken by her earlier statement.
It was a frisky effort for most of the day, with many players struggling to keep track of their balls as they rolled through the grass and into the mulch. Even the group photographs caused confusion, teammates rarely on the same page on whether to look serious or silly. Getting everyone to simply point their flashlights at the Thomas Jefferson statue proved too complicated, as the hot-headed rookie Luckenbaugh decided to shine his in the opposite direction for reasons still unknown.
In the end it is impossible to determine if The Flat Hat "won" Campus Golf, as strokes were never recorded and holes didn't have a par. However, the next day at the Academy Awards, Spotlight received Oscars for Best Picture and Best Original Screenplay, and thus The Flat Hat team celebrated a well-earned spiritual victory.