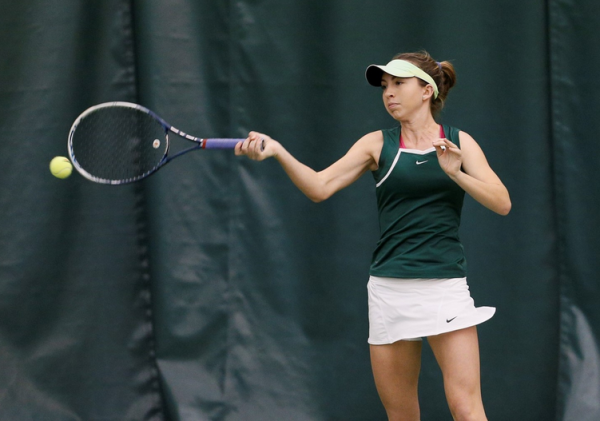 William and Mary went unbeaten in three home matches this past weekend at McCormack-Nagelsen Tennis Center. The women continued  their winning ways in Williamsburg, Va., defeating both Harvard and Liberty, while the men took down Bucknell for their seventh win in a row at home.
The men (8-3) beat the Bisons by a score of 5-2, but got off to a rocky start. Bucknell won two of the three doubles 7-6 and 6-4, giving them the first point of the day. Only junior Damon Niquet and sophomore Lars de Boer were able to beat their opposing pair. However, sophomore Alec Miller led William and Mary to five out of six wins in the singles matches. Miller won his first match as the top seed, turning the match around for the College. Niquet, junior Aidan Talcott, and senior Scott Huang all won their matches in landslides, with Talcott only dropping two games overall. Ultimately, the Tribe earned a bounce-back win, following its defeat to No. 44 Penn State last weekend.
The No. 41 women (8-4) played a busy weekend slate, first hosting No. 57 Harvard and defeating the Crimson by a score of 5-2. Contrary to the men's struggles in the doubles matches, the ladies swept the paired matches to grab the initial point in the match. The top three Tribe singles players, No. 89 senior Elizaveta Nemchinov, junior Marie Faure  and freshman Lauren Goodman all won and earned a point each. Four of the six matches were won in two sets, further adding to the dominant display. Although Harvard won the fourth and fifth-seeded matches, sophomore Olivia Thaler was able to add another point with her victory in the sixth-seeded match, which became the clinching win on the day.
Sunday, the women soared past the unranked 6-1, dominating the singles portion of the match. Although Liberty won two of the three doubles matches, beating the top pair of Nemchinov  and Faure, the Tribe won every singles match but one in two sets. Nemchinov won both singles matches on the weekend while Goodman finished the weekend undefeated at 4-0.
The women will now hit the road for Madison, Wis., where they will play two matches in under 24 hours. The Tribe will first take on No. 59 Illinois Saturday afternoon, and will then face hosts Wisconsin Sunday morning. The men, having won their first match of a four-game home stand, will play host to Valparaiso March 5 before facing Norfolk State and head coach Jeff Kader '05's former team Texas-San Antonio after spring break.