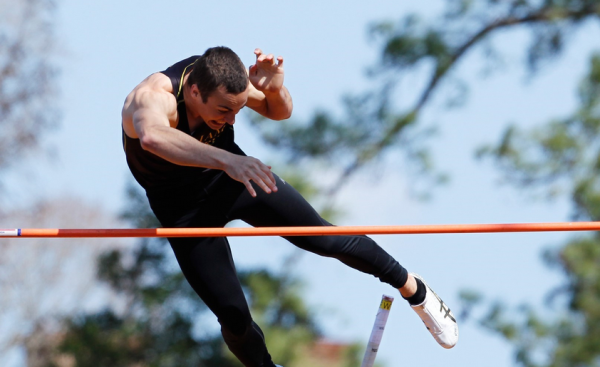 William and Mary sent athletes to two venues to compete in final chance situations to make the qualifying marks for indoor postseason meets Feb. 28, including two for NCAA competition, alongside six potential Intercollegiate Association of Amateur Athletes of America and the Eastern Collegiate Athletic Conference Regional Championship hopefuls.
The Tribe sent a trio of men's pole vaulters — redshirt junior Derek O'Connell, redshirt junior Greg Gallagher and junior Lucas Wratschko — to George Mason for the Mason Last Chance meet.
Despite falling below the lofty IC4A goal for the day, Gallagher finished with a vault of 4.35, and Wratschko with one of 4.65 meters, to finish tenth and seventh overall at the meet, respectively.
However, this Sunday was an undeniably memorable day for the Tribe history books. Looking to solidify his place in the top 16 in the nation and an NCAA tournament-qualifying vault after setting and breaking his own school record in each of the last two weeks, O'Connell did so once again with a monstrous vault of 5.42 meters. This mark stamped and sealed his position as the No. 15 vaulter in the country. He is the first vaulter to qualify for the NCAA Indoor Championships for the Tribe since Dave Lipinski '78 in 1977.
Representing the Tribe women's team Sunday were five athletes at two separate venues. Sophomore Regan Rome made the solo trek north for the Boston Last Chance meet. Rome, a cross country All-American for the 2015 season, successfully ran the first 3,000-meter race qualifying time for the NCAA Championships in Tribe history with a time of 9 minutes, 9.74 seconds. She actually finished second at the meet, behind a Tribe alum Elena Balouris '14 who also competed in the event, but first in Tribe history as she crushed her own school record in the event by 10 full seconds.
The Tribe sent four more female athletes to compete at GMU, all right on the cusp of ECAC qualifying marks. Senior Breanna Brukalo — who ran her personal best in the 500-meter dash the last time she competed at GMU — did so again this week with another lifetime best of 1 minute, 18.63 seconds. However, this solid showing was just a second off of the necessary ECAC qualifying mark.
The other competitors were a trio of high jumpers — sophomore Abby Jones, sophomore Minna McFarland and freshman Grace Becker — on the hunt for the elusive ECAC high jump bar of 1.7 meters. Despite strong attempts by Jones and McFarland, both cleared a maximum of 1.6 meters, 0.1 meters short of qualification. Becker did not compete in the finals of the high jump.
O'Connell and Rome will officially receive NCAA Championship bids Tuesday and will now compete at Samford in Birmingham, Ala. March 11-12 for the NCAA National Indoor Championships. All other Tribe qualifiers for ECAC's and IC4A's will next compete in these regional championship meets in Boston, held March 4-6 beginning at 3 p.m. Friday.