My cultural background is a bit hard to explain. Put succinctly, I am a Chinese American with Hungarian and English parents. A Hungarian woman and an English man adopted me from a Chinese orphanage, and I was raised in a suburb of Washington, D.C. I grew up with a highly varied mix of cultural traditions: Hungarian Christmas Eve, summer holidays in Canterbury, Chinese "Gotcha Day" celebrating the anniversary of my adoption, and typical American traditions. Since I've already paid homage to my British roots by studying abroad in Scotland, I decided to use spring break to explore a different side of my background.
On the first Wednesday of my two-week vacation, I found myself on a budget flight from Glasgow to Budapest, Hungary with three friends from St Andrews. We arrived at our airbnb apartment in Belvaros, the city's main shopping district, and fell asleep almost immediately after a long day of bus, plane and shuttle rides.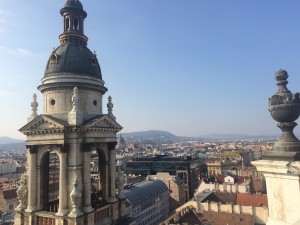 The next morning, we explored Belvaros and instantly fell in love with Budapest's colorful buildings, which draw on architectural styles ranging from Gothic to Art Nouveau. Every few steps, we pointed out yet another beautiful church or storefront, and before long, we found ourselves at the Danube River.
For those unfamiliar with the topography of Hungary, Budapest consists of two sides: Buda — a hilly expanse featuring sites like the Castle District and Gellert Hill — falls on the west side of the Danube, while Pest — a flat piece of land holding the majority of the city's attractions and accommodation — lies to the east. Several bridges, including the famous Szechenyi Chain Bridge, connect the two sides of Hungary's capital.
In the afternoon, we met up with a friend from school who lives about an hour south of Budapest. He gave us a tour of the city, showing us sites like an Art Nouveau café located above a bookstore and Heroes' Square, a monument honoring some of Hungary's most influential national leaders. We also visited my personal favorite spot in Budapest: St. Stephen's Basilica. For 400 forints (the equivalent of about one British pound), visitors can climb a steep spiral staircase to the top of this neoclassical cathedral. Here, they are rewarded with unmatched panoramic views of the city. 
For 400 forints, visitors can climb a steep spiral staircase to the top of this neoclassical cathedral.
Friday, we moved from Pest to Buda, hiking to the top of Gellert Hill (named after Saint Gellert, who was thrown down the hill in a barrel spiked with nails in 1046) and exploring the towering Hungarian Castle. We also tried a traditional Hungarian dish consisting of 'nokedli' pasta and beef stew.
During the remainder of our trip, we managed to explore the majority of Budapest's top attractions, including Gellert Baths, featuring thermal baths in a gorgeous Art Nouveau setting; Memento Park, a desolate patch of land just out of the city that is filled with communist statues; and the House of Terror, a museum housed in the ex-headquarters of the Hungarian Nazis and several communist terror organizations.
Two other trip highlights were Margaret Island and the Buda Hills. Margaret Island, a small island located between Buda and Pest, mainly holds a nature park and the ruins of several churches. It is named after St. Margaret, a Hungarian princess who spent her life in a nunnery on the island. While I did enjoy the island's sense of history, my favorite part of the day was renting a small electric car and using it to explore the jogging paths and gardens. We took turns driving the car, and my friends even tried jumping out of it while others drove (to varying degrees of success).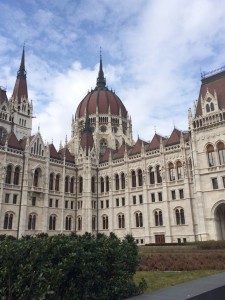 The Buda Hills were another respite from the bustle of the city, and as my guidebook said, most of the fun came from getting there. The journey from Pest to the hills requires visitors to take the aptly named Children's Railway, so called because it is run almost entirely by children. An adult engineer supervises the various 10 to 14-year-olds who work on the railway, but the children are entirely responsible for selling and checking tickets. I had one of my most embarrassing trip moments on the railway, as I accidentally said "Sí" (Spanish for yes) to a child conductor instead of "Szia" (Hungarian for hello). My friends still haven't stopped teasing me about it, and the British tourists who overheard me also couldn't control their laughter.
As I prepare for a long week full of readings, journalism and essays, I can't help wishing that I were still in Budapest. I miss attempting to correct my friends' Hungarian accents by relying on foggy memories of studying the language as a child, being surrounded by the most awe-inspiring sense of beauty no matter where I walked, and attempting to conceptualize 20,000 forints as the equivalent of 50 British pounds. Spring break doesn't last forever, though, and it's time to get back to reality. On the bright side, there's only four more weeks of class left until our two-week revision break, and who knows where I'll end up then? I've heard that Ireland is gorgeous in April (or any time, really).