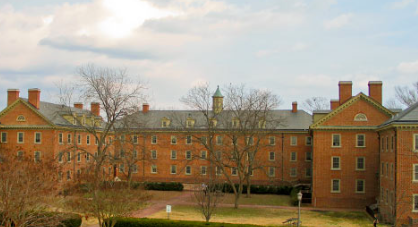 You've just gotten into the college of your dreams, the famous College of William and Mary. You've been dreaming for months of tripping on the same bricks over which countless others before you have deigned to trip. In preparation, you do a handful of Google searches on various brands of squirrel repellant. Subtly, you begin to phase green and gold into your wardrobe. Your parents are ecstatic; your friends are proud.  It would seem that the only uncertainty remaining is who your new friends will be — especially, who you'll live with.
Then life throws you another surprise. You come to find that the stranger you Facebook-stalked (i.e. your current roommate) is everything the college advice books warned you not to hope for: your best friend, your future Maid of Honor/Best Man, and the one person who will traipse two miles across campus in the dark to look for your missing bag of Student Exchange oatmeal.
You have a fantastic first year together. You both acknowledge that the level of friendship you've attained is the stuff of legend. It doesn't take long for you to start dreaming about your four-year roommate lunch with President Reveley and to begin making plans for next year's dorm décor. Then, room selection begins. You and your platonic other half excitedly begin discussing escaping the horror that is first-year living. You scour the pages of upperclassmen housing, subject yourselves to hosts of uninspired Res Life videos, tour a few of the dorms and accidentally trespass in a few bathrooms of the opposite sex. Then, you get an email.
"This can't be happening," you lament. "But, alas," they assure you, "it can."
The email regretfully informs you that, although you have complied with every dictum of the housing process, you have been randomly selected to be waitlisted. Feeling nauseous, you hope that the situation isn't as bad as it appears. There must be a way to stay with your roommate, right?Wrong. You come to find that your amazing luck until this point has finally run its course. Not only will you be forcibly separated from your roommate, but you will also be unable to participate in the housing selection process. You were one of 79 students in 2016 left wondering what just happened — a number Res Life finds much easier to swallow than the upward of 400 students seen in years past.
You immediately schedule meetings with every authority you can. "This can't be happening," you lament. "But, alas," they assure you, "it can." They inform you that, though you've done nothing wrong, it's just the way the system works. Due to the uncertainties for many in the housing process at this time of year, the College has more interested students than space in which to house them.
Unfortunately for you, who happened to have a solidified plan, the odds were not in your favor.
As you meet with the various authorities, you realize the administration did not put one iota of effort into determining who already had roommate groups and who did not. To you, this seems nonsensical. But maybe you're biased. Again and again, you are encouraged to "hope for the best" and "have a second plan or two." You are assured that because this misfortune fell upon you this year, you are safeguarded from the same scenario in every future housing selection process. The fine print tells you that your roommate, however, will not be safe, leaving you prone to the whole debacle should the issue arise again.
The recurring script is that Res Life hates this time of year, as they recognize the strain it puts on students and their families. Students on the waitlist are left to wonder, "Then why don't you fix it?"
The recurring script is that Res Life hates this time of year, as they recognize the strain it puts on students and their families. Students on the waitlist are left to wonder, "Then why don't you fix it?"
Though such a problem may fly under the radar for most students on campus, it is undoubtedly one worth examining. This writer urges the administration to reform their housing process in the future so as to prevent the unethical cycle from continuing. As the close of the second semester draws near, for many on campus, it seems that the college whose unofficial motto is, "I can't, I need to study," may need to change their catchphrase to "Don't get too attached."
Email Hayley Snowden at hcsnowden@email.wm.edu