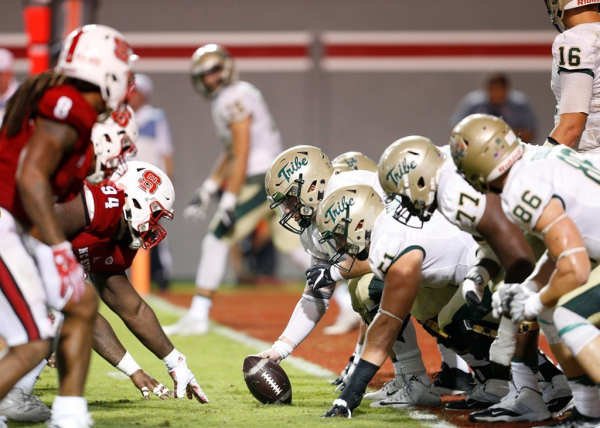 With William and Mary down 14-7 midway through the second quarter and North Carolina State once again driving towards the Tribe end zone, freshman safety Corey Parker intercepted Wolfpack quarterback Jalan McClendon, seemingly shifting the momentum of the game. Two plays later, however, senior quarterback Steve Cluley threw an interception of his own, a turnover which N.C. State (1-0) quickly turned into seven points to take a two-touchdown lead. The College (0-1) was unable to regain momentum after that devastating turn of events, ultimately dropping its season opener in Raleigh, N.C. in lopsided fashion, 48-14.
The Wolfpack's physical style of offense proved too much for the Tribe from the start. The College is still trying to find its defensive rhythm with the losses of defensive leaders Deandre Houston-Carson '16, Luke Rhodes '16 and Zack Fetters '16. Their absence was clearly felt Thursday night, as N.C. State racked up 521 yards of total offense. Wolfpack running back Matt Dayes proved particularly difficult to contain, rushing 23 times for 138 yards and two touchdowns. Tight end/fullback hybrid Jaylen Samuels also enjoyed a big game against the Tribe defense, finding the end zone three times, scoring twice on the ground and once through the air.
After the game, head coach Jimmye Laycock '70 discussed his team's struggles on defense, citing the Tribe's youth as well as the tough transition from limited physicality in practice to a real game situation.
"Nowadays, it's so difficult to get players to practice in a physical environment," Laycock told TribeAthletics.
"Nowadays, it's so difficult to get players to practice in a physical environment," Laycock told TribeAthletics. "You just don't hit much anymore … other than the games, obviously. And then when you haven't been in the games much, that's kind of where you're getting your physical contact … I think that probably played into it some."
The Tribe fell behind less than four minutes into the game, with Dayes capping off the Wolfpack's opening drive with a five-yard touchdown run. The College offense was quick to respond. Cluley and company put together an 11 play, 75 yard drive to knot the score at seven. The Tribe's senior quarterback went a perfect four for four on pass attempts during the drive, finding junior wide receiver DeVonte Dedmon on a 16-yard touchdown toss.
The rest of the night was a struggle for the Tribe offense, which was only able to muster one more scoring drive to begin the second half, with N.C. State already ahead by multiple touchdowns. Senior running back and preseason All-Colonial Athletic Association selection Kendell Anderson, nursing a shoulder injury, was completely ineffective, and Cluley completed only five of his final 15 passes while throwing two costly interceptions. The second came just one possession after the first, Cluley badly overthrowing Dedmon into the waiting hands of Wolfpack safety Josh Jones. Once again, the turnover led to seven N.C. State points, putting the Tribe in a 28-7 hole heading into halftime.
"Steve just made poor decisions on his throws," Laycock said to TribeAthletics regarding the two interceptions. "It's a fast-happening game out there sometimes, and people are bearing down on you, and he was under pressure a lot of times … There was probably some miscommunication involved in one of them, maybe both of them, too."
The College began the second half promisingly, Cluley finishing off a five-play, 65-yard drive with a 10-yard touchdown run, and the defense forcing a rare Wolfpack punt. But the offense could not put any more points on the board, and despite the best efforts of the defense, which produced an impressive goal-line stand as well as blocking a PAT, N.C. State tacked on plenty of insurance over the final 30 minutes. In the end, the Wolfpack cruised to a 48-14 victory, the College simply outmuscled and outplayed by their Football Bowl Subdivision opponent.
The Tribe will try to bounce back from this opening day loss when they take on the Hampton Pirates next Saturday in Hampton, Va. The game is scheduled to kick off at 6 p.m.