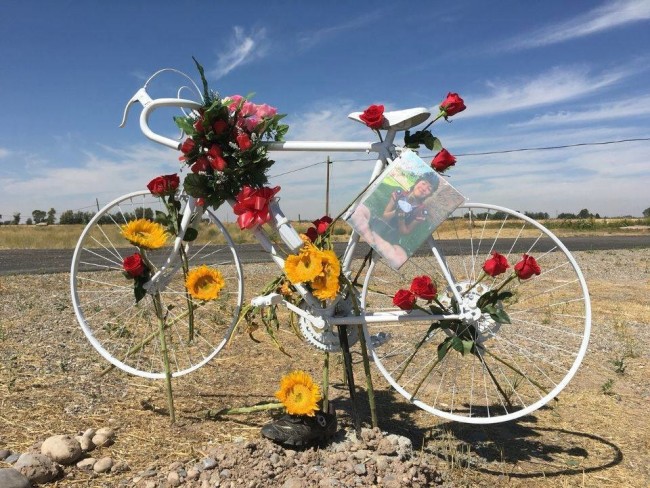 Erin Goodstein '17 can only describe her reaction to hearing that her friend Anne Davis '16 had died in a cycling accident only as "shocked." Described by her friends as a role model and an activist, Davis graduated from the College of William and Mary in May and died July 13 after being struck by a car in Idaho Falls, Idaho.
Goodstein, as the president of the William and Mary Bike Alliance, along with members of the Student Environmental Action Coalition, began the semester mourning the loss of one of their own. Now they are working to honor Davis' memory through a series of events aimed at continuing her legacy.
Numerous student organizations whose members were affected by Davis' death are working to provide support to those who need spaces to grieve and remember.
Goodstein hopes that these student-led events help students who are effected by loss process their emotions, and noted that even though time has passed, returning to a school environment are memories that can be difficult to process.
Goodstein met Davis during her freshman year at the College at a Branch Out alternative break trip, and the two later became roommates.
According to Goodstein, Davis became a member of the William and Mary Bike Alliance in the spring of 2016, but in that short period of time made a large impact in the biking community.
"Last year, she decided to do Bike and Build," Goodstein said. "In preparation for that she had to do a lot of training and she was learning more about the biking community. She started coming to more Bike Alliance meetings and doing rides with us."
Bike and Build, the organization that Davis was working for when her bike was struck in Idaho, is a nonprofit focused on building affordable housing.
An informal vigil was held for Davis on the evening of Sept. 1.
Organized by a few of her close friends, about 30 people who knew and missed Davis gathered on the Sunken Garden to both share their memories or mourn her in silence.
Ben Olinger '16, Davis' partner of nearly three years, helped organize the vigil.
"Many people had not been around others who knew Anne when they heard news of her death," Olinger said in an email. "So many people were grieving differently and had not talked to the community about it."
Claire Seaton '18 was studying abroad in Italy when she read an article about a cyclist being killed in Idaho and is grateful for the support she received while mourning a friend so far from home.
Part of me just wanted to fly back home and be with all of the people from SEAC and the various activist groups that Anne and I have been involved with," Seaton said.
"Part of me just wanted to fly back home and be with all of the people from SEAC and the various activist groups that Anne and I have been involved with," Seaton said. "It was hard to stay but I told myself that I would climb a lot of trees and see a lot of things for her."
Seaton met Davis while Davis was coordinating a trip to the People's Climate March in New York City during the fall of 2014, and came to look up to her as they worked together in SEAC. According to Seaton, Davis transferred to the College as a sophomore and quickly become active in numerous environmental organizations and initiatives including the Seed Dialogues and the Virginia Student Environmental Coalition.
A memorial bike-ride in honor of Davis, postponed from the past weekend due to Hurricane Hermine, has been a goal of the William and Mary Bike Alliance since the summer.
"The mission of our organization is to make people feel safer and more confident on bikes and to try and prevent collisions of the kind that Anne was in." Goodstein said. "The Bike Alliance chose Chickahominy Riverfront Park as their destination as it was one of Davis' favorite places and the location of her very first bike ride as a member of The Bike Alliance. That was really the first time that Anne was exposed to cycling."
Davis would have started as a Hunger and Nutrition Fellow for the Office of Community Engagement.
Olinger plans to work with SEAC, VOX: Voices for Planned Parenthood, the Wesley Foundation, Black Lives Matter Williamsburg and other organizations Davis was involved with during her time at the College to form a Partnership for Participatory Leadership to encourage the next generation of leaders who might follow in Davis' footsteps.
"I think that we've dealt with the loss of a student at William and Mary too many times, and I think that we just need to keep reminding each other that there is hope and a legacy that she is leaving behind that is in our hands to carry on," Seaton said.
Olinger said he remembers Davis as someone who was passionate about activism and nurturing new community members into activism.
When someone asks you about Anne, say how she lived and how she lives on in you, not only how she died," Olinger said.
"When someone asks you about Anne, say how she lived and how she lives on in you, not only how she died," Olinger said.  "Anne was passionate about building a more just society from the bottom to the top, mobilizing people for socio-ecological action, and nurturing newly interested community members into active citizens."