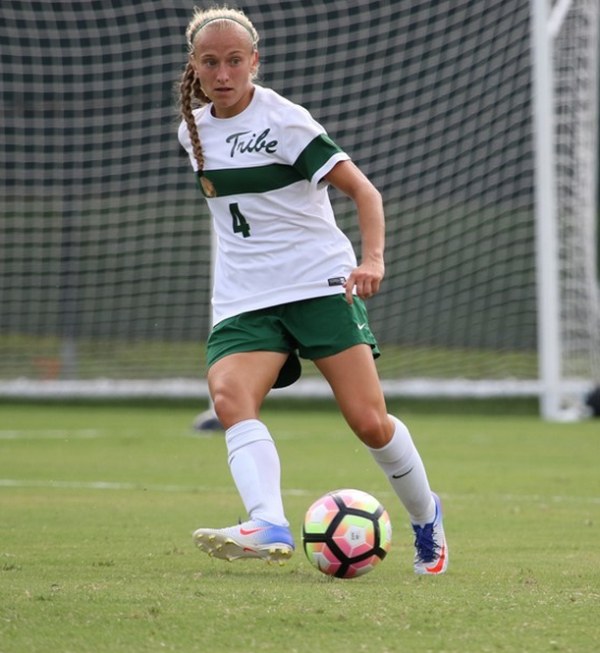 Fresh off of receiving the Colonial Athletic Association Rookie of the Week award, redshirt freshman forward Sarah Segan continued her scoring pace this weekend. Segan scored three goals as William and Mary (5-3) split a pair of home games this weekend, dropping a 3-2 overtime loss to High Point (4-4-1) before beating Marshall (2-4-2) 2-1 Sunday.
Coming into Thursday's game, the Tribe looked poised to extend its winning streak to a season-high three games. High Point had previously lost four straight, and the College was kicking off a five-game home stand at Martin Family Stadium. The Tribe started the game with the energy that they have brought to every first half this season. At halftime, they owned a 12-0 shots advantage, forcing seven saves from High Point goalkeeper Alex Hank.
Although they could not break through before the half, the Tribe was on the board early in the second half. Junior defender Haley Kent fired in a cross which led to a scramble in the box, and a Panther defender's attempted clearance found its way into the net. Segan doubled the College's advantage after 79 minutes, finishing off a through pass from junior forward Sami Grasso. With just 10 minutes to play, it looked to be smooth sailing for the Tribe with a 2-0 lead.
However, immediately after the ensuing kickoff High Point was aggressive, and Panthers forward Meredith Dunker pounced on a bouncing cross to pull one back later in the same minute. High Point completed the comeback three minutes later, as the Tribe conceded a penalty kick. Panthers forward Kelsey Perrell converted the penalty, and neither team was able to pull ahead before the end of the second half.
Both teams had chances in overtime. High Point substitute goalkeeper Emily Lyon pushed wide a shot from Kent, and Segan also saw a shot saved. However, High Point notched the winner in heartbreaking fashion after 99 minutes, as Panthers' forward Tyler Gordon fired a shot from the top of the box that deflected off a Tribe player, sending redshirt junior goalkeeper Grace Smith the wrong way.
The Tribe got back on track against Marshall, with Segan on the scoresheet twice. Just five minutes in, junior midfielder Rachel Moore knocked a ball over the top of the Thundering Herd's defense. Segan reached the ball first, and kept her cool to beat the goalkeeper one versus one. In an even first half, Smith had two saves as both goalkeepers were tested.
Segan reached the ball first, and kept her cool to beat the goalkeeper one versus one.
Marshall evened proceedings in the 18th minute. Marshall forward Shontelle Smith finished off an incisive attacking move, sweeping home a pass from the right side. The game was tied at half-time.
The Tribe has a lot of experience in these situations. Of their nine games this season, seven have been decided by one goal. The Tribe ratcheted up the attacking intensity in the second half, and Segan grabbed her second goal of the day in the 59th minute. Sophomore midfielder Mackenzie Kober's shot was saved right into Segan's path, and she made no mistake of tapping into an open net.
There were nervous moments — Marshall forward Jordan Sackaris clattered the Tribe post with a shot, but the College's defense remained stout to claim a win in their final non-conference game.
The Tribe now dives into their CAA schedule, opening Sept. 23 with a rematch of last year's CAA Championship Game against James Madison (3-6), in which the Tribe let a 2-0 lead slip away in an eventual 3-2 loss. The team will then end a five-game home stand by hosting Towson (3-6-1) Sept. 25 and Elon (4-4-1) Oct. 2.