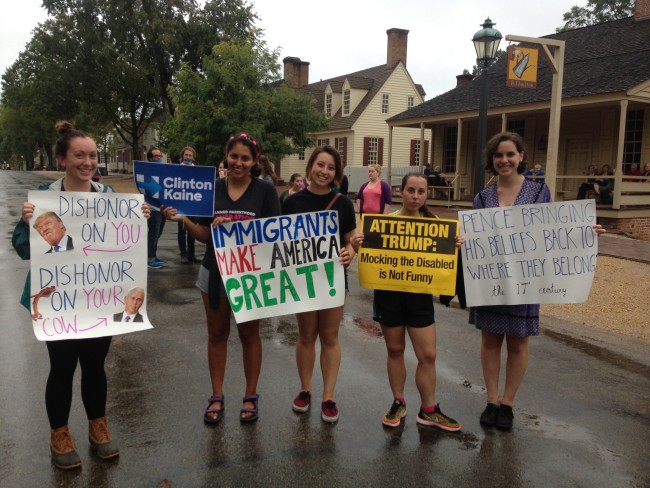 Heavy rain did not deter a fervent crowd of Donald Trump supporters from gathering in the hundreds in front of the Capitol Building in Williamsburg Tuesday to hear a speech from Indiana Governor and Republican Vice-Presidential candidate Mike Pence.
After Former Virginia Governor Jim Gilmore introduced him, Pence thanked the crowd for making it out despite the rainy weather.
"Thanks for being out on what we call a moist evening," Pence said. "But you know where I come from in the Hoosier state, rain is a good thing. And tonight we're showing the media and we're showing the world that this is a movement that's going to elect Donald Trump as the next President of the United States of America."
In his stump speech, Pence touched on the usual Trump campaign talking points. Both Gilmore and Pence emphasized that just because former Governor and Senator Tim Kaine is on the Democratic ticket, does not mean Republican candidates will not fight to win Virginia's 13 electoral votes.
"Virginians are tough," Pence said. "And you're going to bring Virginia home for Donald Trump."
He stressed Trump's authenticity, fighting spirit and independence as some of his biggest strengths.
Donald Trump just gets it. I mean, he's the genuine article," Pence said.
"Donald Trump just gets it. I mean, he's the genuine article," Pence said. "Trump's a doer in a game usually reserved for talkers."
Pence said that Trump is committed to honoring the men and women who built this country, and that the Trump campaign believes in advancing the idea of the American Dream.
Pence also underscored Trump's commitment to supporting law enforcement officers and restoring law and order.
"Donald Trump will never forget the men and women who stand on the thin blue line of law enforcement," Pence said.
He went on to condemn President Barack Obama's administration's international policy, which he characterized as weak. Pence focused on Trump's commitment to rebuilding the military and strengthening its alliances.
"Strength does not give comfort to the adversaries of the United States of America, weakness does," Pence said. "Donald Trump and I know, America needs to be strong for the world to be safe."
According to Pence, the economy has also been harmed by the Obama administration and would only worsen under a Hillary Clinton administration.
"They tell us this economy is the best that we can do, but Donald Trump and I and all of you here on this rainy night know, it's nowhere near the best that we can do, it's just the best they can do," Pence said. "And when Donald Trump becomes President of the United States of America, we're going to get this economy moving for all the people of Virginia, and for all the people of the United States of America."
In terms of economic policy, Pence said Donald Trump's plan includes lowering taxes across the board and encouraging growth, in addition to ending the "War on Coal" and adopting an "all-of-the-above" energy strategy.
According to Pence, Trump would also bring about an upheaval of the status quo in Washington, D.C. When Pence accused Clinton of being corrupt, the crowd erupted in chants of, "Lock her up."
Meanwhile, from beyond the event enclosure, protestors chanted refrains like, "Build bridges not walls" and, "Immigrants make America great."
Despite highlighting many of the problems the United States faces in his speech, Pence also said that he and Trump have hope for national unity.
"We will always believe that there is more that unites the people of the United States of America than will ever divide us," Pence said.
Students from the College of William and Mary were among those present at the rally. Kristina Posner '20 said she came to the event to become better informed on the vice-presidential candidate.
"I think Trump is the best candidate in our country, and our country would be better off having Trump versus having another candidate, and I wanted to show my support at this rally and learn more about his VP Pence," Posner said.
Corey Solomon '19 was also at the rally to in support of Trump.
Why do I support Trump? Mainly because I don't like Hillary," Solomon said.
"Why do I support Trump? Mainly because I don't like Hillary," Solomon said.
Solomon said that Clinton's dishonesty and untrustworthiness throughout her time as a candidate and as Secretary of State were his key concerns. He said what he likes best about Pence is his Christian values.
"I like [Pence's] social policies of Christianity and how he supports the strong nuclear family and how it's necessary in America," Solomon said.
The rally area was fenced off and surrounded by security, and while it was held in front of the Capitol, the Colonial Williamsburg Foundation stated they were not affiliated with this event.
"The rally, which was approved by the City of Williamsburg, is not a Colonial Williamsburg event," Colonial Williamsburg Foundation Public Relations Manager Joseph Straw said in a written statement. "The event will be held on public property and will be managed using city resources. As a 501(c)(3) organization, The Colonial Williamsburg Foundation does not endorse any particular candidate or political party."
On the other side of the fence, protestors gathered in opposition to the rally. Protestors included elected Democratic officials, as well as students from the College, Williamsburg residents and visitors.
Virginia Legislative Black Caucus Chair and State Senator Mamie Locke said she felt it was important to be at this event because of Donald Trump's history with the birther movement targeted at President Obama.
"He's a bigot, and has been for a long time," Locke said. "And he's demonstrated that over and over again, in so many ways, from his life in the corporate world and throughout this campaign."
Also present was Virginia Delegate Marcia Price, who expressed her opposition to Trump's campaign rhetoric.
"This was too close to my neck of the woods to not come up and make my voice be heard in my opposition to the divisive, racist, sexist and xenophobic rhetoric that I've heard from the Republican presidential nominee," Price said.
Many of the student protestors were members of VOX: Voices for Planned Parenthood, a club focused on reproductive justice issues. For VOX member Jennifer Horowitz '18, there are many reasons to vote for Clinton and Kaine over Trump and Pence, but their stance on women's rights is a good place to start.
"Clinton and Kaine support Planned Parenthood, and support every individual's right to choice, and Pence and Trump do not," Horowitz said. "Pence wants to defund Planned Parenthood, which is a resource that many college students at William and Mary use and rely on."
Jonathan Glasser, assistant professor of anthropology at the College, focused on the Trump campaign's racial rhetoric.
"It's outrageous what Trump and Pence are tapping in the U.S. and we need to say that it's not alright," Glasser said. "I think that the willingness to use racist language is what really drives me to something like this."
Melissa Hudson '19 says her core opposition to Trump lies in his core motivations.
"I think that everything comes back to this fact that he's leading from this place of hate," Hudson said. "I refuse to sit by while other people blindly vote for someone who is going to run this country based on hate."