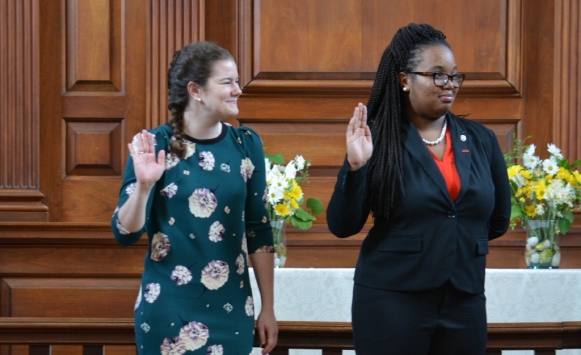 From her days in high school to her dreams for 2032, Student Assembly President Eboni Brown '17 has played a "presidential" role in what she is passionate about. A 30-minute window was all it took to put her future plans in motion.
Brown grew up in Hopewell, Va., a small town south of Richmond. She said that at her high school, universities like the College of William and Mary were not presented as options to her and her classmates. However, when Brown received a William and Mary leadership award and her guidance counselor told her to apply, she did so within only 30 minutes of the deadline.
William and Mary gave me money, and a big push for me was making sure that I wasn't putting my parents in debt to go to school," Brown said.
"William and Mary gave me money, and a big push for me was making sure that I wasn't putting my parents in debt to go to school," Brown said. "I really didn't want to make them work longer to help me go to school. When I got here I loved the campus, loved the people. I really fell in love with Williamsburg. It's a great fit for my educational needs and my life needs."
For Brown, coming from a small town has shaped her experience at the College. She said that unlike many students here, she is a first-generation student and feels that it is important for her to reach out to her home-town to encourage others in her place to succeed.
"A lot of people don't make it out of Hopewell because they don't have the means for their own upward mobility," Brown said. "I am really making sure that I can reach back and pull people up. That's why I say I'm putting Hopewell on the map. It's important that Hopewell scholars can see William and Mary as not just an option, but to be able to say that they could definitely make it here or at Harvard or at any school. They can have success beyond their wildest dreams."
Brown joked that she has always been competitive, and said that she fell in love with being her high school's student body president. When she got to the College, she knew that SA was something she wanted to get involved in. During her first year, she ran for the position of Vice President of Social Affairs and won. Since then, she has only increased her involvement with SA.
"I fell in love with the opportunity that SA has to make sure that we represent all students," Brown said. "We can really be the concentrated voice for a class."
During her sophomore year, Brown switched over to SA senate, where she served as senate historian and secretary of the finance committee under former SA President Yohance Whitaker '16. During her junior year, she became chair of the finance committee and senate secretary.
"I wanted to do all I could for the class of 2017," Brown said. "I knew that in the role I was in I wanted to be able to represent more than just my class, which is why I decided to run with Hannah [McKiernan '17] because I felt that we had the passion and motivation to make real change at William and Mary. I hope that when we leave we can see that it is in a better position than when we came in."
When Brown isn't busy at SA cabinet meetings or planning campus-wide events — which she said there are four of this week — she can be found at her internship or planning philanthropy events for her sorority, Delta Sigma Theta.
Brown also served as the orientation area director for the Green and Gold Village and currently serves as a multicultural recruitment intern for undergraduate admissions. Since she likes to stay busy, she is also involved in the College's NAACP program and Essence: Women of Color.
When I'm not doing all that, you can catch me taking a nap nine out of 10 times," Brown said.
"When I'm not doing all that, you can catch me taking a nap nine out of 10 times," Brown said. "I also just started CrossFit, so there's that. Sometimes people just see me in this role as SA president, but I'm a senior. I'm a normal student. I can't stand going in the parking garage just like everyone else."
As far as academics go, Brown is a government and Africana studies double major. Brown wants to use the combination of these majors to pursue education after graduation.
While she is not sure which degree route she wants to follow, she knows she wants to teach either history or math. During past summers, Brown has taught Algebra Two to ninth graders in Norfolk, Va.
Brown's plans for her future career don't end there — she plans to run for Hopewell's City Council and maybe even her district's seat in the Virginia House of Delegates. After a few years in her career in education, she hopes to be a school principal, superintendent or the United States Secretary of Education.
"The ultimate goal when I came to William and Mary was to be the first female president of the United States," Brown said. "Seeing Hillary Clinton doing so well this election has been disheartening, but maybe I can still be the first black female president. But for now, post-graduation means being a teacher. I've been so blessed to have the opportunities I've had here and have had privileges that my classmates at Hopewell don't all have."
While Brown has held a variety of titles at the College, she said there are many traditional College experiences she is yet to have — although she did make it to the soccer house during April's last day of classes. Her bucket list includes things like being invited to a date party, attempting a portion of the Triathlon — preferably if the Crim Dell freezes over again — and going on a cider walk in Colonial Williamsburg. One fun experience that Brown said she has had at the College is taking the Adventure Games class.
"The people here will be my fondest memory of this place," Brown said. "I have these titles of being president, but I'll take away the title of being a member of this tribe."