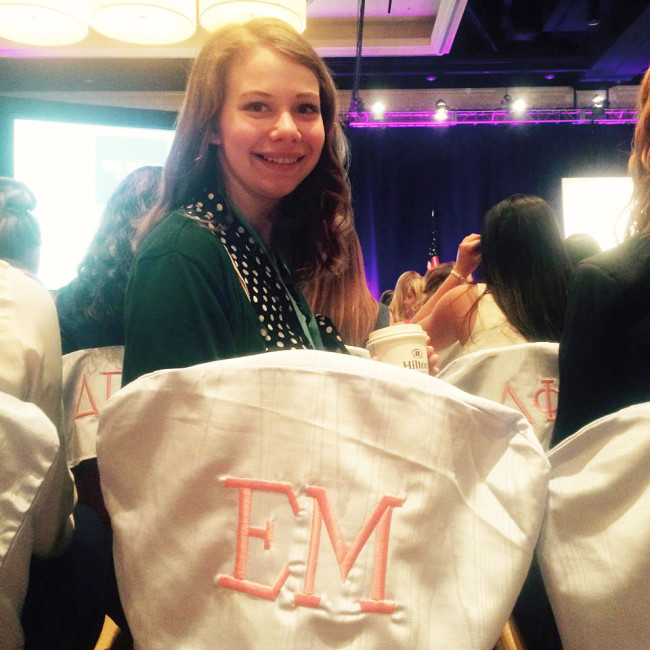 Life for Delta Gamma President Sarah Carlsen '17 may be organized into hourly to-do lists and weekly goal charts, but she said that the experiences she's had at the College of William and Mary have exposed her to new perspectives that reshaped her life.
"The experiences I've been exposed to since I've been here are just so different from back home," Carlsen said. "I met very similar people in high school — where everyone was white and pretended to be straight — and I've really gotten to see different perspectives. Being here really makes you question yourself and what you believe in."
Carlsen came to Williamsburg from Dallas, Texas, where she said the southern stereotypes of sorority life had almost turned her away from going through the recruitment process. She said that when she got to the College and met other women in sororities, she decided early on in her freshman year that she wanted to go through recruitment.
"I met all of these amazing women in Greek life and then I knew pretty soon that I wanted to do it," Carlsen said.
During her first year as a member of Delta Gamma, she took on the title Vice President for Panhellenic Council of Delta Gamma. After taking on this position, Carlsen went to a national training meeting in February 2015 as part of her role.
At that meeting, she said she realized that her sorority had invested a lot in helping her develop her personal leadership skills and that she wanted to give back in some form.
When she returned from national training, Carlsen decided to apply to be president of Delta Gamma. After applying and meeting the requirements, the chapter and then a nominating committee elected her.
She began her term in January 2016 and will serve in this position through December.
"Being a president of a sorority here really gives you a chance to shift things and help push your chapter in a good direction," Carlsen said. "I really think that we've moved towards transparency — there's no reason why we all can't be on the same page. We're all 18 to 21-year old women. I've really tried to open up lines of communication."
According to Carlsen, one of the challenges of being a sorority president is drawing the line between being a friend and a leader.
Carlsen said that she has learned that working with positive members of her chapter has impacted her life.
"Delta Gamma has made me feel more comfortable in my time at the College," Carlsen said. "When I got here, I was still asking that question, 'Who do I want to be?' and I was floating around. Joining a large group like that forces you to confront things about yourself. It's also a level of support, they give you this feeling of unconditional belonging. On bid day, you haven't done anything but they are so excited and so supportive of you."
While being the president of a sorority at the College involves balancing chapter meetings, Panhellenic responsibilities and helping peers, Carlsen says that she finds her title to be an honor.
"It's definitely challenging, but it is such an honor to be chapter president," Carlsen said. "It is sometimes hard to enforce rules on your peers, because they are your friends and you want to help them. You want to do the best you can, not for you, but for them."
Beyond Sorority Court, Carlsen finds herself within the walls of the Christopher Wren Building, where she works as a tour guide for the Spotswood Society.
When Carlsen is giving tours to community members and prospective students, she said she finds herself in a unique place.
"When I'm giving tours, I find myself not trying to sell Greek life to everyone," Carlsen said. "Since I went through the process as a sophomore, I had a year without it and know that other people find different things to value. It's something that has added value to my time at the College, but it might not be for everyone."
When Carlsen isn't busy leading her chapter or giving tours, she can be found in classes for her two majors: history and English.
She said she values "depth over breadth" and tries to commit a lot of her time and energy into a few things. In the realm of academics, she is also a member of the Order of Omega Honor Society, the all-Greek honor society, and the National Society of Collegiate Scholars.
Based on her love for history and an interest for the Latin language that she gained in high school, Carlsen also has an official minor in classical studies.
"One of my favorite experiences has definitely been taking Professor Pope's class on Nubia and American Thought," Carlsen said. "It sort of looked at how Africa is perceived by people in the United States and I was so inspired. It even gave me my pipe dream of being an archaeologist."
For Carlsen, her one regret so far at the College has been not studying abroad, as she chose to stay on campus her junior year to apply for the position of Delta Gamma president.
However, she said she hopes to study abroad after graduation, although her plans for that "change every week."
Currently her plan is to go into higher-education and work in an admissions office, and then consider going to graduate school or law school in a year or two.
"If I work in admissions, I feel like the door is open for graduate school," Carlsen said. "It would be great to help students grow in their own way like I did. If I did admissions I would love to help them or just see them change."
Before she graduates, Carlsen said that she is most excited to wring the bell in the Wren building because she feels closely linked to the history of that tradition. On the last day of classes in April, it is a tradition for graduating seniors to ring the bell.
"I am so excited to ring the bell," Carlsen said. "It is really a neat tradition that would be coming full circle for me."