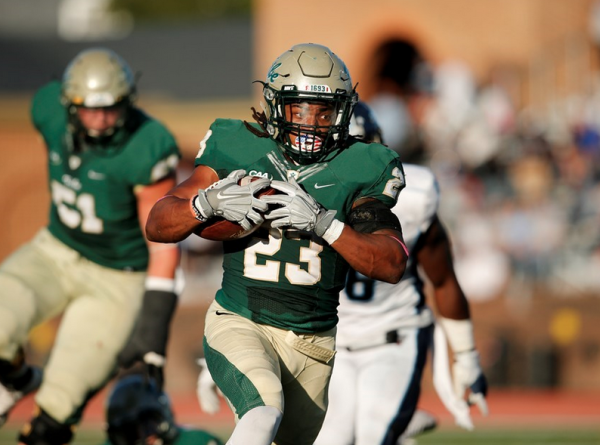 Just two and a half minutes into Saturday's road contest, William and Mary looked destined to turn in another lackluster performance. The opening drive was underwhelming. The Tribe gave up a sack and nearly lost a fumble. To make matters worse, freshman punter Tyler Hiott had his punt blocked and returned six yards for a Stony Brook score. After the extra point, the Tribe found itself in a 7-0 hole and with little hope against the No. 25 team in the country.
Despite likely losing out on any hope of getting a Football Championship Subdivision playoff berth with a disappointing loss to Maine at home last week, the College (4-5, 2-4 CAA) showed its resilience and relied on a strong defense to beat No. 25 Stony Brook (5-4, 4-2 CAA) by a score of 14-9 in a sloppy game for both sides.
"We had to grind this one out," head coach Jimmye Laycock '70 said to Tribe Athletics. "This was not pretty. We had a lot of things go against us, but the story was defensively we were not scored on."
After falling into an early hole, the Tribe struggled to move the ball on its next two possessions, each of which resulted in two short punts. Just over midway through the first quarter, Stony Brook took over in Tribe territory and looked to be dominating the battle for field position. Two first downs later, junior safety Richie DiPietro changed the tone of the game, intercepting the ball from Seawolves quarterback Dan Carbone. After a 12-yard return and an additional 15 yards from a Stony Brook personal foul, DiPietro and the Tribe had seized momentum and flipped the field position battle.
From there, senior running back Kendell Anderson's tank-like play style was unleashed on the Seawolves. Anderson has been the Tribe's most consistent performer this season, and his consistency was clearly rewarded by the coaching staff on Saturday. On the 11-play possession, Anderson took seven handoffs, the final of which he punched in from one yard out to knot the game at 7-7. While the drive was largely dominated by short gains from Anderson, senior quarterback Steve Cluley did find junior wideout Daniel Kuzjak for a 19-yard gain to move the chains.
After the College's defense forced a three-and-out and another Stony Brook punt, the offense picked up right where it left off. Again, ground and pound was clearly the approach. This time, the Tribe's game was more than just Anderson. On 3rd and 4, Cluley called his own number and scampered for nine yards. After two shorts gains from Anderson, Cluley again came up big on third down, this time connecting with Kuzjak for an 11-yard gain to set up 1st and goal. From there, the coaches' trust in Cluley was restored and rewarded with a four-yard touchdown toss to Kuzjak to give the College a 14-7 lead.
"We kind of regrouped and got things going," Laycock said to Tribe Athletics. "I thought Steve Cluley played a doggone good game. We had to do some improvising and adjusting and I think our coaches did a good job with that."
I thought Steve Cluley played a doggone good game," Laycock said to Tribe Athletics. "We had to do some improvising and adjusting and I think our coaches did a good job with that."
Often criticized and undeniably inconsistent, the Tribe defense came through once again near the end of the second quarter. As the Seawolves approached the red zone, senior linebacker Stephen Lubnow picked off Carbone to completely reverse momentum and shut down a scoring chance. Going into the half, the Tribe led 14-7, the team's first halftime lead since Sept. 17 against Norfolk State.
The second half opened with both defenses holding strong, but not making any electric plays. Seven straight possessions ended with punts, four from the Seawolves and three from the Tribe. In the College's first possession of the fourth quarter, Cluley engineered a time-consuming drive that marched the Tribe down the field. He ran three times and completed two passes on the drive, which was also greatly helped along by three Stony Brook penalties. The Seawolves shot themselves in the foot all afternoon, committing 14 penalties to give the Tribe 117 yards, nearly the same total of passing yards for Cluley, who finished with 129.
The Tribe drive did not end well, however, as redshirt freshman kicker Kris Hooper saw his 42-yard field goal attempt blocked. After the momentum swing, Stony Brook appeared as if it would take advantage and march down the field to tie the game.
A seven-minute drive spearheaded by Carbone and Seawolves running back Stacey Bedell pushed the hosts to a first and goal from the Tribe 7. However, Stony Brook was forced to use a backup quarterback due to an injury to Carbone. The drive fizzled out and the Tribe secondary stood strong for three straight pass attempts to force a turnover on downs.
Pinned near its own end zone, the Tribe played conservatively, rushing three straight times and then ultimately giving up a safety, which was likely an intentional move. This ultimately made the final score 14-9 and served to prevent a potential punt block or return for a touchdown.
On offense, the Tribe managed just 205 total yards. However, Kuzjak was a bright spot, as he caught eight passes for 79 yards and a touchdown.
The College's defense more than made up for a subpar offensive showing, holding Stony Brook to just 2 for 12 on third down en route to allowing just 210 total yards.
"Anytime you can go on the road and shut out a top 25 team that's pretty good," Laycock told Tribe Athletics.
The road trip continues next week as the Tribe heads to Towson to take on a tough Tigers team Saturday at noon. The team may have an added challenge if Anderson, who was injured in the second quarter and did not return to the game, is unavailable to play.