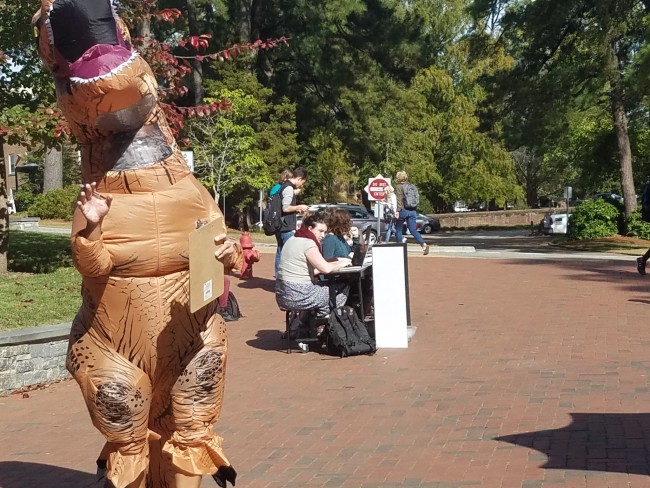 Voter registration efforts at the College of William and Mary were in full swing this election season. Students involved in different organizations, including the Democratic Party of Virginia and Virginia21, led this registration effort and worked towards the goal of registering all unregistered voters on campus.
Together these two organizations registered 1500 previously-unregistered voters. According to these organizations, making sure students are registered ensures that the views of students at the College are represented in politics.
Voter Registration Director for Virginia21 Greg Akerman '19 explained that Virginia21 is a non-partisan organization on campus that advocates for students' issues. Chapters of Virginia21 register voters across the state. At the College, they registered voters by tabling at the Sadler Center.
Akerman said they trained new registers and made sure to integrate people who had done registration before with those who were inexperienced. Those registering students were from all different parties and ideologies, and they managed to register more than 200 voters.
"It wasn't just the Young Democrats — we had some Libertarians, some from the NAACP, a lot of people were involved," Akerman said. "We had people from all sorts of political backgrounds registering voters. People say they always see people being registered and I think that's a sign of a great registration effort."
The College's Campus Organizer for the Democratic Party of Virginia Vickie Goldsby '17 recruited students to register students all around campus. Goldsby said that at their peak they had 10 people out at a time. Even though this registration effort was through a partisan organization, Goldsby said that party identification was not a criterion for registering students unless they wanted to sign up for commit to vote cards. Those are voting reminders that get sent to students' mail.
"We only asked them their party identity if we were doing commit to vote cards," Goldsby said. "It was never a criteria to get registered to vote. Even if they were screaming, 'I'm a Trump supporter,' we would be like, 'Alright, are you registered to vote?'"
Vice President of the Young Democrats Sahil Mehrota '17 said that it helped registration efforts to have had competitive midterm elections last year because many students wanted to register to vote for that election.
Because of those races, there was less work to do this year. However, Mehrotra said that there are about 1,500 students who come to the College every year who are not registered to vote in Williamsburg, if they are registered at all. He said that in 2012, 75 percent of students were registered to vote, and 75 percent of those students did vote. In 2014, the registration rate was 70.7 percent.
Akerman added to these statistics that the majority of new registrants in Williamsburg come from the College and that new registrations in general went up 17 percent in Virginia this year.
"So the College has a history of being civically engaged," Mehrotra said.
Goldsby said that it is important to register to vote in Williamsburg because students do not always send in their absentee ballots.
She said that registering to vote in Williamsburg increases the chances that students will actually vote.
"We want to make sure that nobody puts it off and forgets and wakes up October 18 saying, 'Oh I forgot to register to vote,'" Goldsby said.
Mehrota said that voting is the easiest form of civic engagement to partake in.
He explained that 80 percent of campus votes at the Williamsburg United Methodist Church located across from Lemon Hall, and the other 20 percent is at Stryker Center, which is about a two-minute walk from campus.
Mehrota said that he thinks it is important for students to vote because, among other reasons, they will be able to vote on how much funding the College receives in the coming years.
"It's important that people have the ability to vote, that people are participating in this process … because we are voting now for our futures," Mehrotra said. "Even our futures for the next year. Those down-ballot elections are deciding how much funding the College gets in the next year. Those are all things that are very directly impacted by how much we turn out to vote and how much we turn up and get our voices heard. It's important to be involved no matter what your stance is."
Mehrota said that students are able to make a difference in local elections as well. He said that because the College has about 8,000 potential voters, which is much more than the margin in many local races, students are able to make a tangible difference by exercising their right to vote.
"William and Mary can truly make the difference in so many different ways, so it's really important that everyone has that opportunity and goes out and votes," Mehrotra said.
Akerman said that being civically engaged as a school also gives the College more credibility as a political force. He explained that voting can affect how much funding the College receives because politicians are more responsive and prepared to help citizens who they know can and will vote.
"We have a student body that wants to be engaged and we just need to be able to give them that outlet," Akerman said.