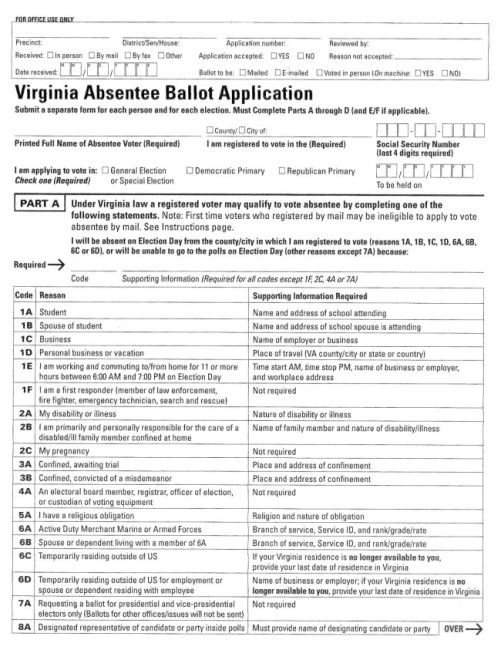 As students' eyes turn towards the polls for this Tuesday's election, one large section of their vote may be being overlooked: those who have already cast their votes.
According to the Virginia Public Access Project, a nonpartisan organization that provides citizens with election data, statewide early voting has increased around 20 percent compared to the last presidential election.
Virginia's voting laws require a valid excuse in exchange for an early vote, so every vote cast before Election Day must be submitted via absentee ballot. This year, college students have made up roughly one percent of the state's absentee ballots — approximately 43,000 votes.
The highest increase in absentee voting has occurred in Northern Virginia, which shows an approximate rise of 37 percent. This area also happens to be home to many students of the College of William and Mary.
Since NOVA is a predominantly liberal area, these numbers could speak well for Democratic candidates, but nothing is set in stone until Election Day.
Vice President of the College's Young Democrats Sahil Mehrotra '17 said that he was optimistic about the rising number of absentee votes.
"My first reaction is that it is good," Mehrotra said. "Virginia has no-excuse early voting, so that means that people must be really caring about the election."
Mehrotra said that he believes that in this election cycle especially, citizens are focused on doing their civic duties.
"This year it seems that people are very passionate about making sure that their vote counts and that they make sure that they finished the absentee process," Mehrotra said.
For many students at the College, the decision to either vote in their home districts or to register in Williamsburg comes down to where their vote will count the most. Mehrotra decided to register in Williamsburg because he said the elections are much closer here.
"I'm from New Jersey, which is not very competitive in the general election," Mehrotra said. "My congressional district, not very competitive — my state legislature district, not very competitive."
Mehrotra said that as vice president of the Young Democrats, he is very focused on the down-ballot issues students will be deciding on. With a special election being held to replace District 93's representative for the Virginia House of Delegates Monty Mason '89's seat, another spot is open that could have a direct impact on the College.
Class of 2020 President Kelsey Vita '20 said that she was similarly pleased to see the increase in voting numbers, but that she had a different voting experience.
She decided to cast an absentee ballot for the races in her hometown of Lexington, Va, even though the races were not as competitive.
"The voter registration process [in Williamsburg] is very messy and I didn't feel like dealing with that," Vita said. "Also, I worked on the Democrats' campaign for the House of Representatives where I live so I wanted to be able to vote for him."
Vita, who has participated in voter registration drives on campus, said that, while a lot of times those individuals registering students to vote encourage them to register in Williamsburg, the priority is to get as many people to the polls as possible.
"Be strategic if you can, but I think we have a significant problem with voter apathy, so whatever makes it easy for you to vote is better," Vita said.
For other students from the Class of 2020, the decision to vote absentee was made before they got to the College in August. Jade Mellor '20, who is from NOVA, was encouraged by a high school government teacher to fill out an absentee ballot and had already applied for one before coming to the College.
"It was a really simple process; it was really easy to fill out, I just had to mail it and everything," Mellor said.
Mellor said that her decision was not affected by news about the presidential election in recent weeks and that she knew all along who she wanted to vote for her. Mellor also said that she is still anxious about election results after sending in her ballot.
"I am highly stressed about the fate of our country," Mellor said.