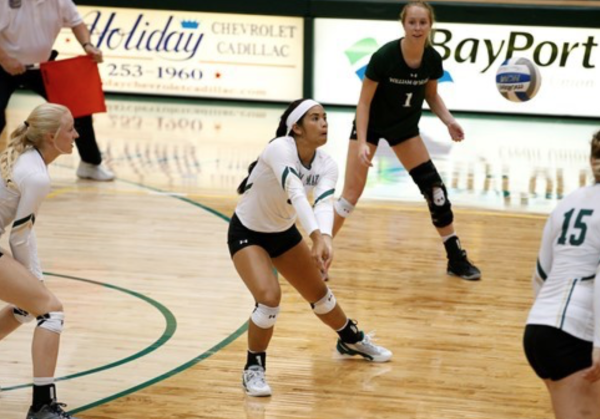 William and Mary finished off its 2016 volleyball season this weekend with two final losses at home against Towson and Delaware.
The Tribe (8-21, 2-14 CAA) lost three consecutive sets to Towson (23-8, 10-6 CAA) on Friday night: 25-23, 25-21 and 25-13.
Junior outside hitter Sydney Biniak and freshman outside hitter Alex Stein led the Tribe offense with eight and six kills respectively. Junior back row defender Sarah Zumbach secured the College's only two aces of the match, and led the team with 15 digs, closely followed by freshman setter Autumn Brenner, who finished with ten.
"I think we played to their level, but that's not Tribe volleyball," said junior middle hitter Paige Humphrey. "We can do a lot better as a team."
The Tribe dominated defense at the net with 11 blocks, overshadowing the Tigers' one block throughout the entire match. Humphrey and senior middle hitter Kristen Larrick each had five blocks, trailed by Brenner with two.
"We just want to go out and play as hard as we can for our seniors," said Zumbach. "I just want to have fun, that's all."
We just want to go out and play as hard as we can for our seniors," said Zumbach. "I just want to have fun, that's all."
The Tribe fell on Saturday night to Delaware (14-15, 8-8 CAA) and ended its season by going down fighting on senior night. The Tribe won the first set 25-21, followed by a close second set loss 27-25 and a third set loss of 25-15. The Tribe came stole the fourth set 25-19. After a back and forth exchange of points and the most competitive rallies of the night, the fifth and final match set ended 15-11 in favor of Delaware.
"I am graduating early and I just wasn't expecting for this season to by my last," said junior outside hitter Maddie Sanford, who will be graduating early with the seniors on the team. "For this game to go on as competitively and as long as it did is honestly amazing."
Stein and Biniak led the Tribe's offense with 17 and 15 kills, respectively, closely followed by Sanford with 13. Stein also scored three aces and played a key role in defense, securing 15 digs. Zumbach also had three aces, and Brenner had two. Zumbach led the back row with 22 digs, followed by Stein and freshman outside hitter and back row defender Sam Conway both with 15. Brenner had 59 assists in the match.
To have senior night go literally as long as it could have was really special," said senior back row defender Gabrielle Pe. "Honestly, I feel really thankful to have the teammates and the coaches that we have this year. Volleyball is important, but it's a more personal thing than just a sport."
The Tribe scored 77 points, closely trailing Delaware with 78 points although the Tribe did lead in aces 11 to the Blue Hens' five. The team never gave up and went out fighting. Despite the season record, the Tribe stormed the court each and every night with a ferocious energy and unceasing spirit.
"To have senior night go literally as long as it could have was really special," said senior back row defender Gabrielle Pe. "Honestly, I feel really thankful to have the teammates and the coaches that we have this year. Volleyball is important, but it's a more personal thing than just a sport."