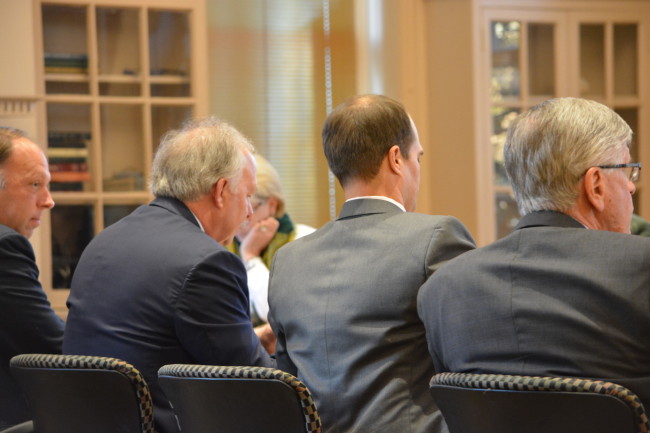 Last spring, Virginia Governor Terry McAuliffe and Secretary of Veterans and Defense Affairs John Harvey singled out the College of William and Mary as an institution potentially well-suited to create a Whole of Government Center of Excellence.
On Friday, Vice Provost for International Affairs Stephen Hanson outlined a plan to create this Center of Excellence at the College that would focus on educating mid-career professionals from primarily military and government professions about interagency relations.
Interagency interactions are a concern among officials in the defense community, in which individuals from a variety of groups, such as the State Department and United States Army, must at times work together in response to national security issues, such as hurricane responses and counterterrorism initiatives.
"What happens often is that those agencies aren't used to working together smoothly, and so there's bureaucratic infighting or there's just a lot of lack of understanding of each other's cultures, and so wouldn't it be nice to have a place where you can bring those agencies together with local actors and academic analysts, to give them practice in advance basically with those kinds of questions," Hanson said.
The feasibility study was carried out by Hanson, Project Director Kathryn Floyd and Roosevelt Group representative Kevin Felix.
They conducted about 100 interviews in three phases, first interviewing military leaders. In the second phase they interviewed leaders of the College, such as Chancellor Robert Gates '65 and College President Taylor Reveley. During the final stage, they interviewed other federal agencies that play roles in national security concerns. The unanimity of responses they received from this diverse set of individuals staggered the interviewers.
"It was remarkable doing these interviews the degree of consensus," Hanson said. "I have never been involved in a project in my life where you didn't have naysayers almost anywhere."
According to Hanson, some of the professionals interviewed agreed with the plan given that they believed interagency cooperation to be crucial for national security.
The final report of the feasibility study indicated key themes from the interviews. For example, there was a call for education on the more practical side of interagency collaboration, a chance for mid-career professionals to "rub shoulders" with individuals from a range of agencies and expand their network, and instruction on policy processes, constitutional law and United States history.
"Everyone was very consistent in the need for this and in their respect for the College of William and Mary as the right of home for it," Floyd said.
The College was chosen to be the home for a Center of Excellence for a variety of reasons, including work in the field of international relations. The College's Institute for the Theory and Practice of International Relations and AidData programs were cited as indications that the College could combine a focus on international relations and national security with the study of government.
Another factor was the College's geographic proximity to Hampton Roads military bases, with which the College has forged connections over the years. According to Hanson, location was an appealing factor for Hampton Roads officials, and he said that this proximity made the College competitive with academic institutions with similar programs.
"What we heard a lot from our Hampton Roads partners was, you know, 'We would really love it if William and Mary had this so we don't have to break our families up for a year or two, going to Boston, to the [Harvard] Kennedy School and then not seeing our families,'" Hanson said.
Vice President for Strategic Initiatives Henry Broaddus noted the College's history of educating leaders as another reason for why the program would be well-suited for Williamsburg.
"One of the things that's really exciting to me is the tradition of education that William and Mary has in educating great leaders in the public serve sphere, the government sphere — really all walks — but leaders who are able to see the big picture, and it has been very effective," Broaddus said. "This builds very neatly on that, and I think it's part of [what] makes William and Mary such a good fit for a program of this sort."
Hanson also said that the size of the College was right for such a program.
"We really do have a university small enough for us to break those silos down," Hanson said. "The university is collegial in the way that makes it a lot easier to establish something like this, and of course we're widely known and respected for producing the kind of leaders that are in this sphere already."
To conclude his presentation, Hanson outlined a three-stage plan to build this Whole of Government Center of Excellence, which may be renamed in the future. The first stage focused on the recruitment of more students into the Masters of Public Policy program. The other two stages need additional funding to create a program.
Broaddus said that this program has great potential for the College and the defense community.
"This prospect reflects recognition on a lot of people's parts that William and Mary has such a strong tradition of producing good thinkers and effective leaders and this would I think be a formal way to continue that tradition and to meet a need that the country has, the state has, and really, the world has, and that's right in line with what William and Mary should be doing," Broaddus said.