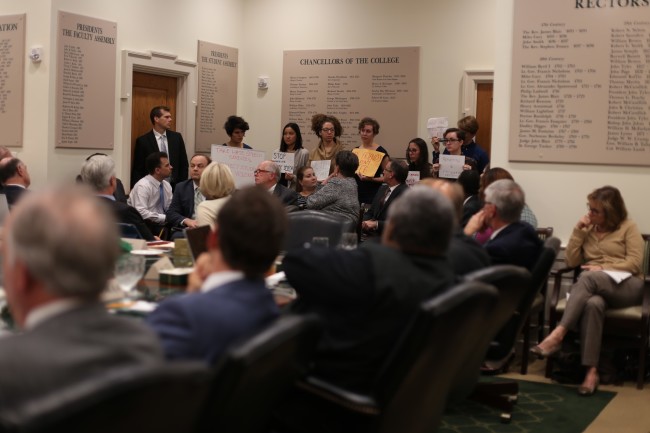 When Provost of the College of the William and Mary Michael Halleran opened the Board of Visitors' Academic Affairs committee meeting Nov. 16, he said he wanted to take a moment to reflect on the days on campus following President-elect Donald Trump's victory.
"I have a few things to say about the last eight days on campus," Halleran said. "Obviously, after the election Wednesday, we had the conclusion of a presidential election that … was historic. As a result, we have had a number of incidents on campus that ranged from unfortunate to unacceptable. Some were perpetrated by our own students, some just by people passing by. A number of students feel less safe because of Trump's proposed policies and events on campus."
Halleran's sentiments were echoed during other committee meetings and shaped one focus of the Board. Speakers and BOV members discussed how Trump's victory could affect daily life at the College as his policies are implemented.
Chief Compliance Officer Kiersten Boyce, during a presentation on Title IX reports and campus crime, said that while it is still unclear how Trump will impact the Department of Education, his election could hinder the enforcement of the Clery Act and other compliance procedures.
Trump has said that he would cut spending for the Department of Education or cut the department entirely. The Clery Act, and its 2013 Violence Against Women amendment, mandate how and when universities must report crimes on campus.
"We have had this election which gives us a lot of uncertainty as to what the future will hold," Boyce said. "People predict a real decrease in enforcement [of compliance], particularly in the civil rights area, but the Clery Act does not quite fit in that because it is safety and security. It has had bipartisan support over the years. When it was amended in 2013, it codified much of what we do in the Title IX front. I haven't heard pundits saying that we should anticipate major changes, but is enforced by the Department of Education and people are anticipating major cuts there.
While Boyce discussed the effects Trump's election may have on compliance enforcement, Chief Human Resources Officer John Poma said that Trump's election impacted his choice of presentation topic — the Fair Labor Standards Act.
The FLSA establishes minimum wage, overtime pay, record-keeping and employment standards. According to Poma, there is a new overtime rule that sets the exempt salary threshold for overtime pay at $47,476, approximately twice what it was before. This threshold will be reviewed every three years under the new rule.
While Poma said it is unlikely Trump will be unable to take any action on the new overtime rate that will go into effect Dec. 1, he said that it is possible for him to overturn a clause that raises that overtime rate every three years.
"This election casts a shadow right now," Poma said. "We are waiting to see agency action. There were two federal lawsuits recently filed in an attempt to stall or halt the implementation of the new FLSA overtime rules. I think Trump would be receptive to that."
While some of the committees, like Audit and Compliance and Administration, Building, and Grounds, focused on the policy consequences of Trump's views, others focused on how his victory has impacted campus in the last two weeks.
During the Student Affairs committee meeting, Student Assembly President Eboni Brown '17 told Board members that it was important to acknowledge reports of harassment from students. Board members echoed Brown's sentiments during this meeting. Lisa Roday said that she wanted to emphasize that the Board wanted to ensure that the College was a diverse and inclusive space.
"We can continue to ask everyone to be civil, we can continue to ask everyone to come together," Brown said. "People are going to feel how they feel. People are hurt and that's a feeling that I don't think is going to go away anytime soon."