Everyone loves an open bar at a wedding, but throw a secret love potion into the mix and you have the quirky and comical plot of "The Sorcerer".
Sinfonicron Light Opera Company celebrated its 52nd year with this amusing opera, with a libretto by W. S. Gilbert and music by Arthur Sullivan. The show originally opened in 1877 in London and was later revised in 1884. In "The Sorcerer," love is in the air in the merry village of Ploverleigh as plans are made for the wedding of the young Alexis and Aline. However, when the happy couple enlists a mysterious sorcerer to assist them in spreading their nuptial bliss to the entire village, confusion ensues, hearts are turned and even love must give way to sacrifice.
Despite significant snowfall early in the rehearsal season, the Company presented a solid performance that reflected its unique contributions to the theater landscape at the College of William and Mary. The cast made the most of a lighthearted and unimposing script by weaving in their own clever humor and excitement. Stylized makeup effectively aged older characters, adding to their expression and believability, while elegant costumes designed by Chelsea Easter '17 and Corey Strickland '17 were as distinctive as the characters themselves. Similarly, props, gags and hijinks were plentiful throughout the performance.
The orchestra, directed by Arjun Malhotra '17, was robust and expressive but often overpowered the cast, rendering several full-cast numbers inaudible. Choreographer Olivia Thomas '18 crafted an elegant and fluid spectacle that perfectly emulated the show's whimsical plot, save for several noticeable missteps during more complex sequences. While the lively cast often seemed stifled during noticeably static scenes, the vocal prowess of the ensemble elevated the overall production.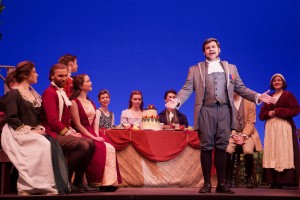 "The Sorcerer"'s heartiest performances were given by Jacob Miller '18 and Jacob Herrin '17 who played the boisterous Sir Marmaduke and titular scheming Sorcerer respectively. Miller capitalized on every moment onstage with his booming vocals and ability to mesh harmoniously with his fellow actors, particularly in "Welcome Joy". Herrin commanded the audience's attention from start to finish with his spellbinding and mischievous mannerisms and expressions. His introduction in "My Name is John Wellington Wells" featured delightful quirks and good diction. Catherine Smith '18 showed good balance, wavering between a love-struck bride-to-be and a sensible, forthright young woman.
Consistently lighting up the ensemble was Claire Seaton '18 as the ever-enthusiastic Hercules. Likewise, Amy Folkerts '19, playing Constance, added just enough drama to turn her character from a forlorn, love-struck young woman to a hysterically emotional wreck with skillful comedic timing. Both Gillian Giduice '17 and Alex Bulova '19, who played Mrs. Partlet and Dr. Daly respectively, added texture to the show through well-executed and distinctive character accents. Bulova especially demonstrated subtle comedic touches in "Engaged To So-and-So".
Sinfonicron utilized a simplistic yet effective set, choosing instead to prioritize other technical aspects of the production. A mesmerizing starry background illuminated the stage during the second act and well-executed lighting cues accentuated subtle situational changes.
What "The Sorcerer" lacked in complexity, the cast made up in its ability to insert wit into every line, look and lyric, proving that it takes more than nefarious snow or even spells to stop the Sinfonicron Light Opera Company from excelling at its craft.