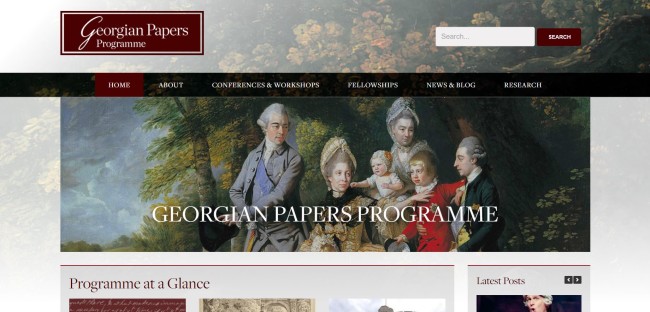 The first roughly 33,000 digitized documents in the Georgian Papers Programme, a collection of archival documents from Windsor Castle, will be released on Saturday, Jan. 28. Some of these documents include letters written by King George III during the American Revolution.
Starting in November 2014, representatives from the College of William and Mary and conjunction with the Omohundro Institute of Early American History and Culture met with the archive's partners in the United Kingdom which include the Royal Collection Trust and King's College.
According to history professor and Director of the Omohundro Institute Karin Wulf, these early meetings started with discussing how a partnership with the College could be mutually beneficial.
"[Director of the Reves Center for International Studies and Vice Provost for International Affairs] Steve Hanson was reached out to … This was in November of 2014 and we started talking about mutual interest in archival excavations," Wulf said. "We just sat down and talked about our mutual interests and we went from there. I think one of the things that is really appealing on all sides is that this partnership isn't about just have partners, it's an academic partnership that's meant to expose materials for schools who can them interpret it. Within a matter of months, we had our first fellows in the archives at Windsor Castle, we have funded 10 scholars."
The first public release of documents includes what Wulf describes as the first 10 percent of the archival material. Partners in England are scanning and creating digital images of the documents which are all stored in Windsor Castle's Round Tower. Once they are digitized, students working through the Earl Gregg Swem Library will transcribe and tag the documents with searchable metadata.
According to Dean of University Libraries Carrie Cooper, the work of digitizing and tagging the documents gives Swem Library an opportunity to participate in a digital, international project.
"This project provides a unique opportunity to work on an international digital project, setting standards for cataloging and digitization that will contribute to the ever-evolving role of libraries in the digital age," Cooper said in a statement. "The lessons we learn from this project will inform our work as we embark on digitizing, transcribing and making discoverable unique items in our own collections … Digitizing our original collections and making them accessible to scholars worldwide is crucial to advancing scholarships."
While letters from King George III regarding the American Revolution have drawn attention during the early stages of digitizing the documents, this project will also include historic manuscripts from the Georgian period – a total of 350,000 pages. Papers from Kings George I, George II, George IV and William IV will also be digitized through this project.
Wulf said that the letters she has seen from King George III have been interesting to her, but that she is most personally excited for the letters that shed light on people of socioeconomic classes alive at this time.
"I have read through selections of the materials and seen materials that are not yet digitized," Wulf said. "For me, what's compelling is not the material that tells us more about George III, although that is quite interesting, very compelling for American historians. What's interesting for me is that the archive of a very elite family opens up information to us about people for whom there are not archives, families of people who were enslaved in the Atlantic world, people who were very socioeconomically disadvantaged or sailors in the Atlantic. There aren't archives for those people who are oppressed … this is sort of reading against the archives."
Wulf said that since the discovery of some of these documents, scholars have started to write articles on blogs about George III and his relationship with slavery and the interest at the time with Sierra Leone as a destination for people who are freed. Another scholar is looking at how far abolitionist sentiment and expeditions got during this time period.
The Omohundro Institute is currently in the process of selecting graduate or post-graduate students to work as fellows with this project and history professor Nick Popper will take students to London next year with funding from the Reves Center to work in the archives.
Scholars are really salivating as this has come to light and more and more people have learned that there are treasure troves of documents to go through," Hanson said in a statement.
"Scholars are really salivating as this has come to light and more and more people have learned that there are treasure troves of documents to go through," Hanson said in a statement.
Wulf said that she believes that the process of digitizing the documents will be completed by 2020, which marks the 200th anniversary of King George III's death. Additionally, 2026 is the 225th anniversary of the American Revolution, which she believes will be symbolic as this archive might be the last private archive to help scholars interpret the American Revolution.
"I think this was a plan of the eighteenth century in a way," Wulf said. "George III's reign ended pretty abruptly with his illness and the takeover of his son. He died in 1820. It's not really an accident that so many of his anniversaries overlap with anniversaries of the American Revolution. This wasn't a plan of the American Revolution, but they are looking at 1820 – that's the anniversary they are focusing on."