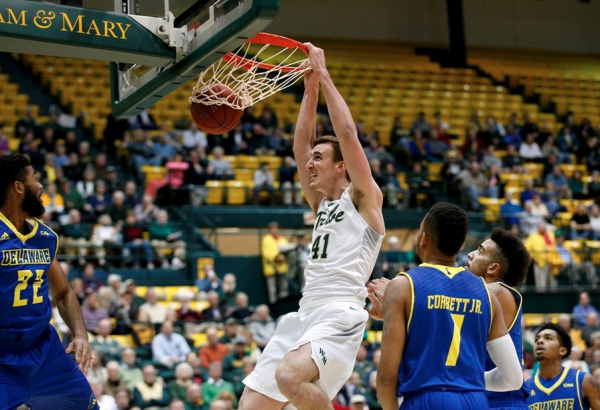 Thursday night, William and Mary's strong first-half defense and a 14-0 run solidified a conference win against Delaware. The win brought the Tribe (10-9, 4-4 CAA) back to .500 in the Colonial Athletic Association, while the Blue Hens (8-14, 1-8 CAA) dropped their eighth out of their last nine games.
The Tribe held the Blue Hens to just 7 of 24 shooting in the first half, as well as forcing 11 Delaware turnovers. Head coach Tony Shaver was pleased with his team's performance.
"I thought defensively we were really good the first 20 minutes," Shaver said. "We played a little more sporadic the second 20, but honestly, it looked a little more like our team."
Senior guard Daniel Dixon limited Delaware's leading scorer, guard Ryan Daly, to just five points in the first half and nine overall. Daly was averaging nearly 20 points per game in conference play up to that point.
"We definitely made it a big key to not let [Daly] get going in the beginning especially," Dixon said. "He's a really, really good player so it was obviously a tough matchup, but I think we did a good job on him."
Meanwhile, Dixon scored 14 of his 21 points in the first half, while senior forward Omar Prewitt dished out four assists. The Tribe went into halftime with a 35-22 lead.
The Blue Hens came out firing after halftime. Right out of the gate, Delaware embarked on a 14-4 run that cut the Tribe lead to 39-36. In the middle of that run, Shaver took out all five starters at once.
"We had a couple bad turnovers to start the second half," junior center Jack Whitman said. "When we came back in I think we played more efficiently, and we just got the ball to the right players at the right time."
The Tribe soon turned the tables. Immediately following Delaware's hot streak, the College put together a 14-0 run to regain a comfortable 17-point lead. The Tribe would maintain that lead for the rest of the game.
Dixon led the College in scoring, going 4 for 4 from downtown on the night. Whitman netted 16 of his own, and Prewitt had nine to go along with his eight assists.
The Tribe next took on North Carolina-Wilmington in the second game of a four-game homestand. That will be followed by a matchup against Drexel at Kaplan Arena Monday night.