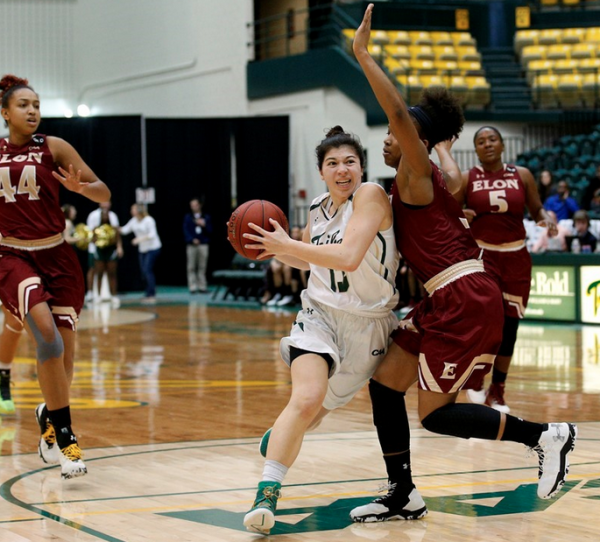 Continuing its longest losing streak of the season, William and Mary fell to Delaware in a Friday night Colonial Athletic Association tilt in Kaplan Arena 68-54. The Tribe drops to 3-4 in conference play to start its only home weekend of the CAA slate.
The 14-point loss is the largest of the College's (13-5, 3-4 CAA) three straight defeats, as Towson won by four points while Elon won by just two last weekend in Williamsburg.
"Tough times call for tough people, it's really that simple," head coach Ed Swanson said. "I think we have high-character kids on our team, and I think this loss, and how we lost, sometimes you get beat and you can handle it. Today I thought, we lost, we didn't play well, we lost our swagger a little bit. We lost our confidence, three games in a row. Now we have to show our toughness and fight back."
Friday's matchup looked like a mismatch from the start as the Blue Hens (11-8, 5-3 CAA) cruised to an 18-7 first quarter lead. The Tribe looked strong with a 4-0 burst to start the game, but quick turnovers allowed Delaware to go on a 14-0 run from the eight-minute mark until just 1 minute, 35 seconds remained in the quarter. With both teams trading turnovers — Delaware with eight of its 15 in the opening quarter and the Tribe with six of its eventual 15 in that span as well — there were long, scoreless periods where the College missed several opportunities. The Tribe began the night with 27 percent shooting (3 for 11) while Delaware started hot with 67 percent (8 for 12).
"[Delaware] had to scout it real well. We were up four-nothing, and two quick turnovers led to two quick breakaway baskets," Swanson said. "That's usually how we play, we want to get those turnovers and turn them in. Delaware gave us a dose of our own medicine in here this evening."
The second quarter fared better for the home team, as the Tribe outscored the Blue Hens 17-12, entering halftime with a manageable 30-24 deficit. Seven first-half steals gave the College several chances, but a lopsided rebounding tally — 23 to eight in Delaware's favor — prevented any significant Tribe runs. Delaware kept a strong presence on key Tribe playmakers, preventing good shot selection and closing the paint as well as the perimeter. Delaware had its worst quarter right before halftime, shooting 27 percent (5 for 18) heading into the locker room.
"I thought we continued to try and continued to fight throughout the game," Swanson said. "We just dug ourselves a hole, we continued, I think, to press a little bit on offense, and we didn't trust the offense and we didn't adjust."
After the break, both teams sparred more evenly, though the Tribe could not close the gap the Blue Hens had created early on. Delaware outscored the College 18-17 in the closest quarter of the night, never letting the Tribe within less than a five-point cushion. Entering the final quarter, Delaware held a modest 48-41 lead after senior guard Marlena Tremba sank two free throws before the buzzer.
Delaware's deadly first quarter performance reemerged in the fourth as the Blue Hens put up 20 points to establish the 14-point lead and the 68-54 victory. While the Tribe scored 13, the strategy of late fouls for clock management backfired as Delaware scored 10 points on 11 free throws in the fourth quarter. Missed opportunities continued to rule the script for the Tribe with 6 for 16 shooting in both the third and fourth quarters.
"They had us scouted," Tremba said. "They knew to double team Alex [Masaquel] inside, and they were giving me some decent looks, but I was struggling. They just knew a lot of our plays I think."
On the stat sheet, some categories looked extremely close, with Delaware edging in assists 16-14, both teams committing 15 turnovers, Delaware getting eight blocks to the Tribe's six, and 10 steals to the Tribe's eight. However, a 41-26 rebounding total gives the Tribe a category to focus on in practice. The game leader was Delaware guard Erika Brown with 18 points, while the College's top scorer was Tremba with 16. Looking at missed opportunities, Tremba and senior forward Alex Masaquel were shut down by the Blue Hens, with both captains making five field goals but on 18 and 11 attempts, respectively. Delaware also held the edge in points off turnovers (24-8) as many of the Tribe's forced turnovers ended up back in the hands of Delaware and in the basket.
The College returned to Kaplan Arena to face in-state and CAA rival James Madison Sunday and will be on the road for its next two games, facing Northeastern Feb. 3 and Hofstra Feb. 5.
"We've got to fix our problems first," Swanson said about preparing for the next game. "We've got to fix ourselves before we can worry about the opponents."