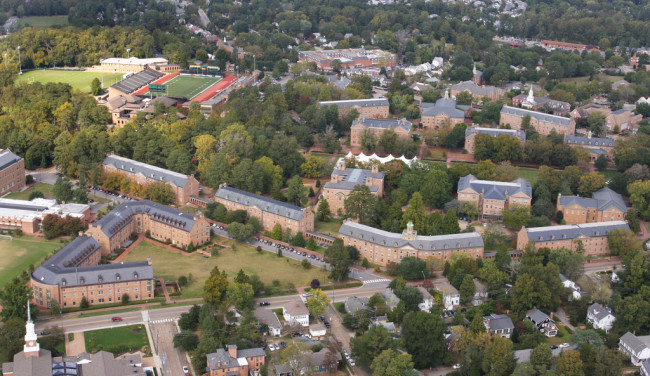 On Wednesday, Feb. 1 Johns Hopkins University history professor Richard Kagan gave a lecture entitled "The Spanish Craze, 1890-1930: America Discovers the Arts and Cultures of the Hispanic World" from his new book, The Spanish Craze.
According to history professor and Dean of Educational Policy Lu Ann Homza said that Kagan mentored and guided her Spanish historical studies.
"He is the premier American historian of Spain and its empires between the years 1500 and 1700, and he has directed the Ph.D. of nearly every early modern Spanish historian in the United States," Homza said.
Homza also said that Kagan was one of the most generous people she knows.
"He is very generous in giving people opportunities to participate in [Johns] Hopkins seminars and he'll read your work and comment on it," Homza said. "He's never tired. He has more energy than anybody I know, and he loves encouraging and mentoring younger scholars."
Homza said that unlike Kagan's previous books, which investigate cultural connections within the Spanish Empire, his latest book deals with the United States' interpretation and use of Spanish culture — or a "Spanish craze" — in the United States.
Kagan said that this so-called Spanish "craze" was a time period in which the U.S. was consuming all elements of Spanish culture.
"It was a moment in this nation's history when all things Spanish — art, music, food, literature, architecture, and more — were in vogue," Kagan said.
Kagan emphasized that the "Spanish craze" was not exclusively Spanish. According to him, there were elements of Mexican culture and of "neo-Moorish" strains present in the arts scenes across the U.S.
Kagan explained that Spanish cultural influence is everywhere in the United States, especially in architecture, which he said is often used to reclaim Spanish roots. For example, many buildings all over the U.S. bear the influence of the "Giralda," the bell tower of the Seville Cathedral, including the Ferry Building in San Francisco.
Kagan said that after the American victory over Spain in the Spanish-American War in 1898, there was widespread interest in the study of the Spanish language propelled by commercial opportunities created in Latin America, such as the Panama Canal.
He said that after this, a new interest in Spanish culture saw the rise in popularity of "paella," "flamenco" and the production of Carmen.
American artists such as Samuel Colman took an interest in Spanish culture. Colman, who studied at the Hudson River School, painted views of Spain, such as the Alhambra in Granada. Other artists were influenced by Spanish artists such as El Greco and Velázquez.
"Spain traditionally had been portrayed as backward and foreign since the 18th century … American historians made Spain stand for everything regressive: bigotry, no interest in business, no taste for capitalism, poor ability with the military," Homza said.
According to her, Washington Irving is partly responsible for a shift in attitudes of Americans toward Spain. Before Irving's writings, Spain was seen by many as a dark, somber nation.
"Irving's Spain was sunny, and relentlessly romantic and picturesque," Kagan said.
The romantic image of "Old Spain" as an authentic and pre-industrial country also emerged in the works of authors like Ernest Hemingway and Gertrude Stein.
Homza said that Kagan's lecture is relevant to the events of today.
"This lecture, like the best history, encourages us to think critically about what we take for granted, or what we presume is habitual or customary," Homza said. "The best history surprises us with connections we didn't expect, events about which we were ignorant."
Homza gave an example of the exhibition of the Brafferton, a building that now serves as the offices of College of William and Mary President Taylor Reveley but once served as a school for Native Americans.
"A team of archaeologists and historians uncovered its past as an Indian School — who attended, how long it lasted, where its students went when they graduated — a piece of William and Mary history that has been hidden," Homza said. "History is always discovering new things."
Olivia Vande Woude '20 takes the class "Social and Legal History of Spain" with Homza and attended the lecture because she thought it was relevant to her course readings.
"I was really able to see the influence of Spanish culture in America from 1890 to 1930 and also how it remains today, especially in its manifestations in art, architecture and fashion," Vande Woude said.